14 Killer Video Trends and Insights From the 2018 FIFA World Cup
By Greg Jarboe · August 09, 2018
14 Killer Video Trends and Insights From the 2018 FIFA World Cup
The 2018 FIFA World Cup is the gift that keeps on giving when it comes to video insights. Tubular teamed up with OMD on a 'World Cup 2018 Wrap Up' to bring you the big stories from the tournament:
#1 World Cup Content on YouTube Generated Over 5B Views
From the 1st June to 19th July, YouTube saw massive views with daily viewing peaking around the key moments of the tournament.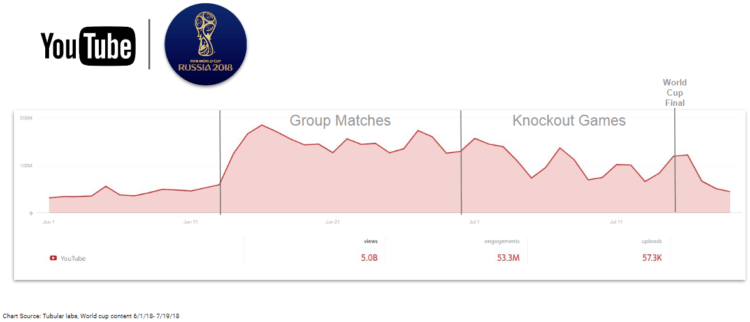 #2 World Cup Content on Facebook Generated Over 2B Views
Facebook generated more views in the build up to the tournament and saw a big peak at the final.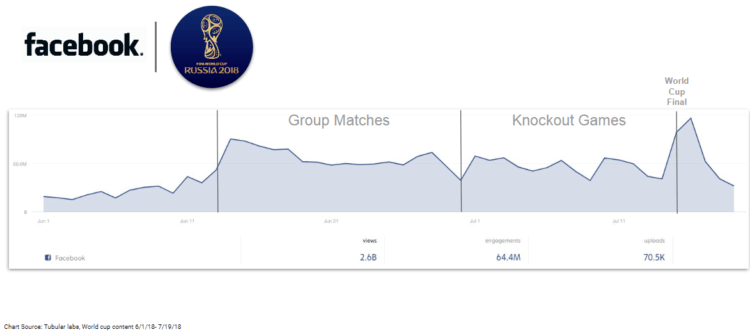 #3 Nicky Jam Had the Most Viewed World Cup Video
As with previous years, the official World Cup song was the most viewed video of 2018.
#4 These Were the Most Viewed Properties for World Cup Content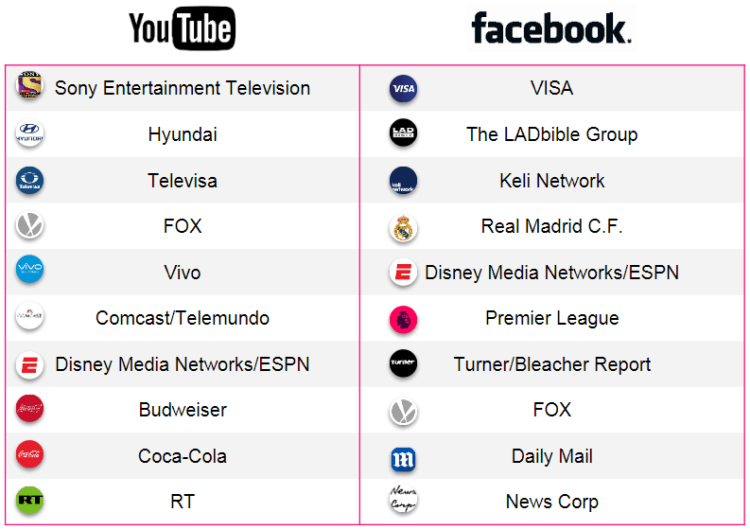 #5 These Were the Most Viewed Creators with the Most Sponsored World Cup Content Views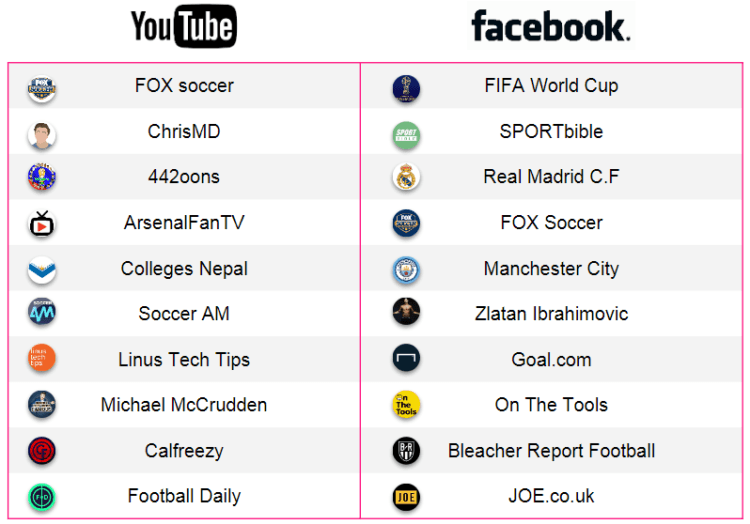 #6 These Content Types Drove the Most World Cup Views
A variety of content types drove views at the World Cup, here are some of the top performing areas
FIFA Highlights: Official FIFA content saw 21% of views all world cup related content on YouTube. They also say 8% on Facebook and 3% on Instagram.
Official Rights: On YouTube, 4 of the top 10 Media Properties during the World Cup were Official Broadcaster's. Sony, Televisa, Fox & Telemundo (UK rights holder BBC was in 11th).
Music Content: 8.5% of World Cup content viewed on YouTube was Music focused. The official World Cup single, 'Live it up' was the most viewed. On Facebook this was slightly lower at 0.2% with a 0.7% share on Instagram.
Fan Reactions: 6% of all World Cup Instagram views were fan reactions & celebrations. Budweiser's #ReactionChallenge capitalized on this trend. 5% of views on Facebook were Fan based with 2% on YouTube.
#7 Even FIFA Created Official Content!
FIFA dominated match highlights at World Cup 2018. Their official page & channel generated an estimated £11,205,000 worth of marketing value! For the first time FIFA uploaded official highlights of all games on YouTube globally. Featuring this content in the Google search box helped them see 21% of YouTube views on all World Cup related content. In total they saw:
826M views on YouTube
211M views on Facebook
#8 What Happened to the Big Three Players?
With Messi & Ronaldo nearing the end of their international careers, the rest of the pack have a lot of catching up with Neymar to do on the social video front.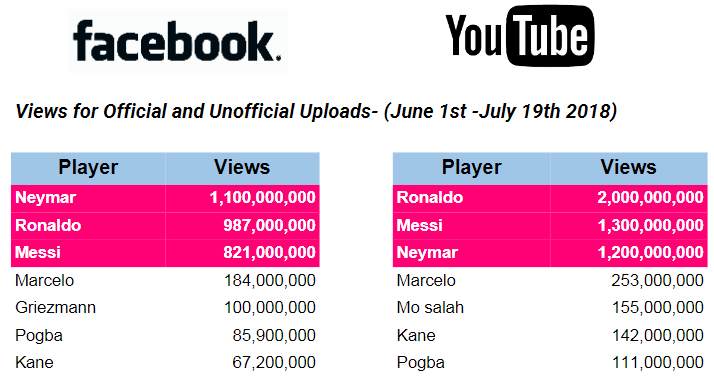 #9 These Brands Collaborated with Influencers and Footballers
COPA90 worked with Adidas on a series combining top players and social video influencers. Working with expert content creators such as Copa90 is a great way for brands to create content designed specifically for social platforms. Collaborating with COPA90 allowed Adidas Football to supercharge its reach and engagement amongst young, obsessive football fans. One great video capitalized on the YouTube 'challenge' video trend in creating "Roberto Firmino's Ultimate 'No Look' Challenge" with influencer & presenter Vuj.
This approach shows a more sophisticated, audience-first brand and partner media strategy that looks beyond Adidas' owned channels for authenticity. Overall the Adidas & Copa90 campaign performed particularly well proving to be 2900% more engaging than Adidas's regular YouTube content in the first 30 days.
#10 Adidas Drove $8M in Earned Media over the World Cup
OMD EMEA looked at brand content uploaded to pages or channels not managed by these brands to understand the additional video media value generated. Adidas drive over $8M in earned media over the World Cup through their #heretocreate campaign and use of sporting talent's social. Budweiser's sponsorship of the World Cup drove $3M. Their #reactionchallenge activation proved successful, partnering with influencers and driving reactions UGC. Visa also successfully used talent, with the Pay Like Zlatan campaign driving $2.6M in earned media.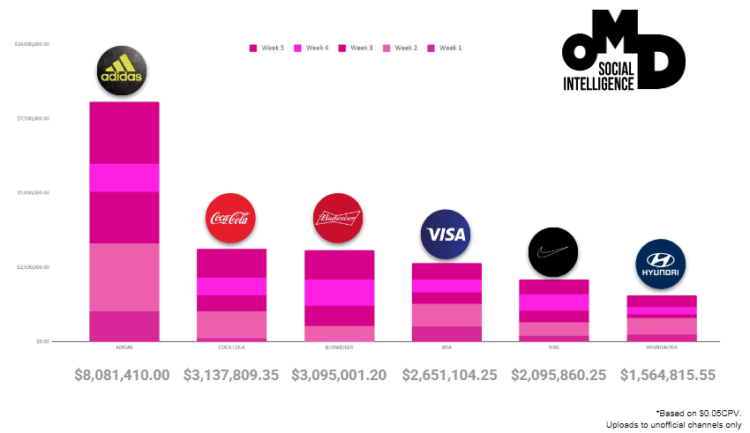 #11 This Was the Optimum Duration for Views in the First 7 Days
As with the previous World Cup, videos between 2-5 Minutes in length averaged the most views in the first 7 days on both YouTube and Facebook.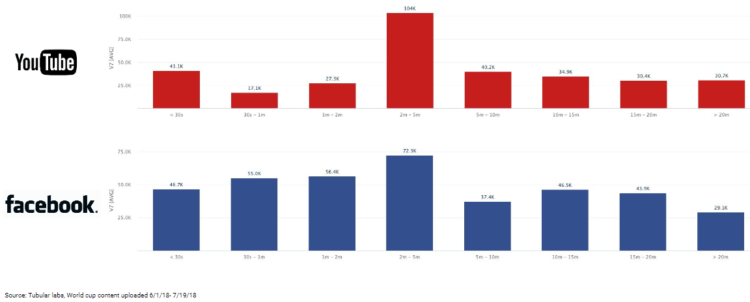 #12 This Was the Best Time to Post Video During the World Cup
Again like the last World Cup and Euro 2016, kick offs guided the optimum upload time on YouTube. Facebook also saw peaks during the two major kick off times of 3-4pm and 8-9pm UTC.
#13 These Were the Largest Audiences
Three of the largest audiences came from Countries who did not have a team in the World Cup showing the global impact of the Football. (United States 18%, Vietnam 4%, and India 3%).
#14 How Does the Demographic Data for Euro 2016 Compare to World Cup 2018?
Comparing World Cup 2018 to the last major football tournament in Euro 2016 we can see the changing Demographics of the Football audience on YouTube. A slightly older audience consumed content at this year's world cup with a 5.6% increase in the 55+ audience.18-24 year old males saw the biggest change their share of voice with a 14.2% drop. There was a 7% increase in female audience on YouTube. This could be driven by the increased coverage of women's football in the media.