Video Advertising
In 2019, FIFA Women's World Cup Is Social Video Gold
By Linda Freund · June 06, 2019
In 2019, FIFA Women's World Cup Is Social Video Gold
The 2019 FIFA Women's World Cup is here. Grit and glam are on full display, as 24 countries face-off in France through July 7.
The cultural narrative has generally been that there's little global interest in women's football. But one look at recent video data proves the opposite: in 2019, women's football is social video gold. In the past 90 days, Women's World Cup-related content scored 71.2M views across social video platforms (as of June 4, 2019). The view count is sure to burgeon heading into the July FIFA finals.
To mark the FIFA tentpole event, brands from Nike and Qatar Airways to Visa have cooked up unique video tributes to women's athleticism and empowerment. The content serves as a hat-tip to the global conversation about female equality in all arenas, not only the football one.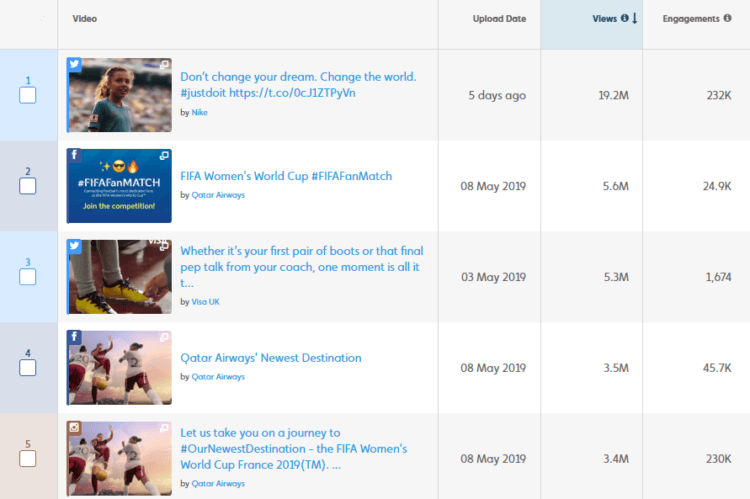 But it's not just the amount of content that's expanded this year, it's the sentiment expressed. The aforementioned brands are giving women a breather from the inequality struggles they confront daily, to celebrate their many strengths.
This month's top World Cup videos offer moving tributes to a woman's steel will. They're contagious and they're celebratory, a message that fellow content creators would benefit from adopting as FIFA fever intensifies.
Related Read: Nike's "Dream Crazier" Ad Wins the Show at the Oscars
The Numbers: Top FIFA Women's World Cup Videos
Nike, Qatar Airways, and Visa are dominating the women-sports convo and viewers can't get enough. Each brand's top-performing FIFA video has scored millions of views: Qatar Airways (5.6M), Visa (5.3M), and Nike (19.2M).
By view count, Nike is the undeniable leader. On Twitter, Nike's top Women's FIFA video scored 18.6M views in its first three days alone! That's 3x+ more views than Qatar Airways' top-performing FIFA video (which scored 5.6M views over the past month on Facebook).
Women's World Cup content is getting the most traction on Twitter. The platform hooked 32.2M views in the past 90 days, accounting for nearly half of the total views across all platforms. Facebook accounted for 25.4M views, Instagram for 7.3M views, and YouTube for 6.3M views.
Brands and publishers uploaded 721 Women's World Cup-themed videos in the past 90 days. The content is female-themed, but the majority watching it are male. Men make up 79% of the audience for Women's World Cup-related videos.
750M people watched the 2015 Women's World Cup, according to FIFA. FIFA president Gianni Infantino expects that number to swell to 1B viewers this time. Many will be turning to social media to keep the electricity going long after the final match. Brands, do you have adjacent video content on deck this summer to tap into this global fanfare?
Nike Inspires Young Girls To "Dream Further"
Each year, Nike flexes its brand recognition by incorporating superstar athletes into its aspirational video campaigns, most recently featuring Serena Williams and Colin Kaepernick.
This past week, Nike leveraged this winning strategy, once again, with "Dream Further," which stars U.S soccer star Crystal Dunn, Brazil's Andressa Alves, China's Wang Shuang, and Australia's Sam Kerr. The video follows a 10-year-old Makena Cook as she navigates the fast-paced life of a pro athlete. What results is a three-minute kick-ass tribute to sisterhood, set to the soundtrack of Joan Jett & the Blackhearts' 'Bad Reputation.'
The "Dream Further" video (#1) has dominated social views and engagements on Twitter since the campaign launched on June 1. On Twitter, the video scored 19.2M views and 232K engagements. (On YouTube the same video scored 1.6M views and 893 engagements, indicating that Nike's fan following is more active on Twitter).
Qatar Airways Heads to France in World Cup Videos
Qatar Airways is getting top engagements for its FIFA 2019 social-video campaign. The airliner's flagship ad follows a little girl to a magical land where stadiums erupt like volcanoes, soccer balls rain down from the sky, and women's soccer stars are literal giants (like something straight out of Greek mythology).
In other words, females athletes are pictured at true scale. The video ends with a nod to Qatar Airline's newest destination: the France FIFA World Cup 2019.
The video scored 3.4M views and 230K engagements on Instagram (#5), and 3.5M views and 45.7K engagements on Facebook (#4).
The state-owned airliner's campaign timed wisely with the May 2019 inauguration of Al Janoub Stadium, the first of Qatar's FIFA World Cup venues. Qatar will host the FIFA World Cup, men's division, in 2022, marking the first time the competition will be hosted in the Middle East.
Qatar Airlines' top-performing single FIFA video by views is the #FIFAFanMatch competition (#2), a paid partnership that scored 5.6M views on Facebook. It comprises a video slideshow with a CTA for fans: list a player you hope will shine and qualify to win a free flight to the World Cup. The video's high performance proves a simple truth: a hashtag and giveaway inevitably score higher views.
Visa: "It Takes One Moment" to Encourage Women in Sports
With Visa's "It Takes One Moment" video campaign, the company is encouraging people to uplift women everywhere and support their athletic dreams. Additionally, the campaign celebrates Visa's role as the official payment services partner for all global FIFA Women's World Cup transactions.
The video opens with a father buying his little girl soccer cleats with his Visa card (of course) and ends in a roaring stadium where fans cheer women players on.
The video scored its highest views on regional verticals: Visa UK (5.3M views on Twitter since its May 3 release) and Visa Colombia (Spanish language, 3M views on YouTube since its April 29 release).
This indicates that it pays off to tailor ads on social for specific markets with local narration and languages. More so, Visa's video is primed to do this because it has a global feel that is reflective of the multinational appeal of the company. The video incorporates diverse footballers across the globe, including a moving aerial shot of South Asian school girls kicking a ball.
Women Sports Players Are Some of the Top Content Creators
Something for brands to keep an eye on is the number of women footballers who are emerging as key content creators. There is definite interest on social video in engaging with players off the football field as they navigate young-adulthood and address gender issues.
#WePlayStrong Wins Fans
YouTube's WePlayStrong Channel (12.1K subscribers) features regular content from football stars including Scotland and Arsenal forward Lisa Evans and Madrid CFF defender Eunice Beckmann. The channel's diverse content ranges from pro footballer fashion and diet tips, to travel videos and comedic team-sport challenges.
The channel's primary home is YouTube, though it pushes out content across platforms from Facebook to Instagram. In 2018 it published 598 videos, scoring a total of 15.5M views across platforms.
A recent favorite includes a football match with Millie Bobby Brown, otherwise known as Eleven in the hit Netflix series Stranger Things, which scored 582K views and 9K engagements on YouTube.
German Women's Football Team: "We don't have balls, but we know how to use them."
The German women's football team (DFB-Frauenfußball) went viral this month for its video ad celebrating women footballers, produced in partnership with Commerzbank AG, one of Germany's major banks. This is the bank's third time sponsoring the Germany women's soccer team (it did so in 2015 and 2017).
The video, in German with English subtitles, was multi-posted by several media publishers garnering millions of additional views, including UK's Guardian and sports-media publisher DW Sports, where it racked up 1.5M views on Twitter.
The video has a Snapchat aesthetic that flashes between witty comments from players and quick-cuts of impressive football play.
"We like to wear high heels AND knee socks," the narrator says. Translation: women can be badass athletes and embrace their femininity at the same time.
The ad starts as a defense of women in football, but ultimately ends as a celebration of a women's team and sport that has officially arrived in the public consciousness.
The FIFA Women's World Cup runs through July 7 in France.
To get more sports video insights, read our State of Online Video Report for Sports Media and Entertainment.