Branded Content
Bleacher Report Is the Sponsored Content Winner of 2019
By Julian Alvarado · July 25, 2019
Bleacher Report Is the Sponsored Content Winner of 2019
Sponsored content is huge on social video but do you know how big it really is?
In the world of sports media and entertainment alone, the genre has more than 3x the amount of sponsored videos than the rest of digital video combined on Facebook. That's exactly 2.1% versus 0.6%, respectively.
To get a better understanding of the sponsored content landscape, we thought of no better example of success than Bleacher Report (aka B/R). The digital publisher is not only the #1 partner in the Sports genre, but also the #1 partner by engagements in all of digital video — period.
For perspective, more than 8000 sponsors collaborated with 3000 partners in sports last year. If we take a step back and examine all of digital video, those numbers grow to 79k sponsors and 54k partners.
Want to know more about the growth of sponsored content in sports?
But we understand there's a world beyond sports, so we thought it would be interesting to survey the broader content landscape, and the results spoke volumes to B/R's success.
When looking at sponsored content for brands and media publishers we found that Bleacher Report and one of its portfolio brands, House of Highlights, are the #1 and #2 sponsored publishers on Instagram this year.
The two profiles account for 8/10 sponsored videos ranked by audience engagement thus far in 2019. And their sponsors come from a diverse range of industries like apparel, food and beverages, or media.
Take a look for yourself below!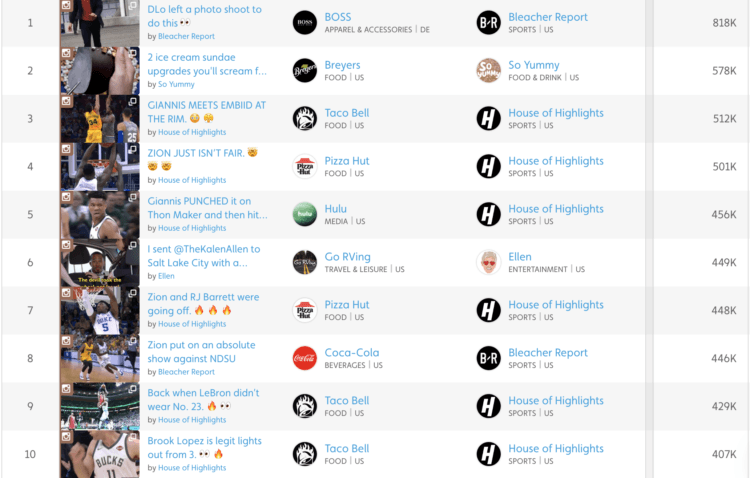 The most engaging video by Bleacher Report shows Golden State Warriors guard, D'Angelo Russell, breaking ankles in a pickup game of ball in Brooklyn while suited up in a stylish Hugo Boss fit. The video had 3.9M views and 818k engagements on Instagram since it got posted in April 2019.
The takeaway: If you are a sponsor looking to engage audiences on Instagram, the Sports category, followed by Entertainment and Food & Drink, is the best content genre to look for partner opportunities.
Interested in learning more about how Bleacher Report became a sponsored content champion? Read Hashtag Sports' interview with David Liss, VP of Analytics and Strategy at B/R.