Who Won the Bottle Cap Challenge?
By Julian Alvarado · July 12, 2019
Who Won the Bottle Cap Challenge?
It started with a kiss kick… the bottle cap challenge, that is.
Over the past few weeks, #BottleCapChallenge has been trending across the world and everyone from celebrities, influencers, and even brands are jumping in to compete with the most impressive interpretation of how to unscrew a bottle cap using a single kick (or any other sensational method they can think of).
Sorry folks — we're not athletic enough for this stunt, and even if we were, everyone already took the good ideas! So instead of trying our own, we're going to do something different:
Who's won the #BottleCapChallenge so far across brands and influencers? Read on to find out!
Brands and the Bottle Cap Challenge
The competition was fierce on the brand side, but sports apparel company PUMA pulled away as the clear winner with 2.6M views, followed by car manufacturer Chevrolet with 2.2M views.
These are the top five bottle cap challenge videos of the last 90 days from brands: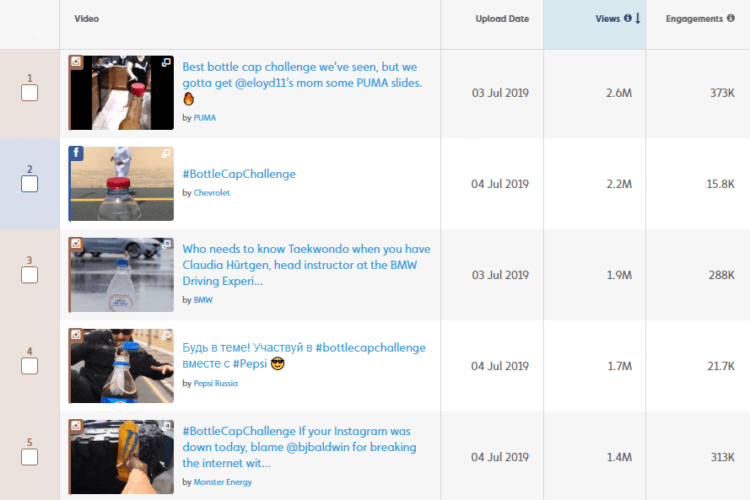 Pepsi Russia and Monster Energy stepped up to the plate to represent the food and beverage industry, which obviously plays a big role in the #BottleCapChallenge. PUMA being in the top five also makes sense; the company makes some good kicks, after all.
However, it's the presence of auto brands Chevy and BMW that show just how a trend can catch on no matter the industry. BMW in particular has had success crossing over into other industries in the past, including placing in the top videos for National Donut Day. It's a powerful lesson in viral, cross-industry marketing all brands can learn from.
Celebrities and Influencers Respond to #BottleCapChallenge
Ok, so Mariah Carey clearly won out of all the celebrities and influencers performing the bottle cap challenge, taking in 11.1M more views than Jason Statham and almost 2x more than football star Zlatan Ibrahimovic (don't worry, Zlatan — you are still #1 in our hearts).
Here's who else landed in the top five:
Some of these videos are more like failures (here's looking at you, Ryan Reynolds and Lele Pons), but those views and engagement just go to show you don't need to actually pull off the feat to go viral. Maybe we should've tried our own take on this challenge after all…
Over to you: which of these videos was your favorite?