How Brands Rocked This Year's Top Music Festivals
By Linda Freund · September 01, 2019
How Brands Rocked This Year's Top Music Festivals
Music festivals are the Shangri-La for brands.
Some forty-four percent of Americans attend a live music festival every year, according to Nielsen. And concertgoers are more keen to buy products from brands who are part of their music experience.
This makes music events the perfect playground for companies looking to connect with millennial consumers on a massive scale.
The action revs up in April with Coachella and evolves into a summer of music mania, crescendoing in August with Lollapalooza and MTV's Video Music Awards (VMAs).
And in 2019, the more outrageous or bespoke the brand-music experience, the better.
This year, there was no shortage of unique brand activations that had music fans #LivingTheirBestLives and sharing their euphoria on social feeds.
Brands like Red Bull, Revlon, and Calvin Klein captured the spectacle around 2019's music festivals via creative social video efforts that generated millions upon millions of views.
Want to learn more about how these brands are resonating with both the rockers and the rappers? Read on!
Brand-a-palooza: Revlon and Red Bull Wow Music Fans
Lollapalooza 2019 in Chicago was packed with one-of-a-kind experiences for the festival's 400,000 attendees (plus the scores of extra people who scaled the festival's security fences, of course).
The music event's star acts were paid multi-million dollar, festival-headline fees. (This is the new normal for summer music festivals. Ariana Grande earned a reported 8 million big ones for her Coachella 2019 performance alone.)
As a result, tickets have become uber-expensive, starting at $340 a pop for this year's Lolla. Surely after emptying their bank accounts, concertgoers welcome a brand's complimentary add-ons, from limited-edition swag to brand-hosted immersive experiences.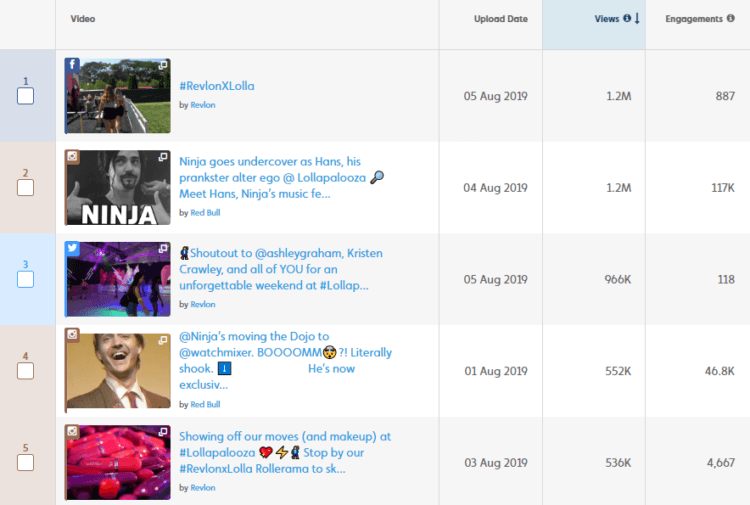 At this year's Lolla, brands totally delivered with activations and giveaways. Let's size up some of the most innovative.
Apparel brand American Eagle handed out customized fanny packs (because, let's face it, fanny packs will ALWAYS be cool!) and rocked out with beauty influencer Amanda Diaz at a special AE house set up for the event.
Beverage brand Cupcake Vineyard served Frozies (frozen selfies) at their restaurant-cum-playspace. These wine slushies boasted an edible image of your face spray-painted on top (how's that for an out-of-body experience?).
Bud Light set-up its dive bar oasis with bottomless drinks and intimate music performances. The beverage brand has made its #divebartour a fixture at music festivals and venues over the past several years.
But it was Revlon and Red Bull who truly captured the social video beat. There were 128 brand uploads from Lolla this year and these two brands lead the pack by views.
Beauty brand Revlon built a disco-inspired skating rink dubbed the Ultra Rollerama. Concertgoers skated their hearts out and nabbed a free sample of Revlon's Ultra HD Vinyl Lip Polish (ugh, talk about #FOMO).
In the most-viewed Lolla video, plus-sized model Ashley Graham and fashionista Kristen Crawley welcomed us to Revlon's roller derby wonderland, replete with silver-colored roller skates, powerhouse female DJs, and 360-degrees of neon-painted lips (1.2M views on Facebook).
Revlon uploaded 8 additional videos from the rink, earning a total of over 3M cross-platform views and 10.5K engagements.
Red Bull uploaded 15 videos from Lollapalooza 2019, amassing 2.5M cross-platform views and 326K engagements. The beverage brand created an esports outpost where Twitch streamer Ninja played live video games:
Fans took selfies with the infamous gamer-influencer and cheered him on to victory. (The epitome of current! If you ever want an example of how far we've come in the 50 years since Woodstock, this is it.)
In Red Bull's second most-viewed Lolla video, Ninja hit the festival undercover as Hans, his alter-ego (1.2M views, 117K engagements on Instagram). Hilarity ensued. Did fans recognize the gamer? I won't spoil it for you…
This man-on-the-street feature is a great example of a brand activation done right. Red Bull planned beyond the concert to create this supplemental element specifically for social video feeds.
This is especially beneficial for brands maximizing on influencer relationships. After all, content creators like Ninja are total view magnets!
Calvin Klein Raised the Roof at Coachella 2019
In April, Calvin Klein took over Coachella 2019 with a totally tubular activation.
The apparel brand set up a 1970s-themed #MYCALVINS house. Fashion guru and Instagram influencer Lizbeth Hernandez took viewers behind the scenes of the retro CK house, showing fans a funky ball pit, big-screen immersive art display, and a custom t-shirt station (622K views on Instagram).
The fun-house also served as a whimsical staging ground for breakout artists to perform at the music festival, like female rapper Chika who gave an exclusive performance of her new single, "No Squares" (773K views on Instagram).
Finally, the apparel brand took to the festival grounds to capture attendees wearing classic CK fashion. This montage-style video earned 1.8M Instagram views and placed #2 among the top 10 most-viewed brand videos from Coachella 2019.
All told, Calvin Klein uploaded 27 Coachella-themed videos garnering nearly 5.6M cross-platform views and 930K engagements. The brand accounted for four out of ten of the most-viewed Coachella brand videos.
MTV and Twitter Transform the VMAs Viewing Experience
Brands that offer engaging spectacles at music festivals are clearly dominating social feeds. And the reason is obvious. They're tapping into the "experience economy."
More than half of millennials value experiences (like travel) over things like owning a home, according to the 2019 Deloitte global millennial survey.
So, how do you activate an "experience" during music awards shows that are often viewed passively from one's couch? Look no further than MTV's Video Music Awards (VMAs) for the answer.
As background, YouTube streamed Lollapalooza 2019 and a series of behind-the-scenes interviews, scoring 4.7M views for the effort. (Lollapalooza scored 10.8M views for this year's overall festival-related content across all platforms). This followed the success of a Coachella YouTube livestream last April.
But MTV took the live-viewing experience to a new level in the VMAs in August. It collaborated with Twitter to launch the VMA Stan Cam.
For the first time ever, fans held the reins when it came to their VMAs viewing experience. On Twitter, they voted on which celebrities to watch during critical moments and which to follow back stage (are you taking notes for your upcoming fashion show, Victoria's Secret?).
The hottest Stan Cam moments were audience shots of Shawn Mendes and Camila Cabello, who spent the evening in full PDA-mode. People are still buzzing about the couple's almost-kiss on stage. Steamy! The duo's Stan Cam moment had 615.1K live viewers on Twitter.
Also Check Out: Tubular Uses Social Video Data To Predict the Winners of the 2019 VMAs
In recent years, the VMAs have served as an influential testing ground for viewer engagement strategies. For example, over the past several years, Taco Bell has sponsored the Best New Artist category.
The brand asks viewers to vote for their favorite new artist on Twitter using hashtags. This effort gives fans a voice in the process and positions Taco Bell as a major supporter of emerging-music talent.
It was a competitive field this year with frontrunners Lil Nas X, Billie Eilish, Lizzo, and Ava Max all vying for the accolade. Victory went to singer-songwriter Billie Eilish.
The Taco Bell social video feed was all crickets this year, but last year Taco Bell congratulated 2018 best new artist Cardi B with a video posted to Twitter that scored 34.1K views.
Pepsi Delights with 'the Museum of Missy'
At this year's VMAs, Missy Elliot became the first rapper to win the 2019 Vanguard award. MTV posted a video announcing the rapper's much-deserved success in mid-August (4.5M views on Facebook).
To honor the victory, Pepsi jumped on the "experience economy" bandwagon and opened a Missy Elliot immersive-museum experience in NYC. Tickets reportedly sold out in one minute!
Fans can "lose control" as they take in the fascinating history of the female rapper. They can star in the music video for "The Rain," outfitted in the infamous garbage bag coveralls and even get personalized nail art on site. Talk about Instagram-worthy!
The beverage brand hasn't published any videos documenting the exhibit (maybe Pepsi is leaving that part up to the fans?). But a Twitter video recently posted by Missy, that praises the museum effort, has amassed 218K views and 17.8K engagements.
This awards season, MTV also collaborated with select SoulCycle studios to offer VMA-themed rides. Music fans cycled it out to curated playlists… an homage, perhaps, to Ariana Grande's SoulCycle-inspired performance of "Side to Side" at the 2016 VMAs (the video has scored 47.4M YouTube views to date).
How Brands Can Engage with Upcoming Music Festivals and Events
Don't let these billion-dollar brand activations scare you off. Brands don't have to be on-site or an official sponsor to capitalize on the music fever.
Fenty by Rihanna kicked off the festival season with a makeup tutorial on how to get the perfect festival beauty look. The video offered tips on how to make your foundation last longer and dazzle with "sangria sunset" eyes (538K views on Instagram).
And hair product brand Sexy Hair, known for its bestselling hairspray, created a tutorial on how to get a unique festival hair look (11.5K views on Instagram).
When it comes to the VMAs, in 2015 Jolly Rancher posted a comedic animation on Twitter venting about awards-speech interruptions (40.4K views on Twitter). Herein lies the perfect example of a simple riff that jives with the zeitgeist.
No doubt, there are opportunities abound to cash in on the craze around music festivals and events. What are you waiting for?
Calvin Klein isn't the only fashion brand making waves across music festivals and social video!