Content Strategy
Who Won the European Elections on Social Video?
By Julian Alvarado · May 28, 2019
Who Won the European Elections on Social Video?
Over the weekend, 400M eligible Europeans hit the polls with a lot on the line in this year's European elections. The rise of anti-Europe sentiment in different countries has left the centrist, pro-Europe, parties fighting to hold onto the idea of a united Europe.
How has the debate been covered by political parties, news channels, and other content creators in the months leading up to the election and immediately following it? We'll break it down from a content perspective below.
Content About the European Elections Thrives on Facebook
Prior to this weekend, election interest on social video peaked in April, coinciding with the launch of the European Parliament's "Choose your future" campaign.
The video tugs on heartstrings with incredibly emotional and intimate scenes of childbirth and newborns. The ultimate call-to-action comes from one of the child narrators of the video asking voters to choose their future. The video brought in 99.6M and 34.1M views on Facebook and YouTube respectively.
Interest in election coverage slowed down after April, but interest is picking up again now that the election is over. In a platform-by-platform comparison, Facebook remains king for election coverage, amassing 31.3M more views than YouTube, Twitter, and Instagram combined.

But platform popularity differs from country to country:
In the U.K., Twitter was by far the most popular platform for election coverage (15.3M views).
In Germany, voters chose to inform themselves via YouTube (26.5M).
In France, voters relied on Facebook (7.3M) as their preferred source of election coverage.
Things get even more interesting when we examine what voters watched pre- and post-election from country to country.
Most Popular Election Coverage Videos Differed by Country
German voters watched more campaign videos from political parties and politicians prior to the election. Not surprisingly, after the election, their content bias skewed more towards news coverage, influencer opinion, and entertainment/comedy.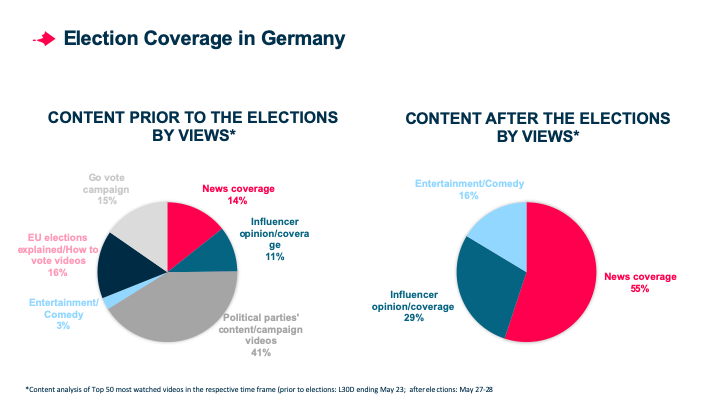 Generally, when it came to pre-election coverage, French and U.K. voters favored content from news channels, as opposed to content directly from political parties and candidate campaigns.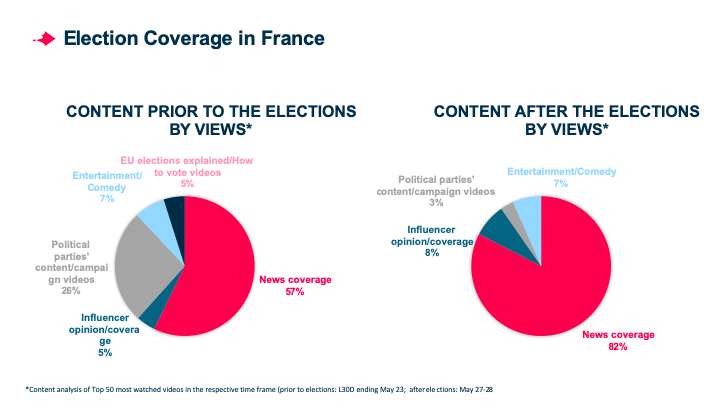 Voters in France were slightly more receptive to content from political groups and candidates than their counterparts in the U.K.
Speaking of the U.K., voters seemed to be more receptive to pre-election content coming from influencers and opinion coverage, than either Germany or France. Following the election, their content bias has fallen towards news coverage, as well.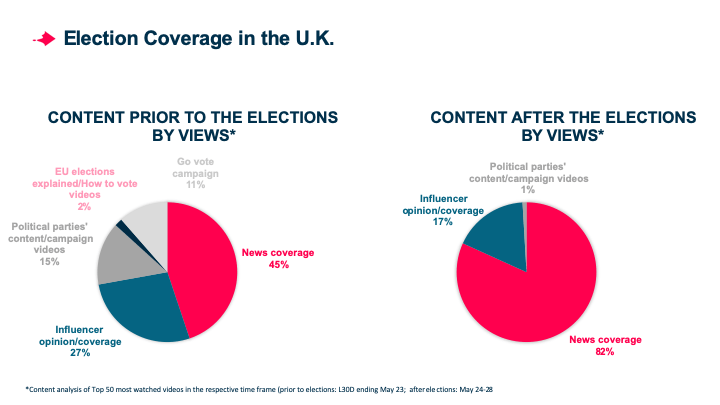 No one knows what Europe's future holds, but one thing is clear. No matter their political opinions, people still turn to social video for their daily dose of election coverage.