Audience Development
Battle of the Fast Food Chains: Who's Winning on Social Video?
By Linda Freund · August 29, 2019
Battle of the Fast Food Chains: Who's Winning on Social Video?
Note: This article was originally published on August 1, 2019
… Enter The Great Chicken Sandwich War of 2019.
Over the past two weeks, Popeyes has dominated our social feeds with all the discussion over what is being called "the sandwich here to save America." Catchy, right? No wonder why Popeyes' parent company, Restaurant Brands International, is looking for a global chief marketing officer to support their push into international markets!
Recap: It all started the week of August 12th, when Popeyes quietly released the sandwich to the masses. Shortly thereafter, the restaurant chain took to Twitter to publically bash Chick-fil-A and Wendy's.
The resulting series of "clap backs" between the restaurants (and fans going to war for their favorite sandwich) did something that is not often seen. Breathe life into a 50-year-old brand, allowing their popularity to surge. It's reported that the company took in about $23m in earned media in 11 days from the hype – undoubtedly led by the positive reception on #BlackTwitter.
Behold the power of user-generated content!
We thought it would be interesting to see how this played out on social video. Here are the top 10 performing videos related to The Sandwich Wars of 2019.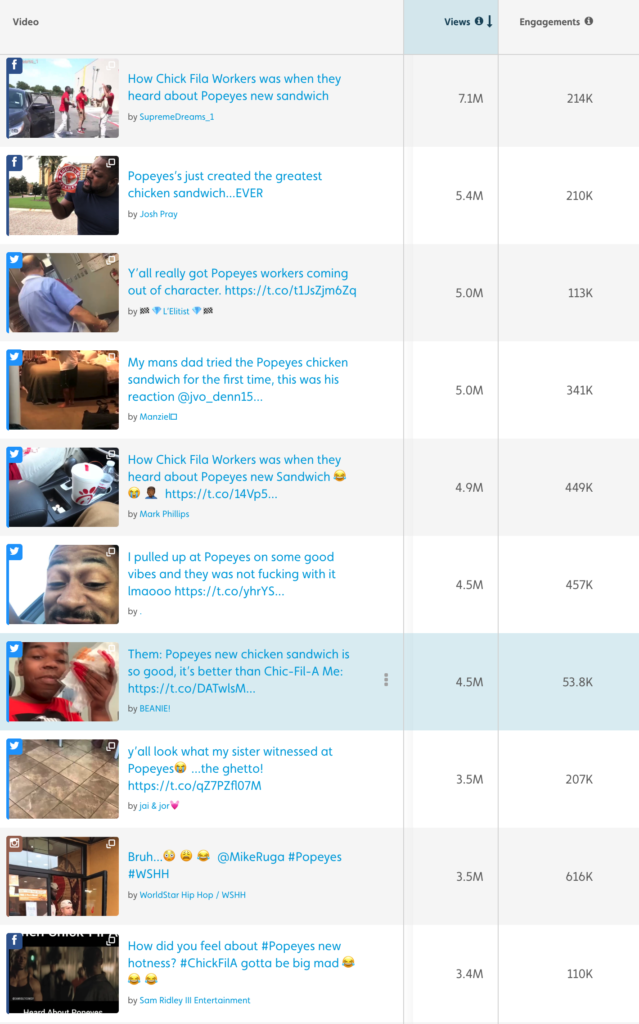 As you can see above, the top-performing video by views came from SupremeDreams_1 (a staff favorite). But if you take a closer look you'll notice that single of these videos comes from a Popeye's account.
A reminder to brands to embrace UGC, like Mattel or Benefit Cosmetics. After all, it's an extra set of eyeballs for your brand and can be a huge driver of sales.
Were you able to try this masterpiece before the company sold out of 2 months' worth of sandwiches in 2 weeks? If not you have to! We hope you got one because this is a rare case when expectations meet reality.
---
Fast food chains are engaged in a constant battle to win over the hearts of the hungry. And what's the fastest way to someone's heart? Through their stomachs, of course.
But, these days, it's also through their social video feeds!
McDonald's, Burger King, and Wendy's are sizzling-up social with an array of clever videos. And the competition for attention has turned spicy.
From mind games to old-fashioned internet trolling, these top fast food chains are cooking up new ways to stand out.
Here's the state of the "Burger Nation" as of July 31, 2019:
McDonald's is leading the fast food video charge with 2.3B views and 13.5M engagements for 9984 cross-platform uploads to 99 regional verticals.
Burger King uploaded about 35% of McDonald's video total, earning 418.2M views and 2.3M engagements across all platforms on 48 regional verticals.
When it comes to individual brand creators, Wendy's U.S. vertical is the #3 cross-platform food brand creator in the world. In June alone, the brand creator earned 75.5M views and 90K engagements across platforms.
Accounting for most of these views and engagements, are short glamour shots of the actual food. This comes as no surprise.
Fast food chains share one key objective: to make viewers salivate as they scroll.
Related Read: KFC's Steamy Video Is Perfect for (Mother) Hen Parties
But what's happening beyond the food bait? Read on as we breakdown some of the most compelling fast food videos on today's menu.
Burger King, The Ruler of Social Video Trolling
The Burger King vs. McDonald's feud has spanned six decades, as the burger joints compete for global market share. On social video, Burger King has catapulted the feud into the modern era by trolling its competitor online, every chance it gets!
Last May, Burger King released its "Unhappy Meal" ad, a direct poke at McDonald's popular Happy Meal offering. The video opens with a sullen narrator in a dark bedroom.
"Not everybody wakes up happy. Sometimes you feel sad, scared, crabby," the narrator said. An emo song swells followed by a patchwork of people in different moods.
The ad concludes with images of the brand's limited-edition "unhappy meals," including the Blue Meal, Salty Meal, Yaaas Meal, and the DGAF (Don't Give a F—) Meal.
The #feelyourway campaign (in partnership with Mental Health America) garnered:
1.8M views and 20.4K engagements on Twitter
927K views on other platforms.
1.6M views cross-platform from brands, influencers, and media publishers (like Mashable and Yahoo Finance) who multi-posted the video.
This secondary media boon is a key component of Burger King's troll campaigns. The shock value of Burger King's ads makes for instant organic distribution.
The Ultimate Troll Across Fast Food Companies
Burger King grew its troll fangs in 2015 when it proposed a comprehensive "McWhooper" peace treaty.
The ensuing campaigns have taken hits at McDonald's scary clowns and even equipped consumers with AR-technology on their phones so they could virtually set McDonald's advertisements ablaze.
Earlier this year, when McDonald lost its "Big Mac" trademark in the EU, Burger King Sweden responded with a video introducing their exclusive new menu items: the "Not Big Macs" (327K views and 1035 engagements on YouTube).
Needless to say, Burger King has made a sport of "grilling the golden arches." But, amid the pageantry, the brand strives to keep the tone playful: more "pesky little brother" than "schoolyard bully."
"We don't do things that are mean-spirited or that can come across as bullying. Fast food is a fun occasion," Burger King's global CMO Fernando Machado told Adweek. McDonald's, for its part, rarely responds.
Brand Activism: Burger King Explains Whopper Neutrality
In addition to fearless trolling, Burger King isn't afraid to wax political. One of the brand's most-watched videos ever takes on the topic of net neutrality.
What's net neutrality, you ask? The parody ad shows Burger King workers explaining the concept to customers in Whopper terms: if you want your whopper faster, you'll have to pay more.
The brand's aim was to clarify, in simple terms, the need to regulate how much internet companies are charging people. And, as it turns out, viewers loved the politics lesson.
They ate it up. Published in January 2018, the video has earned 15.3M views and 424K engagements on Facebook.
For Super Bowl 2019, Burger King Goes Artsy Fartsy
In 1982, modern artist Andy Warhol ate a Whopper on camera for four-and-a-half delightful minutes. Warhol's signature ode to Americana hit primetime this year when Burger King acquisitioned the video art for the 2019 Super Bowl!
The brand aired 45 raw seconds of the film as a commercial during the sports event (it offered the full version online).
Related Read: 2019 Super Bowl Commercials: Who Won on YouTube?
Key industry leaders dubbed it the "worst Super Bowl ad." After all, it's a select few who can identify Warhol in a lineup, let alone trust him as a brand ambassador.
But the social video data paints a rosier picture. The campaign hooked the fast food brand 17.9M views and 946K engagements from cross-platform videos with the #eatlikeandy hashtag.
Influencers joined in on the craze, with homegrown interpretations of the Whopper eat-a-thon. This includes a sponsored Instagram upload from Daquan Geese, who has 12.7M followers.
Geese sports a blonde Warhol wig and shimmies his way through his Whopper feast. The meme-friendly video caption brings the clip home: "When you finally get the food you've been craving" (1.4M views and 107k engagements on Instagram).
McDonald's Top Video Campaigns Are Golden
The first McDonald's TV commercial aired in 1963. More than 55 years later, McDonald's is the most-viewed out of all fast food chains on social video and the most popular out of all fast food restaurants in the world, according to a recent survey.
Supersize My Mind, Please
McDonald's most engaging video on YouTube to date is called the Big Mac Mind Test. When you watch, don't look away! The fast-paced ad is meant to dupe the lazy viewer.
The segment was published in 2014. Five years later, McDonald's still hasn't topped these YouTube engagement numbers (278K engagements for all campaign videos). Time for a sequel, Mickey-D's?
Introducing the Bob Ross Burger
In 2017, McDonald's launched its first live Facebook event: The Starving Artist. This 45-minute live burger-painting event is trippy. Think Bob Ross meets Ronald McDonald.
Warning: You may laugh up your lunch. The burger art later went up for bidding on eBay, with proceeds going to the Ronald McDonald House Charities.
The video scored 35.3K views and 5187 engagements. The comments were mostly viewers in shock, while others confessed they simply couldn't stop watching.
MCDonald's admits it was a risk. The improv star was off-script and a fountainhead of Dad jokes. But the fast food brand was happy to beef up its online video offerings.
"It's inherently interesting because you don't know what's going to happen so we're trying to take advantage of that and see how that might work for a business that's 60 years old," said Paul Matson, then McDonald's director for U.S. social engagement in an interview with AdWeek.
Since its live foray, McDonald's has published nearly 500 live videos to Facebook and YouTube, racking up 1.6M engagements and 49.4M views (106K views on average per video).
For McDonald's, its top live videos represent a step away from the fast food chain's otherwise polished social offerings. It's here you'll find a hyperlocal brand voice and aesthetic.
This includes McDonald's France's shaky cell phone footage of a man ordering fries at a computer portal (1.4M Facebook views), McDonald's Canada's continuous stream of fries being served at a local franchise, and McDonald's Malaysia's comedic assortment of live eating challenges (414K Facebook views).
McDonald's Dominates the Sponsored Video Realm
McDonald's regularly partners with influencers to reach its target audiences across different socio-economic backgrounds. The brand accounts for 70% of the top 10 sponsored fast food-related videos this year.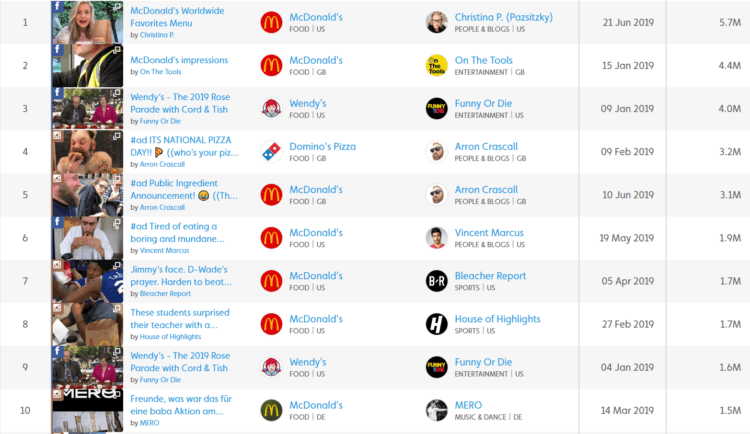 This includes McDonald's partnership with On The Tools, a niche UK creator for construction workers. In the video (#2), a construction worker employs his best celebrity impressions as he orders at a McDonald's drive-through (4.4M Facebook views).
His Schwarzenegger is spot on! This is one of several influencer videos that pivot away from promotional fare to give the brand a more personable edge.
Wendy's Is at the Top of the Fast Food Chains
In June, Wendy's drew more viewers and engagements to their video drive-through than any of the other fast food chains by vertical.
The brand's secret weapon? Snark! Ever since Wendy's coined the "Where's the Beef" catchphrase in its 1984 commercial, the brand has been known for its blunt style.
The snark was on full display during last year's Super Bowl where Wendy roasted its competition. The video ad took aim at McDonald's for serving "flash frozen" burgers.
"The iceberg that sank the Titanic was frozen, too," the ad's text reads. That's cold.
The ad generated 29.2M views and 43K engagements across platforms for the brand's multiple campaign videos.
Wendy's Partners with Gamers for Unparalleled Wins
Wendy's overall success is, perhaps, most due to its average duration for its social feeds:
On Facebook, Wendy's social video snippets are :03-:04 seconds max.
On Twitter, they run :15 seconds.
On YouTube, they run no longer than :16 seconds.
But on Twitch, the video platform for gamers, it's quite the opposite. Wendy's sponsored feeds run three to four hours on average!
Today, Wendy's is one of the most active food brands on Twitch, a vastly unexploited resource in the social video world. The brand live streams its digital avatar playing Fortnite (one of the most popular video games on planet earth!) to its 28,152 Twitch followers.
In a recent videos stream "Keeping Fortnite Fresh," the brand's avatar blew up all the freezers in Durr Burger, the game's burger joint, as 2794 viewers watched.
And earlier this month, Wendy's turned to Twitch to advertise its new Baconator sandwich with a four-hour gaming stream. The first 1000 viewers who ordered from Wendy's through DoorDash got a free sandwich.
The brand earned 4272 views for the live stream on Twitch, all from a young, highly engaged viewership (a dream target for marketers).
Takeaway: Every Burger Needs a Secret Sauce
So, what's the bottom line for fast food chains? When in doubt, take jabs at McDonald's?
We're joking, of course. But viewers do enjoy a friendly turf war, especially in a crowded field like fast food restaurants.
The real key is to establish a singular brand identity (or in Wendy's case, an actual avatar). The three burger brands we highlighted have nailed their own social video characters:
Burger King is the reigning jokester, the crazy kid brother of the fast food chains.
McDonald's is the grown-up in the room (sincere, but definitely with a few Dad jokes up its sleeve).
And Wendy's is the witty buddy you play video games with.
Because what every fast food brand needs is a secret sauce.
Read Next: Nike Ads Slay Social Video Every Time! Here's How.