Other
FIFA World Cup 2018: Watch the Most Viewed Videos (To Date)
By Carla Marshall · June 27, 2018
FIFA World Cup 2018: Watch the Most Viewed Videos (To Date)
Tubular Labs measures social video analytics and sponsored video intelligence, and has compiled exclusive data on some of the biggest videos around the 2018 FIFA World Cup. Video views have been sorted by V3 (total views from first three days) to give you realtime insights into which World Cup content is generating the most views online.
Spotlight / "Live It Up" atop the charts: Nicky Jam's "Live It Up" — the official anthem of the 2018 World Cup has topped the Tubular Labs charts for all videos around the event for weeks now, garnering nearly 54.3 million views so far. Will Smith and Era Istrefi are also part of the hit video which shows little sign of slowing down.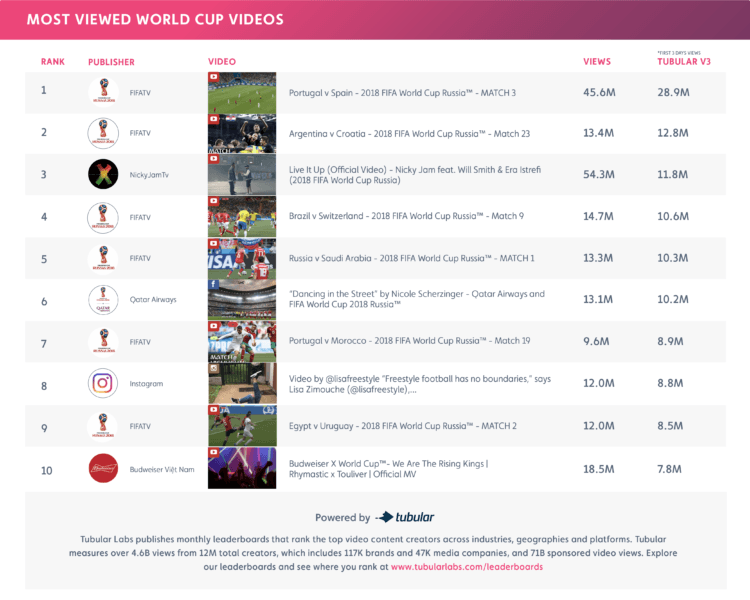 Goal! Most Watched World Cup Videos (So Far)
Hat trick!: Portugal and Spain thrilled fans in the early days of the World Cup, and not just via live broadcast. FIFA's highlights of the 3-3 draw generated nearly 29 million YouTube views in the first three days, making it far and away the most popular video sorted by V3 (total views from first three days) and the second-most popular World Cup video with 45.6 million overall.
Shocker: Croatia's 3-0 victory over Argentina was one of the most shocking results of group play, and fans flocked to relive the action online as well. FIFA"s official highlights from the match earned a V3 of 12.8 million on YouTube (second-highest total from the first three days of any World Cup video).
Influential: Instagram isn't a sponsor of the World Cup, but the social media app still managed to get in on the fun. Using a video from popular freestyle soccer influencer Lisa Zimouche, IG showed some love for soccer, the World Cup and one of its many creators on the site. The video's V3 was 8.8 million (and 12 million overall).
Movin' Up the Charts: Powered by Nicole Scherzinger's vocals, Qatar Airways' "Dancing in the Street" Facebook video drew a powerful link between the brand and the ability of soccer to unite people, regardless of where they're from. Soccer (and by extension here, dance) play center stage in front of the energetic soundtrack. Qatar Airways, a World Cup sponsor, tallied a V3 score of 10.3 million on Facebook.