Audience Development
How High-End Apparel Companies Are Courting Millennials (Part One)
By Linda Freund · August 29, 2019
How High-End Apparel Companies Are Courting Millennials (Part One)
"Who are you wearing?" It's a typical red-carpet refrain inquiring about designer apparel.
However, it's a seriously outdated question, especially true in the social video age where backstory is everything.
The more timely question is, "What do you KNOW about who you're wearing?"
Millennial consumers, on average, want to know more about the companies they're buying from. They covet transparency and honesty, according to a Label Insights survey of more than 2,000 millennials.
Ninety-four percent of the survey respondents said they will be loyal to a brand if they believe it is transparent. Apparel companies from LVMH's Dior and Chanel, to Gucci and Prada are habitually using video to meet this expectation.
In recent years, these high-end fashion brands have elevated their video content beyond aesthetics to reveal their brand's identity, supplementing visually-striking ads with mini-docs and behind-the-scenes videos on popular platforms like YouTube, Facebook, and Instagram. View this post on Instagram
Specifically, they're leveraging video to address questions that resonate with millennials like:
Where were your materials sourced?
What does the production process look like?
Does your apparel company support social values like inclusivity or sustainability?
And, most importantly, are your brand's actions inspiring me to engage with a cause bigger than myself?
And the results speak for themselves: millions of monthly views, steady subscriber growth, and increased brand affinity.
What does this look like in practice? And how are the aforementioned luxury brands differentiating themselves in provocative ways?
One thing appears consistent: timing is everything. Top apparel brands are producing documentaries to time with ethical or sustainable product launches which yield high sales.
They are collaborating with creators and celebrities in the run-up to marquee fashion events like the Paris Fashion Week and the Met Gala. And they are embracing user-generated content (UGC) to maximize on the immediate buzz surrounding a new product launch.
This two-part series expands upon these top strategies to reach millennials in the fashion video space. It also provides best practices that apparel brands — big and small — can adopt to better connect with young audiences.
High-End Clothing Brands Are Social Video Virtuosos
Millennials qualify as anyone born between 1981-1996 (ages23 to 38 in 2019), according to the Pew Research Center. Top high-end fashion brands are succeeding in engaging this demographic on social video and for good reason. Their market forecasts demand it.
According to a comprehensive 2019 survey by Boston Consulting Group (BCG) and Altagamma, the global luxury market will reach an estimated $1.5 trillion by 2025.
Currently, millennials account for 32% of total luxury spending. But by 2025, they will comprise 50% of the personal luxury market.
That means 130% of the market growth over the next five years is expected to come from millennials' bank accounts.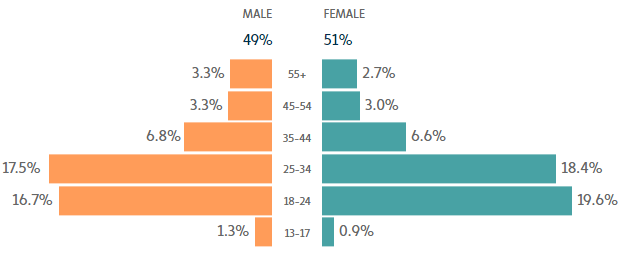 Needless to say, earning a millennial's brand loyalty today is essential in maintaining brand dominance in the coming years. Video is the ideal way to cement loyalty.
And these apparel companies are definitely cementing loyalty.
For example, the most engaging videos from high-end fashion brands over the past 90 days weren't advertisements. In fact, millennials filter or block out ads that are explicitly hawking a product to them, suggests a University of Massachusetts Dartmouth study.
Instead, millennials are engaging most with videos that take viewers behind-the-scenes to reveal a more authentic side of a brand. Among the top 10 luxury videos across platforms by engagements over the past 90 days, eight videos showcase the making of luxury apparel. Most incorporate interviews with designers and artistic directors.
Examples include a video on how Dior creates the illusion of movement in its Dior Summer 20 men's garments (#1) and how Chanel made its latest Métiers d'Art necklace which boasts 1500 individual rhinestones (#6).
For millennial consumers, these videos lead to aha moments about the link between artisan craftsmanship and cost. Several Instagram comments relayed the following sentiment: now I understand why these products cost so much.
Gucci Harnesses Video Trends with Premium UGC
About 78% of millennials are more interested in watching and engaging with UGC, even if the videos are the result of a brand-initiated campaign, according to UGC measurement platform Chute.
Gucci has taken UGC to the deluxe level. Each year, the Italian fashion house crowdsources online video artists worldwide to create one-minute films about its Ace sneaker (#24HourAce).
Gucci then showcases the premium user-generated content on Instagram, YouTube, and Facebook, drawing top engagements and millions of views. Gucci also leverages the creators' networks, as the participating influencers showcase the work on their associated websites and social video feeds.
Gucci stands out by commissioning UGC from artists who are in tune with social video trends.
In recent years, innovative stop-motion animation videos were amongst the highest-performing content during the #24HourAce campaign.
This year, among Gucci's UGC commissions, were artists who produce ASMR (autonomous sensory meridian response) videos. Over the past several years, the ASMR phenomenon has generated billions upon billions of views across platforms and shows no signs of waning (more on that in a bit).
Gucci harnessed the ASMR trend to give millennials a brain massage, associating gentle sounds like whispers or squishes with good feelings about their newest product. And it works — every single Gucci video in the top ten list above related to ASMR.
This year's top #24HourAce videos documented the slicing of a 3D-printed ACE shoe by artist Andreas Wannerstedt. In another, the luxury brand partnered with ASMR creator Oh Jia Hao who delicately sliced a gummy version of the Gucci Ace sneaker. *squish*
Oh Jia Hao's video has become one of the top luxury videos by engagements over the past 90 days (#5), earning 2.8M views on Gucci's Instagram account. The video scored an additional 106k views on creator Oh Jia Hao's platform (with 38.5K Instagram followers).
Gucci's collaborative video campaigns and readiness to embrace social video trends endears the brand to millennials. In a CNBC interview, Francois-Henri Pinault, CEO of Gucci's parent company Kering, said 50% of Gucci's sales are coming from millennials.
How to Keep Up with Popular Trends, Gucci-Style
How do apparel brands, like Gucci, keep tabs on trends like ASMR? By using Performance Insights, brands can identify these top trends in real-time to create videos that will immediately resonate with their audiences.
For example, the number of views for ASMR branded video has skyrocketed in the past year! It's gone from 2.9M views onYouTube in the first half of 2018, to 82.4M views in the first half of 2019!
That's nearly 30 times more views. What's more, for each brand video, the average view count more than quadrupled from 57.5k views per video to 281k views per video.
Instagram is seeing a similar bump, with ASMR brand videos doubling in view count.
Gucci joins the ranks of Ikea, which leveraged ASMR to build hype about its sheets and Michelob beer's 2019 Super Bowl ad, which featured Zoë Kravitz's ASMR-grade whispers and finger taps.
It's intelligence like this that gives brands a competitive advantage to launch data-driven campaigns and creator collaborations.
Chanel Inspires Millennials to Be More Mindful
Leave it to Chanel to inspire millennials to actually wear watches.
With the omnipresence of mobile phones, there isn't really a practical need to buy a timepiece anymore. Chanel's recent campaign to promote its new J12 watch disrupts that notion with a video series about the value of time in a fast-paced world.
The luxury brand features ten celebrities from Keira Knightley to Naomi Campbell in a classic black and white interview format. The celebrities muse on the most defining seconds of their lives.
Keira Knightley's interview alone earned 2.2M views on YouTube:
Often fashion brands will recycle eras in their clothing lines. How many times have we heard that the '80s are back? Alternatively, Chanel is working to bring back ghosted concepts. In the case of the watch campaign, the brand is working to gift millennials with something nostalgic: a sense of time before the smartphone era.
What was it like when people relied less on their phones and were more in tune with the movements of the sun? Is it possible to be more aware of the fleeting seconds in our own lives?
The brand's video interviews become the vehicle through which audiences understand the product's promise.
In this case, Chanel's watch represents self-improvement, awareness, and growth — total millennial catnip!
Celebrities as Brand Ambassadors: Best Video Practices
Chanel's video campaigns regularly feature celebrities with large social media followings. But the brand's star-studded content is only released on its official social channels.
Under Armour uses a different distribution mechanism to increase reach. The sports apparel brand recently partnered with Dwayne "The Rock" Johnson, releasing all of their video content through the Rock's channels instead of its own.
By tapping into the Rock's network, Under Armour was able to do more with less. The strategy resulted in millions of views and engagements.
On average, The Rock gets 4.3M views and 836K engagements per upload. Under Armour currently has the highest average views per video (compared to other athletic apparel brands). This is despite having the lowest number of overall views.
The lesson? Try releasing content only on the accounts of celebrities, and see if the brand affinity — and sales — follow.
Dior is a Mini Art-Doc Powerhouse
LVMH's Dior, the reigning queen of luxury social video, is a mini-doc powerhouse. In June, Dior was the #8 apparel & accessory brand by cross-platform views. Dior creates beautiful video narratives which attract millions of monthly viewers.
The most engaging videos are visually-striking features about how its luxury products are made. A recent one shows artisans crafting the Dior's 30 Montaigne bag at a leather goods workshop in Florence, Italy. The video earned 4.5M views on Instagram. This stitch-by-stitch video provides millennials with the transparency many of them crave.
The brand also uses video to establish itself as an enthusiast of high art. Dior's Spring-Summer 2019 collection was motivated by movement.
This past April, Dior designer Maria Grazia Chiuri collaborated with ballet dancers for inspiration. Grazia Chiuri designed the costumes for the Nuit Blanche ballet project, staged at Rome's Teatro dell'Opera.
A series of breathtaking social videos documented the collaboration, revealing the nexus between two powerful art forms: design and dance.
One video went behind-the-scenes at the performance rehearsals (1.8M views on Instagram), another followed top fashion influencer Chiara Ferragni as she toured Rome for the performance (3M views on Instagram).
Dior may be a high-end fashion brand, but it's operating with the zest of a media publisher. When it comes to views across platforms, the luxury creator keeps pace with the top-ranking fashion & style media companies on Tubular's June leaderboards.
Apparel Brands and Influencers Are a Match Made in Heaven
Dior also consistently partners with millennial creators, inviting them to marquee fashion events, like Paris Fashion week, to share their novel impressions in sponsored videos.
The ones that stand out and get millions of views are unique and encourage audience participation, which is the core of what millennial viewers desire.
In Dior's most-viewed sponsored video in the past year, Chinese-Austalian YouTuber Wengie asked her 13.7 million YouTube subscribers to choose her adventure, making all her decisions during her 24 hours at the Paris Fashion Show (2.1M views and 73.1K engagements).
As a comparison, Dior's other recent sponsored YouTube video campaign, which featured YouTube influencer Tanya Burr in Paris, earned 244K views and 6,128K engagements.
Come back next week when we explore the video strategies of Louis Vuitton, Prada, and Ralph Lauren!
In the meantime, why don't you check out our Fashion & Style market snapshot?