Content Strategy
The Sweet Content Viewers Crave On National Donut Day
By Lauren Orsini · June 07, 2019
The Sweet Content Viewers Crave On National Donut Day
Some holidays are just more delicious than others. National Donut Day, which occurs on the first Friday in June each year, is a particularly mouthwatering one.
Thanks to brand enthusiasm and generous giveaways, National Donut Day has become an annual end-of-the-week sugar high for millions of Americans. Here are some of the ways brands pull out all the stops to celebrate this foodie fiesta.
Top National Donut Day Videos
Unlike similar food-based holidays, National Donut Day is especially long-lived. The celebration dates back to 1938, when the Salvation Army championed it as a way to commemorate the women who had baked and served fresh donuts to American soldiers on the French front lines during World War I.
Dubbed "Donut Lassies," these 250 or so volunteers filled bellies and boosted morale after they realized that soldiers' helmets were the perfect size for frying up six to seven donuts at a time in order to feed a crowd. They're also credited for increasing the popularity of these sweet treats in America once soldiers returned home.
Eighty years later, not everyone remembers the patriotic origins of National Donut Day but more people celebrate it than ever. But with that decadent combination of sugar and fried dough, it's no wonder that donuts have such a widespread appeal, and brands, influencers, and celebrities feel just as strongly as the rest of us!
Here are the top five videos guiding the Donut Day social media conversation: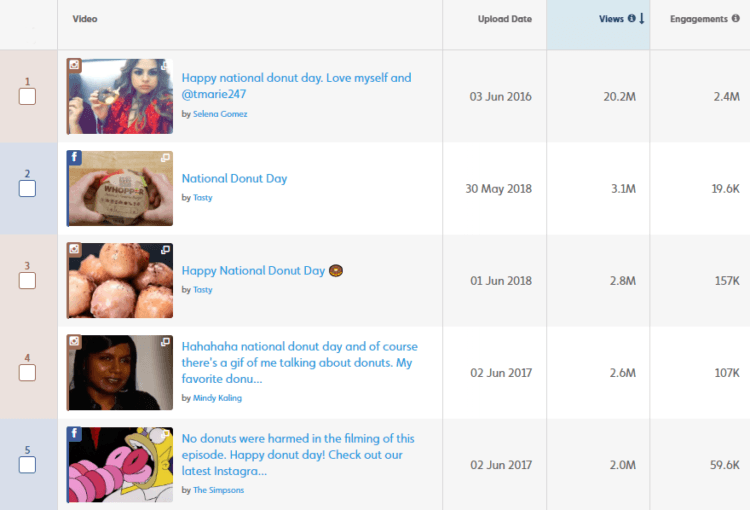 Counting fictional donut aficionado Homer Simpson, three out of the five top all-time videos come from celebrity donut fans. It's also worth noting that Instagram is the celebrity donut discussion platform of choice—all three of these social videos were first posted there.
Selena Gomez's video features the starlet munching a chocolate-frosted one; Mindy Kaling's features her character from The Office, Kelly Kapoor, expressing a craving while sharing her own preference for jelly donuts. Celebrities: they're just like us! That common ground seems to be the appeal of each video.
Related Read: NBC's 'The Office' Remains a Strong Favorite on Social Video
The other two spots on the top five are both occupied by Buzzfeed's food channel, Tasty, which posted both of these high-calorie videos in 2018.
In the first video, Tasty demonstrates how to make your Burger King Whopper sweeter by replacing the buns with two glazed donuts; in the second, a cartoon donut twerks to electronic dance music. Both veer away from Tasty's usual fare: recipe demonstrations. It's an indication that donut fans aren't as interested in baking their own donuts on this day as they are eating and appreciating them.
Further down the list, brands are getting in on the Donut Day discourse, and not simply the usual suspects. It makes sense that Dunkin' Donuts would have a top video (922K views), especially since theirs advertises the fact that viewers can get a free donut on Donut Day.
Related Read: Why V30 Rules All: An Interview with First Media
Less expected is BMW USA, which opted for a visual pun by featuring several smooth-driving cars drifting on a donut-shaped track. The best Donut Day content doesn't have to feature something edible, but it does need to be fun. For this food-based holiday, levity is the word.
Donuts, Pizza, and Ice Cream, Oh My!
Everyone's gotta eat, which explains why food content is consistently one of the most popular verticals across all social channels. Last fall, our research on National Sandwich Day (November 3) showed millions of hits commemorating everything from grilled cheese sandwiches to ice cream sandwiches to the humble PB&J.
We've also found that a great indicator of what kind of food content is going to get clicks can be correlated to how many calories it contains. The 30M views that Donut Day's top five content creators have earned is matched only by similar holidays dedicated to the most indulgent of foods.
That's right, we're talking about National Pizza Day (February 9) and National Ice Cream Day (third Sunday in July). In the past 365 days, National Ice Cream Day's top five creators netted 20M views, and in the same timeframe, National Pizza Day's earned a whopping 78M!
Just because we know we should eat a balanced diet doesn't mean our online food consumption follows suit. It's not good for your health to eat too many donuts, but social users have found a great loophole: there are no limits when it comes to indulging on donut videos.