Content Strategy
Nike Ads Slay Social Video Every Time! Here's How.
By Linda Freund · July 28, 2019
Nike Ads Slay Social Video Every Time! Here's How.
The U.S. women's soccer team reveled in a World Cup victory this month. Before the squad's sweat had even dried, one of the Nike ads hit it big: this masterful video embraced the World Cup news as a win for women everywhere and a battle cry for equality.
The one-minute black & white ad racked up 11.2M views in the first 24 hours (V1) on Twitter. In total, the campaign garnered 33M views for all cross-platform video posts of the ad and a jaw-dropping 1.2M engagements as of July 26, 2019!
Fans, politicians, influencers, and brands (i.e. Foot Locker) multi-posted the ad in the hours following the win. In no time, the victory announcements had merged with the video shares in social feeds to become almost indistinguishable (much like Kleenex and tissue).
Related Read: In 2019, FIFA Women's World Cup Is Social Video Gold
And therein lies the heart of Nike's prolific video success. It's the #2 cross-platform apparel & accessory brand in the world and for good reason. Nike is fluent in the cultural zeitgeist. Apparel brand turned alchemist, the company routinely transforms cultural moments or political flashpoint into top video views and engagements.
When it comes to video, the brand thinks big. Their gameplan:
lean into politically-charged themes to create high-impact videos
embrace the feel-good underdog trope, using cinematic storytelling to inspire audiences to excel, despite their limitations
dominate a sports competition by producing videos that serve as the emotional compass of the event
partner with superstar athletes who use Nike videos as their cinematic diaries, a portal in which they can express both vulnerability and strength. This builds brand trust.
leverage the video feeds of brand ambassadors, athletes, media publishers, and influencers alike to expand their social footprint
So, how does Nike just do it? Read on for the details.
Nike Ads, By The Numbers
In the past two years, Nike has hit its stride thanks to an offering of emotionally-charged video campaigns including its 2018 "Dream Crazy" video starring former NFL player Colin Kaepernick, and its 2019 "Dream Crazier" ad, an ode to sisterhood narrated by tennis champ Serena Williams.
Here are some key video-performance numbers.
In 2018, Nike got 464.2M views and 17.2M engagements for 240 cross-platform uploads.
Halfway into 2019, and Nike's view count has already reached 83% of last year's total. Plus, it's well surpassed 2018's engagement numbers. This year, the brand has already earned 385.5M views and 17.5M engagements for 228 uploads.
Nike is cross-platform, but its videos are resonating most on Twitter. In 2019, seven of the top 10 sports brand videos on Twitter have all been from Nike.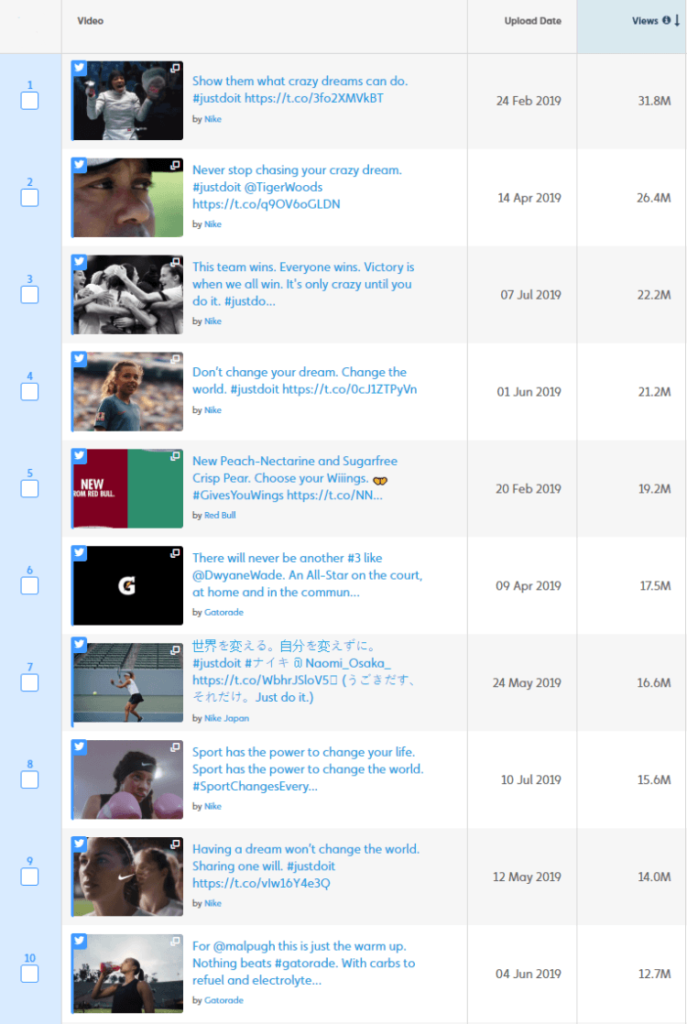 The Making of a Popular Activist Brand
The recent gains of Nike ads are the result of decades of brand evolution.
It all started in 1988. That's the year Nike first harnessed video storytelling to rally against injustice and shatters "-isms." The brand's inaugural "Just Do It" campaign was a case against ageism. It featured 80-year-old Walt Stack, running across San Francisco's Golden Gate Bridge.
"People ask me how I keep my teeth from chattering in the wintertime," Stack joked in the ad. "I leave them in my locker."
Thirty years later, Nike released the controversial "Dream Crazy" ad starring former footballer Colin Kaepernick, which re-ignited a longstanding debate about patriotism in a politically-divided America. Kaepernick was fired from his job two years before for kneeling during the national anthem to protest America's racial injustice.
"Believe in something," Kaepernick said in the 2018 Emmy-nominated Nike ad. "Even if it means sacrificing everything."
Marketing a Movement: Nike's Purpose-Driven Campaigns
Out of all Nike ads, its "Dream Crazy" spot was a high-risk political gesture that enraged some and delighted others. Overnight, the controversy became a major news event.
The video earned 36.7M views and 750k engagements on Twitter, and 29.9M views and 211k engagements on YouTube. But it garnered millions more in views and engagements across media publisher and on influencer platforms.
The ad resulted in backlash from police and military-veterans for being unpatriotic. Amid promises of a boycott, Nike's shares dropped about 3.2 percent the next day, according to a CNBC video report.
But Nike took the risk, assuming the video would resonate with its primary customers, who tend to be politically progressive and young. The majority of Nike's video audience falls in the 18-34 age range (On YouTube specifically, 39% are ages 18-24 and 33% are ages 25-34).
The risk proved fruitful. The company's online sales jumped by 31% in the week following the social video post, according to an NBC News report.
Looking To Copy a Nike Advertisement? Tread Carefully.
Brands looking to pursue high-risk campaigns like these Nike ads should be prepared. Big risks could potentially lead to major fallout if you don't get your target audience and specific details in order.
When apparel brands establish themselves as the arbiters of justice, "you need to make very, very sure that your entire house is in order," explained trend analyst Brownwyn Williams in a recent editorial.
Consider Calvin Klein. Last May, the apparel brand launched its #mytruth campaign. The videos feature "influential voices of today telling their own stories, in their own words," said Calvin Klein's press release.
One video featured a makeout session between supermodel Bella Hadid and robot influencer Lil Miquela. It was designed to be futuristic, an exploration of homosexuality, post-humanism, and inclusivity.
A post shared by Miquela (@lilmiquela) on May 16, 2019 at 9:01am PDT
One issue. The ad's star Bella Hadid is heterosexual. The LBGTQIA community spoke out against the oversight. Calvin Klein quickly apologized for not featuring a lesbian influencer.
Takeaway: When it comes to taking a major social stance, it's critical that key members of your target demographic are represented in both the ad itself the production process to catch blindspots.
In 2019, Nike Ads are a Bullhorn for Women's Equality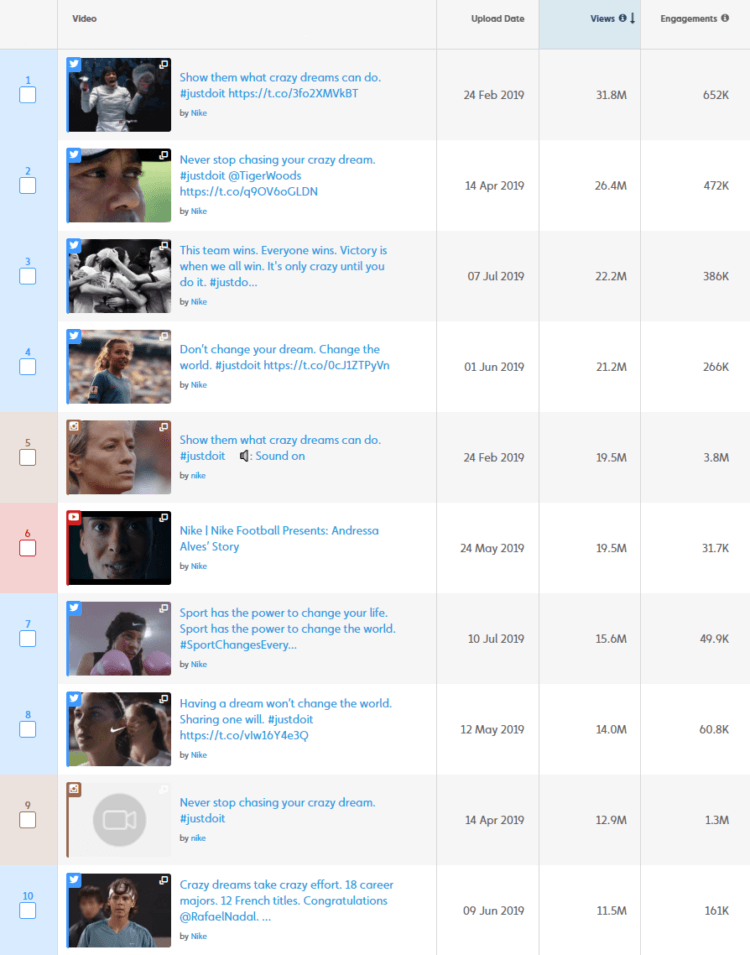 This year, Nike's most-viewed videos celebrate women's athleticism and empowerment. These videos resonate with the larger call for equal pay for women.
Eight out of the top ten most-viewed Nike ads and videos from 2109 address women's empowerment themes. They include:
"Dream Crazier" (#1, #5) Narrated by beloved tennis star Serena Williams, the ad features female athletes who have broken barriers. The message: don't dismiss female athletes for being emotional, they are warriors. (31.M views and 625K engagements on Twitter).
Learn more about the wildly successful ad here: Nike's "Dream Crazier" Ad Wins the Show at the Oscars.
"The Team Wins. Everyone Wins" (#3) – Referenced earlier in this report, the powerful ad celebrates the U.S. Women's Soccer Team victory and beats the drums for gender equality. (22.2M views and 386K engagements on Twitter)
"Dream Further" (#4) – Pegged to the FIFA Women's' World Cup, the video follows a young girl as she navigates the fast-paced life of a pro athlete, with cameos by U.S. soccer star Crystal Dunn, Brazil's Andressa Alves, China's Wang Shuang, and Australia's Sam Kerr. (21.2M views and 266k engagements on Twitter)
Nike Football Presents: Andressa Alves' Story (#6) – This mini-documentary focuses on soccer star Andressa Alves' girlhood. Inspired by the dream crazy theme, Alves recounts her time playing soccer with a doll head. Talk about crushing stereotypes! (19.5M views and 31.7K engagements on YouTube).
Nike's Storytelling: Aspiration Done Right
Nike's content is never about the brand itself, instead, it spotlights the athlete's journey against the backdrop of larger social themes. The stories are simultaneously personal and universal.
Most of Nike's videos are extremely aspirational in tone. This differs from the current trend in apparel-video messaging. For example, lingerie brands are pivoting away from themes of aspiration to focus on self-acceptance.
Related Read: Emerging Lingerie Brands Embrace Social Video to Redefine Sexy (Part 1)
Why do aspirational themes continue to work so well for Nike amid this larger industry move away from them?
Because the brand's videos are rooted in identification. The storytelling emphasizes that these aspirations are ultimately obtainable (even by, or perhaps especially by, the underdog).
We can look to Nike's most engaging videos in 2019, to see its effective storytelling in action. Several of Nike's top 10 most-engaged videos explore the dream crazier theme on the grassroots level. They include moving Instagram profiles of:
Takeaway: If brands want to tell good stories, they need to identify with viewers and keep them engaged in the days, weeks and months following a big video launch.
One way they can do this is by supplementing their campaigns with hyper-local content, which resonates with millennial viewers.
If You Build It, They Will Come
Nike ads have been the most successful video campaigns of late. But the brand also has a rich history of creating original video content and sports events, specifically for social feeds.
In 2017, for example, Nike launched the Breaking2 race. The ensuing videos followed elite runners, scientists and shoe designers, as they worked to break the two-hour record for a marathon.
Spoiler alert: They didn't succeed. The brand earned 26M views across platforms for the campaign. It later partnered with National Geographic to release a documentary about the race, earning an additional 6M views on YouTube. 
Takeaway: Challenge or competition-style programming is a great bet for athletics or sports brands looking to engage viewers and establish themselves as content champions.
Consider, Red Bull's 2012 Redbull Stratos jump campaign. The company sent Felix Baumgartner 128K feet above the earth and captured heart-stopping footage of his record-breaking skydive. Million upon millions of views resulted.
Adidas has also dabbled in the genre. The brand recently created the Tango Squad FC, the first-ever soccer team comprised entirely of YouTube influencers. The brand organized and broadcasted sports matches of the team, garnering millions of views and engagements.
Overall Takeaway: Tell Stories from the Heart
It's one thing to tell a good story. It's another to tell one that's so relevant and timely that it hooks the public consciousness.
Nike succeeds because it thinks big in terms of distribution, star-power, and themes. The brand is brave.
But amid its larger social agenda, Nike never loses track of its core editorial mission: to tell stories from the heart.
Curious to learn more about how sports companies and brands perform on social video? Check out the most comphrensive report for the genre in our report, "The state of online video: sports media and entertainement."