Video Advertising
Nike's "Dream Crazier" Ad Wins the Show at the Oscars
By Bree Brouwer · June 03, 2019
Nike's "Dream Crazier" Ad Wins the Show at the Oscars
Note: This post was originally published on March 1, 2019.
It's been a few months since Nike's "Dream Crazier" ad went viral, so we thought we'd check to see how the female-empowerment spot is doing three months later.
Since going live in February, the "Dream Crazier" clip and others inspired by it have seen millions more views and engagements. For example:
Nike's Twitter version of the ad now boasts 31.6M total views and 655K engagements (roughly 25K higher than at the time of original reporting).
Nike claims four of the top ten most-viewed versions of "Dream Crazier," while three out of ten can be attributed to individuals, including Nike partner Serena Williams and American comedian Reese Waters.
Ellen and her team were smart to react to this popular ad by creating their own silly version of it on Instagram, which is now the seventh most-watched "Dream Crazier"-inspired clip at 7.4M total views.
Speaking of Instagram, the platform is home to three of the top ten "Dream Crazier" ads; one of them from Nike's account claims the highest 30-day view count (V30) at 19M.
NowThis shared the ad on its own platforms and was #3 on March 1 with 9.6M views. Its Facebook clip now has 21.5M views and is #2 most-watched clip related to "Dream Crazier," as well as #2 in terms of V30 at 13.8M.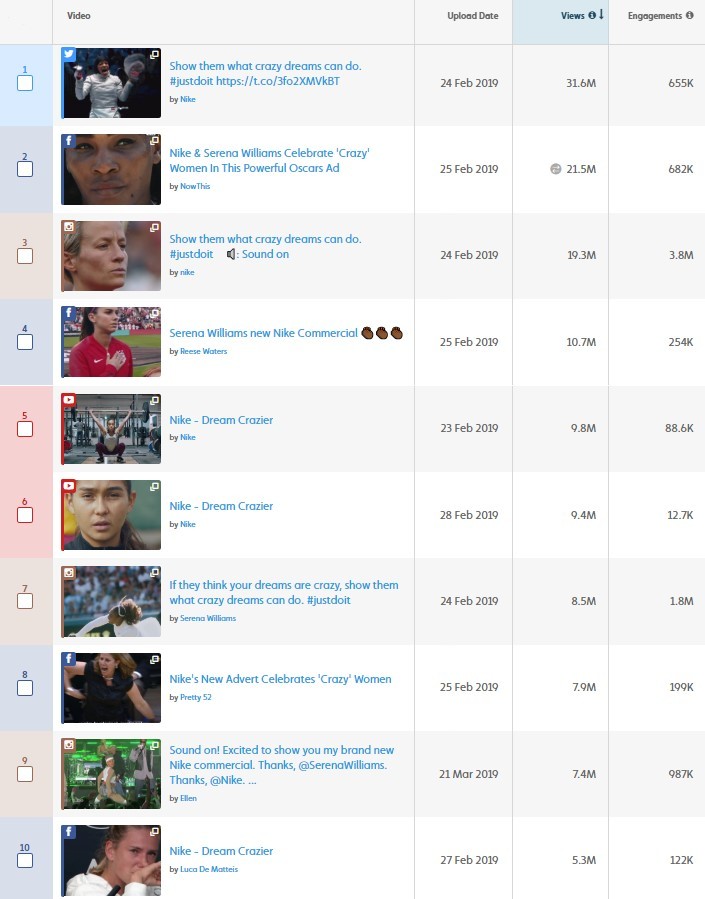 So what can brands learn from Nike's "Dream Crazier" campaign?
As noted in our original post, brands need to have a multi-platform distribution strategy to ensure maximum reach and engagement. This is clearly what Nike did, with its Twitter, YouTube, and Facebook "Dream Crazier" ads all landing in the top ten.
Nike also leveraged, directly and indirectly, the power of creators and media publishers. Working with Serena Williams on the ad and having the tennis star release it on her own Instagram created more buzz for the spot, while media companies like NowThis and Ellen were also able to throw the ad more love via their own distributions.
Nike has done it again. With just one well-placed, well-timed, and well-developed advertisement, the brand has the internet abuzz. Nike's "Dream Crazier" ad, which ran during the 2019 Oscars awards show, has given people something to talk about beyond the recent concerns about one of the brand's exploding shoes: If you call a woman involved in sports "crazy," she'll just show you what "crazy" can do (hint: it's a lot and it's impressive).
Narrated by the much-loved tennis star Serena Williams, Nike's Oscars ad has created a ripple effect across the media and the internet over these last few days since the awards show ended. This grassroots-reminiscent strategy isn't necessarily new for the sports apparel brand, either, which we'll talk about in more detail below. For now, let's dive into how the "Dream Crazier" ad is performing across social video!
Top Clips for Nike's "Dream Crazier" Ad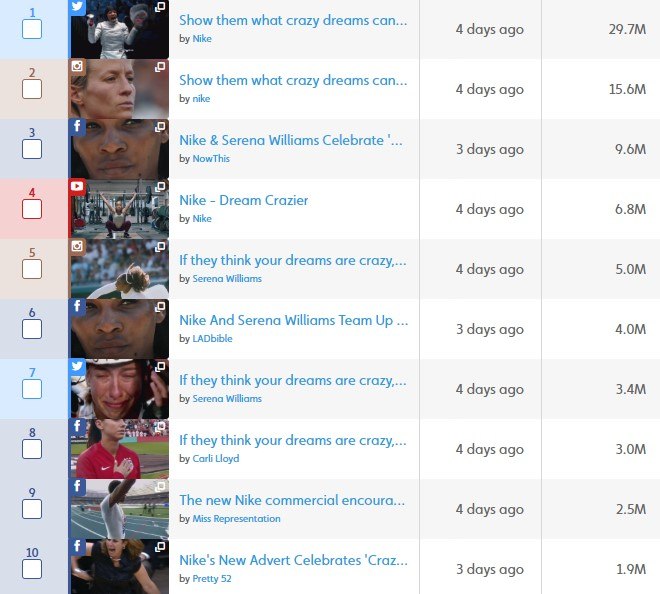 Nike and NowThis Rule the Crazy Dreams Conversation
While Nike of course uploaded its "Dream Crazier" ad across all its social channels, the spot pulled in the most views on Twitter — with 29.7M views since February 24. Plus, if you look at the massive amounts of engagement the Twitter video pulled in (roughly 188K retweets, 436K likes, and 5.7K comments), Nike clearly found its primary social platform for reaching the most viewership and generating the most conversation for its "Dream Crazier" ad.
Ultimately, Nike went home on Oscars night with three of the top five most-watched versions of its ad to date. But the sports apparel brand wasn't the only company talking about its now-popular ad. Out of the top 10 most-watched clips related to the spot, seven of them hailed from other social accounts, mostly from media and entertainment companies, sports publishers, and celebrities.
For example, Group Nine Media's NowThis uploaded Nike's "Dream Crazier" ad to its Facebook Page and pulled in 9.6M views to make it the third most-watched version of the spot currently online (the NowThis Entertainment and NowThis Politics reposts of the ad landed in the top 20, as well). NowThis's version of Nike's ad was also the second-most popular Oscars video by views, and had more views than any single social video of the night's performances/speeches. Obviously, various Lady Gaga/Bradley Cooper videos owned the airspace around the yearly event, but NowThis's "Dream Crazier" video was still notable for earning more views than any one of those individually.
We also saw notable figures such as Williams herself and FIFA player Carli Lloyd reposting the ad to land in the top ten. Williams' Instagram post placed fifth with 5M views, an average 3-day view count (V3) of 4.7M, and a fantastic three-day engagement rate (ER3) of 2.2x. Williams' Twitter video landed at #7 thanks to 3.4M views, while Lloyd was close behind at #8 with 3M views via Facebook.
How to Get the Internet Talking, Nike-Style
Of course, it wasn't just NowThis, Williams, and Lloyd helping to spread Nike's newest message. Other publishers in the top 20 who reposted or commented on Nike's "Dream Crazier" ad included LADbible, Miss Representation, Pretty 52, theScore, Humanity for Progress, Complex, Sue Bird, and Front Office Sports. Every single one of these publishers and creators pulled in at least 1M views each on the Williams-voiced spot, which means that the top ten most-watched versions of the ad generated a massive 81.5M views in total.
In general, Nike's "Dream Crazier" ad success is yet another example of how the sports merchandise brand deploys its spend on advertising in a really intelligent manner. Essentially, it uses a single, impactful TV ad buy to power earned coverage and organic conversation that further amplifies the spot for free for days on end afterward.
Nike did the same thing with its Colin Kaepernick-starring "Dream Crazy" spot during the NFL season opener too, along with other big moments in recent years. That particular spot, released in September 2018 on YouTube, currently boasts 28.3M views, which means it's now second to Nike's updated "Dream Crazier" Twitter ad.
So the lesson here is simple: Nike's video advertising and marketing strategy could be copy-able by others. You too could get the internet talking about your brand by distributing one well-executed ad equally across the social platforms best suited to your audience. Then all you have to do is let everyone else do the talking for you.
Want to see how other brands have done the same?
Check out this post on the social reach of Gillette's "We Believe" ad from earlier this year.