Other
How Brands Celebrate Pride Month on Social Video
By Bree Brouwer · June 20, 2019
How Brands Celebrate Pride Month on Social Video
With only a week left to go in June, the celebrations and support for LGBTQ+ communities during Pride Month are still going strong. Originally founded to commemorate the Stonewall uprising in Manhattan in June 1969, Pride Month now stands for the history, progress, and impact of the LGBTQ+ community across the world.
Brands have taken part in these celebrations, too. In fact, many have produced emotional and powerful Pride Month videos that are driving not just millions of views, but also contributing to the larger conversation as a whole.
Related Read: Transgender Videos: Why Brands Should Join the Conversation
Here's a rundown of stats on brand videos related to Pride Month and LGBTQ+ topics from the last 30 days:
So far, 1082 videos have been uploaded by brands.
These videos have pulled in 38.8 million total views.
The majority of clips have been uploaded to Instagram (470) and then Facebook (374).
However, the most-watched Pride Month content has come from Facebook with a total of 19.2M views.
So which companies are leading this month's LGBTQ+ conversations across online video? Let's find out.
Top 10 Pride Month Videos of the Last 30 Days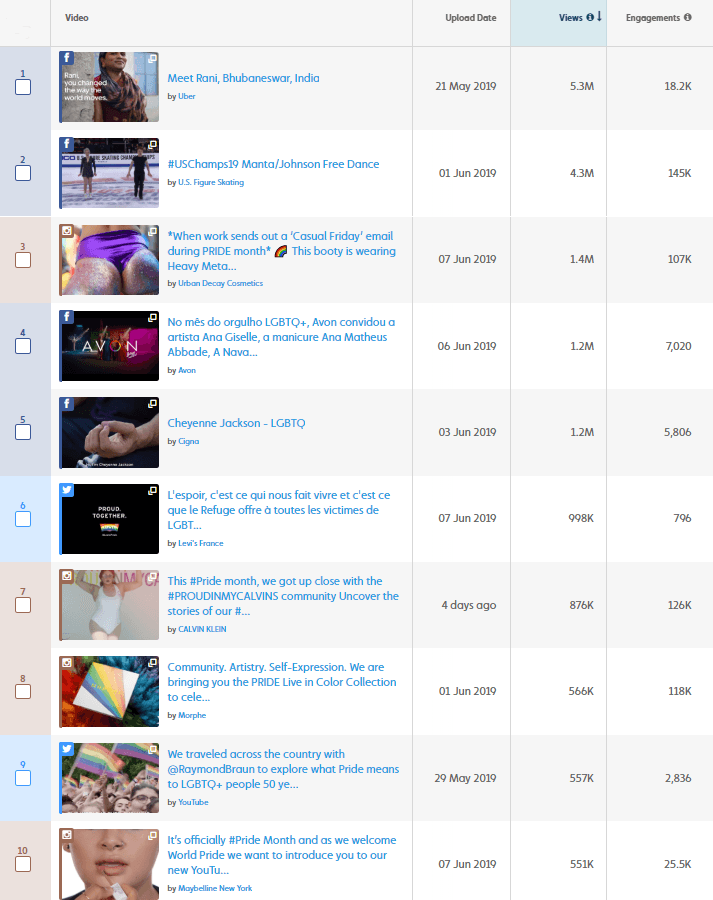 Pride Knows No Boundaries When It Comes to Brands
As topics surrounding non-binary genders and gender fluidity become more socially acceptable, brands from a variety of industries have joined in on the discussion, especially during this year's Pride Month. Companies from beauty to tech to sports all have a share in this month's top LBGTQ+ videos.
The beauty industry in particular is using Pride Month as a chance to reach all kinds and walks of people, including those traditionally not seen as "beauty" consumers. Four of the top ten pride-based videos of the last 30 days come from this industry.
Urban Decay Cosmetics's Instagram video placed #3 with 1.4M total views, while Avon wasn't far behind with its Portuguese-language clip on Facebook with 1.2M views (this was also the most-watched pride-based video across all Brazilian brands). Brushes company Morphe claimed eighth with 566K views on an Instagram video about a pride-based eyeshadow palette, and Maybelline New York also shined on Instagram with a 551K views-strong clip touting a new YouTube series about pride makeup.
The most views on Pride Month content, however hails from Uber, which featured its first transgender driver in India. The video boasts 5.3M views to date and was the most-watched clip across all U.S.-based brands:
Another organization seeing high view counts is U.S. Figure Skating. As the only sports-based brand in the top ten, it's clear to see why this incredible clip of a performance by the first openly-gay skating team pulled in 4.3M total views (more on this clip below).
YouTube and fashion retailer Levi's France landed in the top ten thanks to Twitter videos which pulled in 557K and 998K views, respectively. Calvin Klein also spoke up for pride in the fashion industry with an Instagram clip that generated 876K views. Last but not least was — perhaps surprisingly — healthcare provider Cigna, whose powerful video about the importance of mental health in the LGBTQ+ community pulled in 1.2M views.
Instagram Boasts High Engagement on Pride Content
By now, it's obvious brands are finding success on Facebook and Instagram (even Twitter) in terms of views on their Pride Month videos. But what about engagements? As it turns out, Instagram also appears to be the platform of choice for June's LGBTQ+ festivities.
Out of the top ten most-engaged videos, only one comes from Facebook. The clip which generated the most reaction just so happens to be the aforementioned U.S. Figure Skating video with 145K total engagements.
The remaining nine high-engagement videos are all hosted on Instagram, with brands from fashion retail, beauty, and even non-profit claiming top honors. Calvin Klein's video came in second with 126K engagements, while Morphe's placed third with 118K. Urban Decay made an appearance twice at #4 and #10.
Brands that didn't place for views but won the engagement race include Tarte Cosmetics (at #6 and #7), fashion label Michael Kors (#9), retailer FashionNova.com (#8), and news-based nonprofit group Midia NINJA (#5) out of Brazil.
Brands Eager to Celebrate Pride All Over the World
Part of the appeal of Pride Month is that it isn't localized to one country or ethnic group. People from all corners of the world celebrate the LGBTQ+ community in the month of June, and brands are more than happy to be a part of this.
Across all pride-related Facebook videos uploaded by brands over the last month, the majority hail from the United States, Germany, Canada, Brazil, and the Philippines. The most views on this brand content come from similar regions: the United States, Brazil, the Philippines, Canada, and Mexico.

What these numbers reveal is that people in these countries are hungry for LGBTQ+ content, and are possibly even the ones most invested in Pride Month this year. If your brand has yet to produce a Pride Month video for June, you should seriously consider creating multiple versions for these international markets. At the very least, make sure to release the same clip with multiple languages to make its appeal more global.
However, there's also an opportunity here for brands to get involved in pride-based content beyond just the month of June. Currently, brands are only a portion of the online conversation around LGBTQ+ issues. For example, influencers and internet users are creating the most content about — and therefore driving the most engagement around — transgender topics.
As such, brands should consider adding pride-related content to their year-round video strategy to capitalize on this audience. If you want to send a message about your LGBTQ+ support, why not do so all twelve months of the year?