Content Strategy
Here Is The Daily Show's Winning Social Video Strategy
By Linda Freund · May 21, 2019
Here Is The Daily Show's Winning Social Video Strategy
This past March, an unconventional news report hit social media: Tijuana residents were stealing wire from the U.S. border wall and using it to protect their own homes. The Daily Show With Trevor Noah, the satirical-news program from Viacom-owned Comedy Central, picked up the story.
"You heard that right, Mexico is stealing the wall," Trevor Noah reported, suppressing a laugh. The audience cracked up as he delivered the punchline: "Mexicans will be showing off their new home security system like: 'I built a wall around my house and Donald Trump paid for it!'"
This ironical take on the latest news (which accrued 12M views and 428K engagements across platforms) exemplifies the digital-powerhouse brand that's attracting millions of viewers (and laughs) on its social-video feed.
The Daily Show topped leaderboards in April as the #5 creator in the U.S. in News and Politics on YouTube, beating out household names like MSNBC (#8) and CBS (#9). And it was #25 globally in news and politics in April across platforms.
The Daily Show is dominating online video with:
A varied content stream that goes beyond the D.C. news cycle to cover both global and local news, intertwining serious commentary with comedy. The show's editorial target: don't only react to the news, create it!
A concerted effort last year to grow Instagram subscribers that's paying off now in high engagements
A large range of digital-only content, including extended interviews with top-level guests and an Emmy-Award Winning series "Between the Scenes," uncensored exchanges recorded between the show's segments, that drew in 22.7M views on Facebook in April alone.
A diverse six-person digital-correspondent team that tackles divisive issues from discrimination to gun rights. And they do it from the field ("trenches"), embedding their funny selves to produce hyperlocal video reports (a genre that's consistently proven to resonate with millennials on social platforms).
Let's dive into these in more detail below!
Most-Watched The Daily Show With Trevor Noah Videos of All Time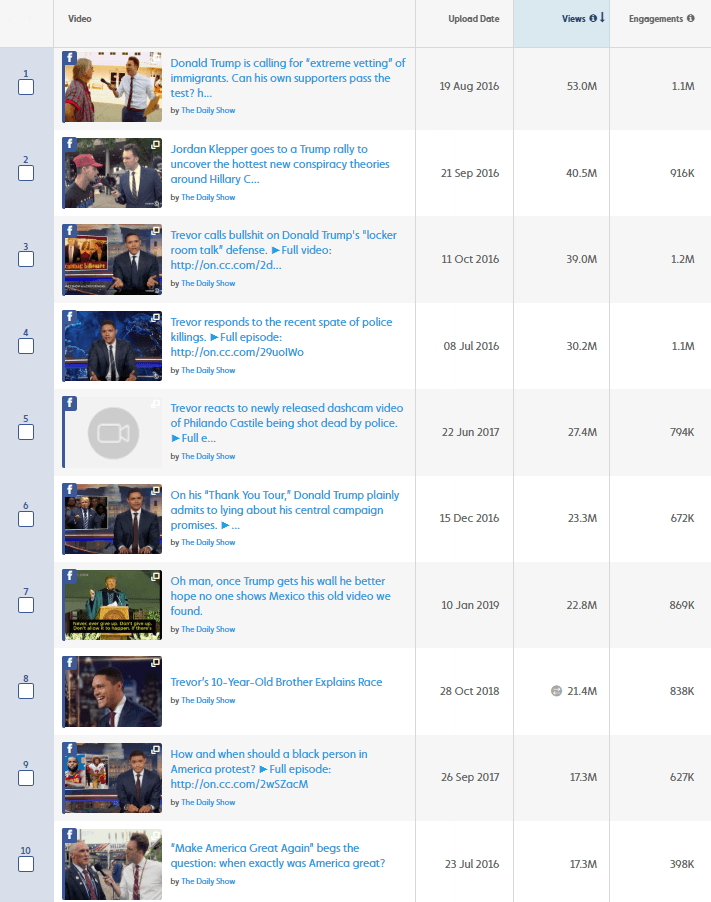 In 2018, The Daily Show earned 1.7B views for social video across platforms. And only 4.5 months into 2019, it's already earned 968.2M views.
These numbers will likely balloon as the 2020 presidential race heats up. After all, the program's highest views and engagements to date came for its campaign-related videos during the divisive 2016 presidential election season.
Here's what publishers can learn from The Daily Show's multi-year digital success story:
Attract Diverse Viewers with Diverse, Powerful Content
The Daily Show with Trevor Noah has hooked 8.3M Facebook followers and 4.8M YouTube subscribers in its four-year run. More than half of those viewers are the key 25-44 demographic. Banking on the show's continued success, Comedy Central has extended Trevor Noah's contract through 2022.
The program has specifically gained new ground with minority audiences, according to a Bloomberg report. One way it's accomplished this is by frankly discussing race relations in America, an issue that is important to viewers across the globe.
The show routinely brings on diverse voices, from Rep. Ilhan Omar to The Washington Post's first black woman reporter Dorothy Butler Gilliam. And Trevor often draws on his personal experiences as a mixed-race man to elevate his coverage, like when he shared his 10-year-old brother's take on race, which garnered 21.4M views on Facebook.
It ranks as one of the show's top-performing clips ever, coming in at #8. The video was re-posted multiple times to Facebook to accumulate a grand total of 32M views:
The show also routinely addresses the fraught relationship between police and black Americans. Two of the top ten most-watched and most-engaged The Daily Show videos took a break from the comedy to seriously discuss police brutality.
This includes Trevor's response to a recent spate of police killings (#4) that secured 30M views and 1.1M engagements and Trevor's reaction to newly released dashcam video of Philando Castile being shot dead by police (#5) that garnered 27.4M views and 794K engagements.
Acclimatize Yourself To the 24-7 News Cycle
Since Mr. Trump has taken office, we're all subject to "the 5:30 curse," Trevor Noah said in a panel conversation at this March's SXSW festival. "At 5:30 PM, somebody is getting indicted, some tweet is coming out, somebody is getting into some scandal."
In response, The Daily Show scripts new segments quickly and around-the-clock to keep pace with the cultural zeitgeist. And their sleep deprivation is paying off, particularly on YouTube where the creator's ER30 (average engagements over a 30-day period) is 1.7X (way better than the average 1.0x).
In April, the YouTube video with the highest ER30 was an interview with singer-rapper Lizzo, where she playfully flirts with Trevor. The video scored a 2.9X ER30.
Water and Grow Your Weakest Social Platform
"What's funny for Instagram may not be funny for Twitter, or may not be funny for Facebook," The Daily Show correspondent Roy Wood, Jr. said at SXSW. With that in mind, the program has made a concerted effort to diversify its platform reach, honing in on Instagram.
In 2018, The Daily Show gained 1.3M new Instagram subscribers (more than 2x the growth of 2017). This Instagram push is paying off in engagements.
We're not even halfway into 2019 and the show has garnered 29.2M engagements this year. It's already reached 70% of 2018's numbers (43M). Over the past 90 days, most of the top engagements came from Instagram, for flashy, 45-second videos captioned for optimal viewing.
Keep It Real and Capture Uncensored Exchanges
The camera is always rolling on The Daily Show set, which means any exchange (no matter how racy) is potential material for social video feeds. The Daily Show has taken these outtakes and built a digital-only series called "Between the Scenes." Most segments capture Trevor's candid exchanges with the audience during commercial breaks.
"There's no material, no news, just what's in the zeitgeist," Trevor explained.
This type of raw spontaneity has historically performed well in social video feeds. And it's definitely the case here. In April, "Between the Scene" drew 22.7M views on Facebook (for only eight new video uploads that month).
Last March, Trevor fielded a question about reparations and white privilege on the program. His no-holds-barred response shot to the top, earning "Between the Scenes" its highest view count in the past 90 days (16M).
Lately, celebrity guests have also indulged in the uncensored format, like last September when an audience member told Anna Kendrick she was on her boyfriend's "list," and Kendrick had to explain what a "list" is to Trevor. Hilarity ensued as did 28M Facebook views:
In the past year, 85 "Between The Scenes" branded videos were uploaded to both The Daily Show's general social channels and a specific "Between The Scenes" feed. This quick production and cross-pollination of supplemental content is a winning strategy in this modern video era when there never seems to be enough content to feed a viewer's insatiable media appetite.
Stretch Content Beyond the Myopic D.C. News Cycle
The Daily Show's on-air digital correspondents have drawn millions of views and engagements, with their unparalleled perspectives on topical cultural moments.
"You know the first thing that pops in your head and you automatically go 'I shouldn't say that'? I say that," The Daily Show correspondent Dulcé Sloan said at the SXSW panel.
In response to the Philadelphia Starbucks arrest of two black men for just hanging out, Sloan produced a comedy sketch where Sloan plays 9-1-1's only black dispatcher who fields comedic calls from white people concerned about black civilians. This segment hooked 2.5M views on YouTube and 62.7 engagements.
The Daily Show correspondent Roy Wood, Jr. embedded himself in a pro-gun rally in Montana. Once there, he proceeded to ask questions about the recent call to arm teachers in the classroom, provided they undergo a background check: "The art teacher can't pass a background check. Man, she's high," he joked. The video scored 3M views across platforms and 92.9K engagements.
"I think the more divisive the issue, the more engagement you tend to have," Wood said at SXSW. That said, feel-good stories get traction too, like Wood's recent report on the Compton cowboys, a group that uses horses to treat PTSD in ex-gang members.
Beware of Trump Fatigue
The 2016 election was a goldmine for The Daily's Show's video performance. Six of the show's top ten videos by views ever were directly related to the Trump campaign.
In the show's highest-performing video to date, The Daily Show correspondent Michael Kosta hit the 2016 campaign trail to ask Trump supporters about religious freedom, gay rights, and gender equality(#1), hooking 53M views.
In another top video, Trevor picked apart the logic of Donald Trump's famous "locker room talk" defense (#3) during the last election: "Trump can call it locker room talk but he wasn't in a locker room. He was in a TV interview," Trevor said to the camera. The segment got 39M views and 1.2M engagements, the show's highest engagement numbers ever.
Despite all this success, the show is wary of Trump fatigue. It's consistently developing new features to freshen up its political coverage.
In the past 90 days, the highest-performing videos have featured a very different main protagonist: Mr. Obama. The show is revisiting the many scandals that rocked Obama's presidency, like his tan pantsuit — the worst scandal in presidential history (6.7M Facebook views)and his selfish decision to wear a bike helmet (4.8M Facebook views).
Feed the Viewer's Appetite for Global News
Trevor Noah has campaigned to integrate more international stories into The Daily Show, in an effort to fill in the gaps in U.S. news coverage.
"A lot of time American news organizations cover the news when it's impacting Americans directly," Trevor said at SXSW. "But if you follow the story from the beginning you could almost sense there could be some sort of conflict."
There appears to be an appetite for global content. Just this past week, Trevor presented "What in the World," a funny-as-heck roundup of global news. Uploaded to YouTube only a few days ago, the segment has already raked in 925K views as of May 17, 2019:
In addition, this push for more world news better reflects the show's global audience. More than one-quarter of the program's viewers reside outside of the United States.
Look Ahead and Make a Strong Game Plan for 2020
The Daily Show, and other late-night talk shows, have traditionally been the go-to place for presidential candidates to connect with voters. In recent months, Trevor has already been visited by Sen. Bernie Sanders and Sen. Kamala Harris, both vying for the 2020 Democratic presidential ticket.
These interviews, often broken into shorter clips for digital feeds, draw millions of views. Interestingly, Bernie Sanders got a lot more attention for his unguarded appearance on Between the Scenes (2.8M)than for his traditional on-air interview (688K). Clearly, viewers are craving an unguarded look at politicians, a fact news publishers can harness by creating the space for such exchanges.
In 2020, Trevor hopes to harness this format to go beyond political talking points. He wants to use his platform to tell the human story, to uncover how each candidate's policies will tangibly impact people.
"It shouldn't be about how you eat a corn dog," Trevor said at SXSW. "It should be about how are you going to treat Americans who eat too many corn dogs without healthcare."