Note: This article was originally published on June 21, 2019.
…And the winner for the best video of the year is… Childish Gambino's, "This is America!"
We know what you're thinking, and no, we are not clairvoyant. Just so happens that Tubular's V3 metric is a great indicator of success at these types of events.
On that note, which award show should we predict the winners for next?
---
Since its inception in 2001, The BET Awards have been a celebration of Black culture in entertainment, music, and sports across the world. Televised annually by the Black Entertainment Television network (BET), the award show records average of 7.1M viewers a year.
This year's show takes place this Sunday, June 23rd, so we thought it would be interesting to see how the anticipation for the awards is playing out on social video, and whether or not it can predict the 2019 BET Award winners.
Read on for the full analysis…
2019 BET Award Winners: Social Video's Selection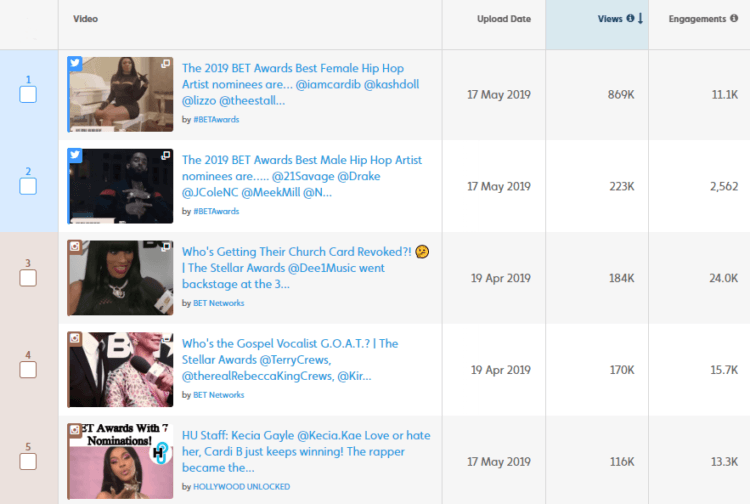 Over the last 90 days, 166 videos related to the event were uploaded, almost half of which were uploaded on May 17th. Views and engagements for content related to the event would peak during this time period: 2M views and 78k engagements.
After this point, uploads — and interest in the event — would flatline until June 15th, signaling an opportunity for next year's award show. Keep your audience engaged in the weeks leading up to the event by creating more content!
Interestingly, out of the top 10 most-viewed videos related to the event, only one was not related to music. The "black girl magic" video took a twist on the standard awards announcement video, celebrating talented black women of past and present who have won at the award ceremony. The video had 96.6K views and 2k engagements.
And speaking of music…
Who's Gonna Party with Cardi?
In a year that saw Cardi B become the most successful female rapper of all time (don't look, Nicki), it feels appropriate that the most-watched video promoting this year's award show was the announcement of the nominees for "Best Female Hip Hop Artist" (which isn't doing Cardi justice because she's killing the rap game period, but we digress…):
The 23-second video had 893k views and 11.k engagements, which was 4x as many as the announcement for "Best Male Hip Hop Artist!" As fans of hip hop, we have to say, it's amazing to see women take center stage in a historically male-dominated genre.
Which brings us to the night's most anticipated award…
And the Nominees for Most-Watched Hip Hop Video of the Year Are…
Similar to what we did in a previous article, we thought it'd be interesting to pit this year's nominees for "Best Video" against one another by examining how many cumulative views each artist had 72 hours after the posting of a music video.
Here at Tubular, we refer to this as the V3, which examines views as a function of time (in this case, 3 days). A high V3 indicates that an artist received a significant number of views in the first 72 hours of publication and vice versa.
This is a great metric to use if you want to make an apples-to-apples comparison of views between a video released last week to a video released last year. And it may be an indicator of who is going home with the award!
This year's nominees include:
If the show ends up like our analysis, then Childish Gambino's "This is America" will walk away with the title. And it will be well-deserved. His video quickly went viral due to the eye-popping visuals from director Hiro Murai, which captured the social commentary of the song's message on what it means to be Black in America today. We fully expect BET to recognize the video for the achievement that it was.
You think we'll be right? Either way, come back to this article for an update on Monday for the 2019 BET Award winners!