One solution to replace them all
Intelligence is the foundational product that goes beyond social listening to provide the world's largest single source of truth for social video. Impeccably organized for an unprecedented holistic and granular understanding. Video & engagement behaviors get standardized and contextualized across platforms. That's why top global companies trust Tubular to supercharge their growth strategies.
11 Billion
Videos across YouTube, Facebook, Instagram, Twitch, and more
9 Million
New daily videos
32 Million
Creator accounts that include influencers, media companies, and brands
2 Billion
Consumers globally feeding
behavior models
15 Trillion
Video views in the last 90 days
1 Trillion
Engagements including likes, comments, shares, and more in the last 90 days
Features you won't find elsewhere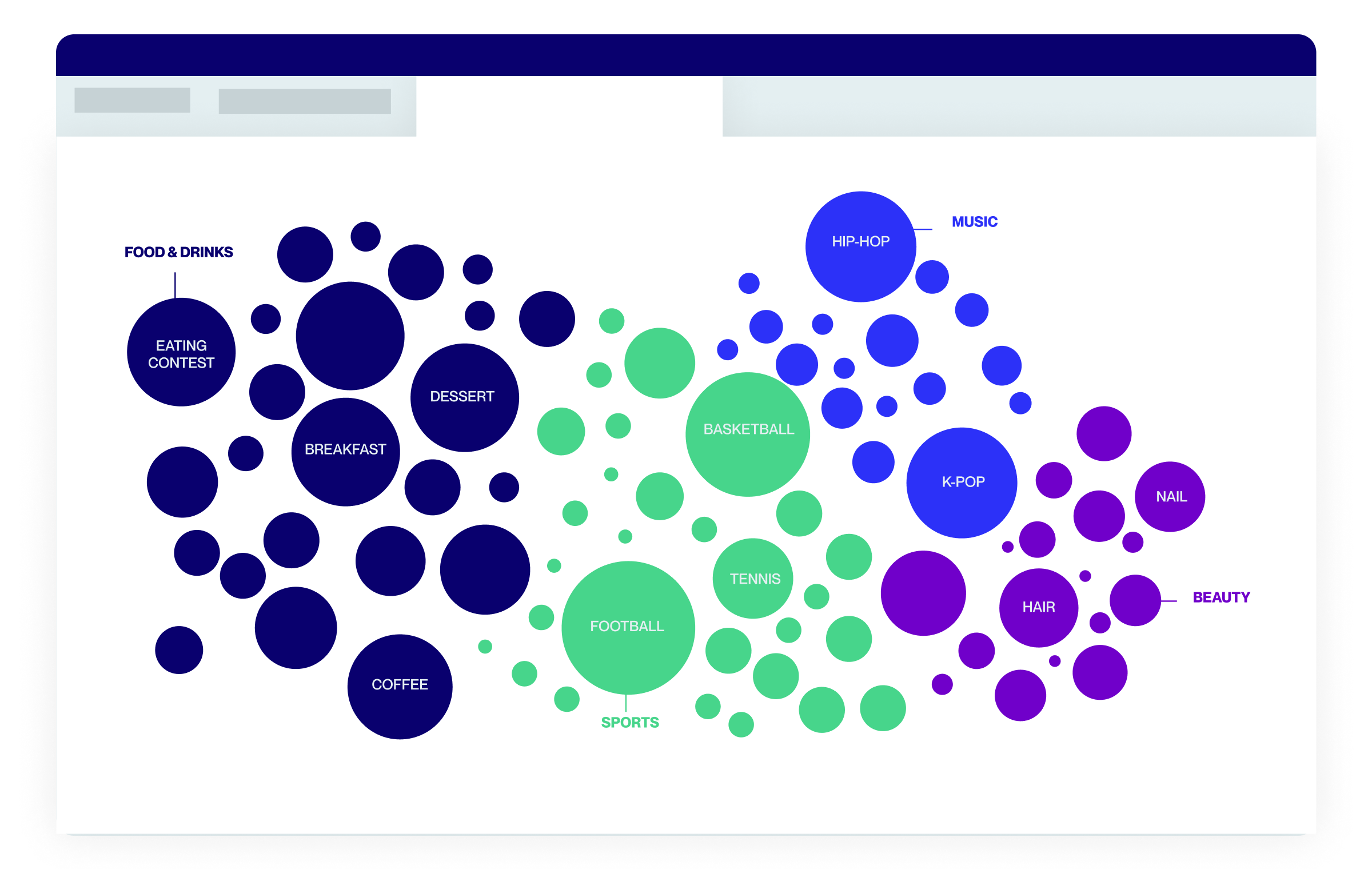 Content Solutions
Video Intelligence — Filter, explore, and search for virtually any video in the social video universe. Build custom lists, reports, and dashboards so you can focus on what matters and stay on top of performance trends.
Video Ratings — Compare performance objectively. Tubular measures views & engagement 1,2,3,7, and 30 days after a video is uploaded. Plus track historical performance and cumulative growth.
ContentGraph™ — Simplify your view of social media with Tubular's classification technology that automatically sorts, organizes, and labels videos into millions of Video Categories and Topics to accurately describe them at-a-glance.
Explore ContentGraph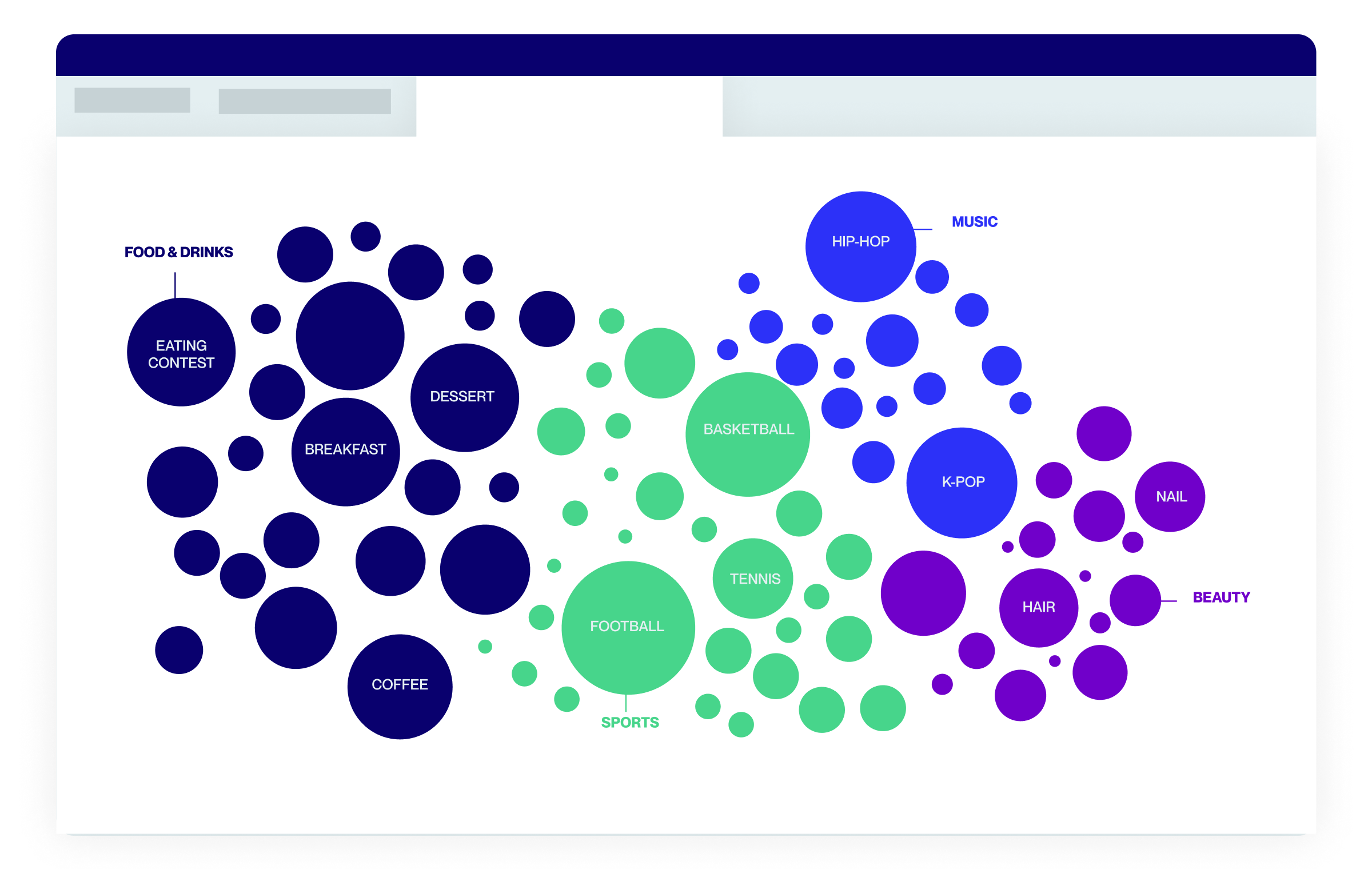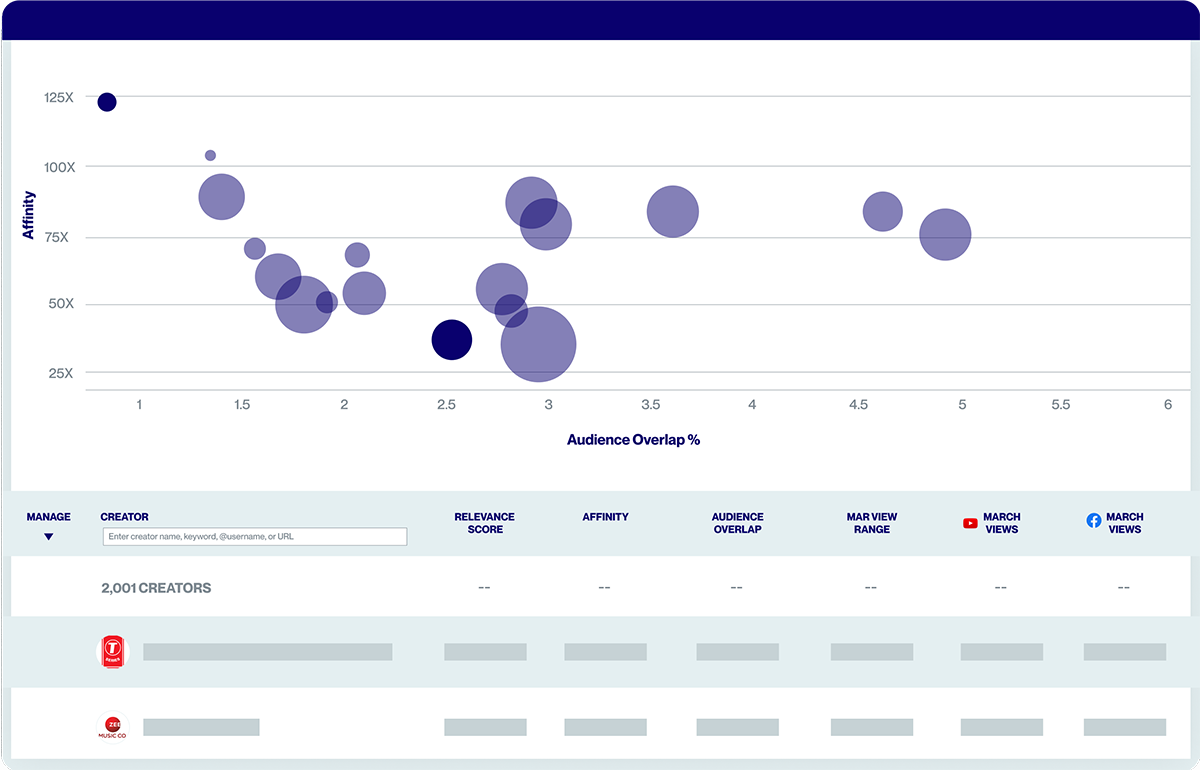 Audience Solutions
Audience Also Watches – Get to know your audiences more by seeing what other content they're interested in. Discover untapped content opportunities and surface insights into overlapping viewing behaviors by creators, videos, video categories and topics.
Demographics – Understand who is watching with age, gender, and location breakouts for creators
Explore Audience Also Watches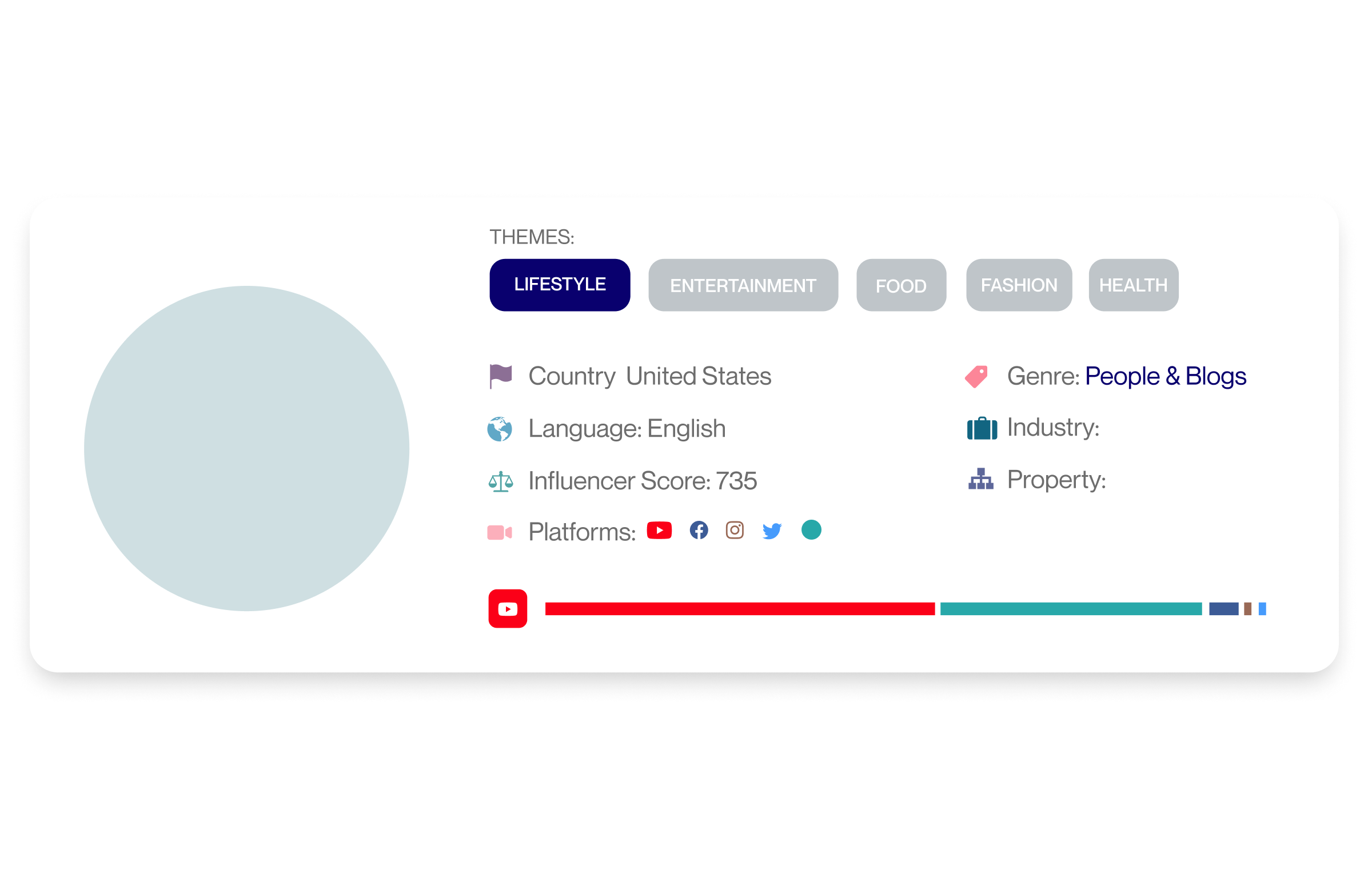 Creator Solutions
Creator Intelligence – Explore virtually any creator and their content in one place, including influencers, media companies, and brands' channels. Filter and search based on performance, audience demographics, upload date, and tons of other creator attributes. Plus, create customized dashboards and reports to keep tabs on the creators you care about most.
Creator Comparison – Unlock all the metrics you need to compare creators in one robust dashboard. See cross-platform growth over time, what else their audience watches, their demographic breakdowns, and their recent sponsorship* performances.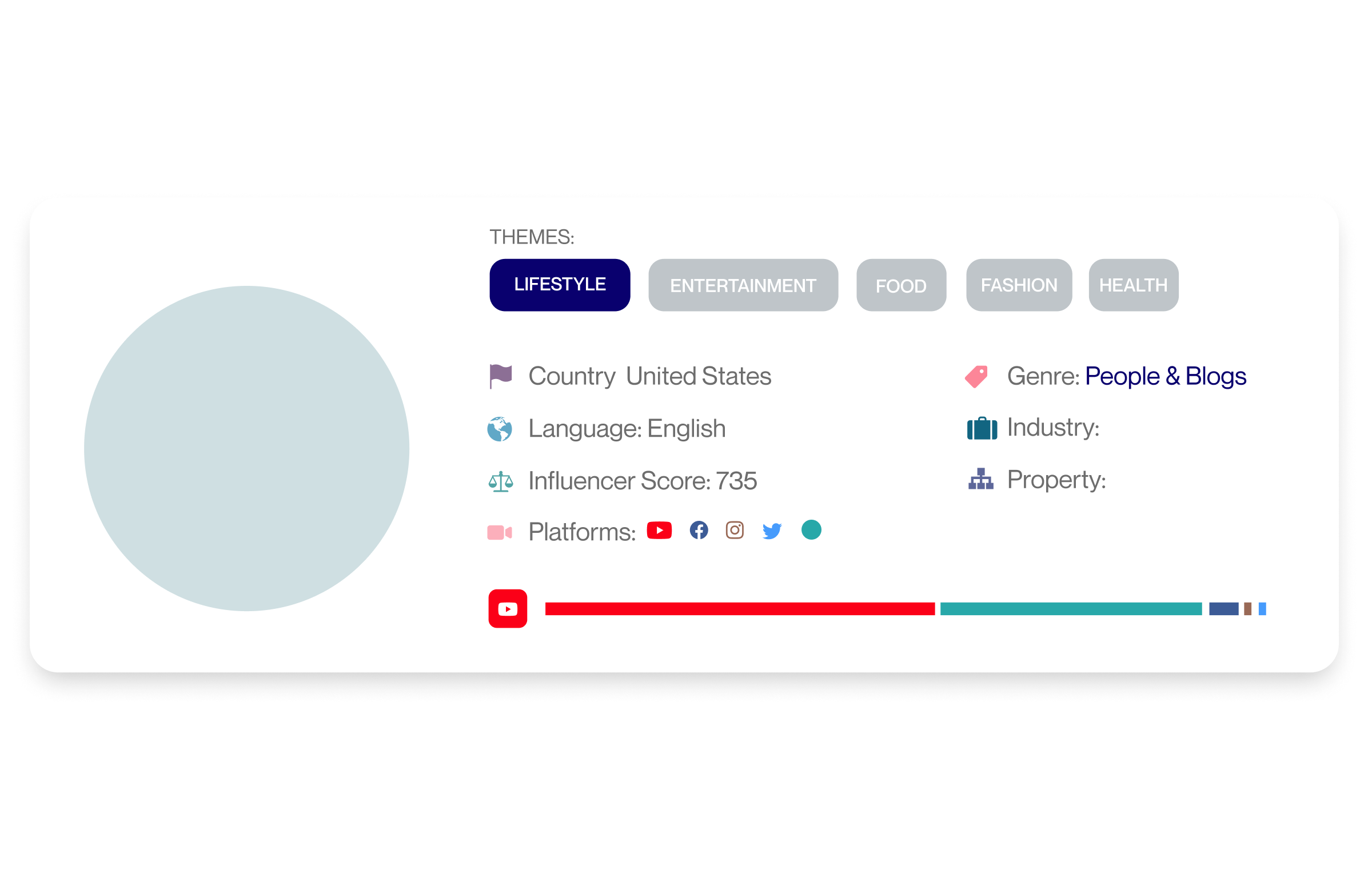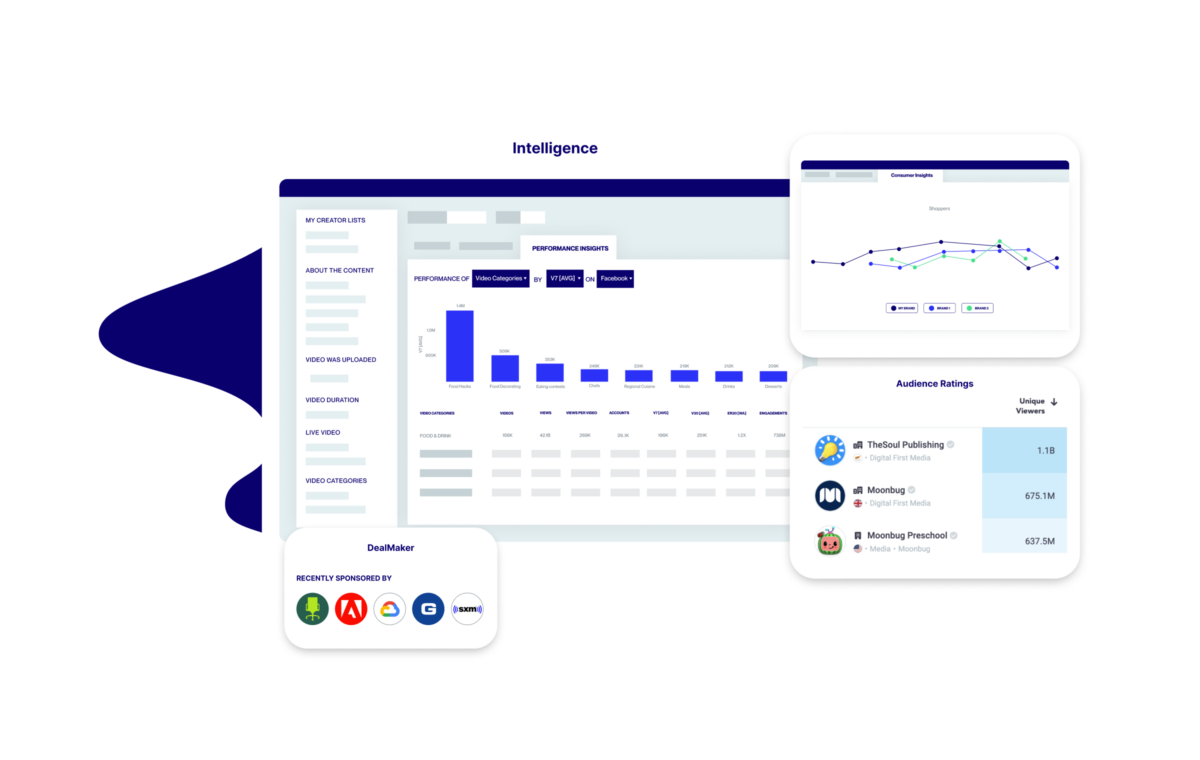 Intelligence supports all Tubular solutions
Built to scale with your business, add-ons for Intelligence unlock even more audience, content, and behavior insights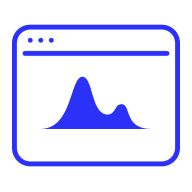 Web Application
Access data on-demand with our browser-based application. Quickly search, filter, and explore the social video universe.

Build custom lists, reports & dashboards or export to CSV.
Request Demo
Direct Connect
Seamlessly feed Tubular's data via API into your BI software and conduct analyses at scale.

Feed directly to Tableau, Domo, or Excel, and schedule automated reports to your inbox.
Learn More
Insights & Strategy
Take your analysis further. Our trained consultants understand the needs of media sellers, creative minds, and analysts.

We provide customized recommendations to solve your biggest business challenges.
Go to I&S

"With Tubular, I am able to surface relevant influencers to work with & better engage our audiences. I also use Tubular's V3 to understand and benchmark our news content performance in the critical first three days."
Brian Ayala
Manager, Digital Research & Analytics
Univision Communications Inc.
"Using Tubular's Video Categories allows me to surface top-performing videos in specific categories that were previously obscured and analyze within specific video segments for whitespace opportunities to assess for Viacom."
Stephen Reader
Senior Manager of Analytics and Insights
ViacomCBS

"With Intelligence API, we consolidate performance data from disparate video platforms and quickly distribute metrics of success across teams globally. Now, instead of cobbling data, I can concentrate on what the data can do for us."
Nabila Kabir
Senior Data Analyst
VICE Media
Discover how Tubular can empower you