One of the first posts I ever wrote here on Tubular Insights was why the then-new Instagram Stories feature was important for brands and their growth. Up until this point, Stories has essentially been the biggest and best way for brands and publishers to broadcast multiple snippets of video all at once to their Instagram followers (albeit within a temporary, 24-hour expiration time frame). However, just when you thought your Instagram social video strategy couldn't get any better, the visually inclined platform has recently announced its newest update which will directly impact brands' Instagram video content: IGTV.
Accessible via both the Instagram app and its titular standalone app, IGTV is an entertainment hub for long-form video content from some of the internet's most popular influencers, creators, and publishers. Yes, you heard that right — IGTV is the place where Instagram users can finally upload video content up to an hour long, compared to the truncated 15-60 seconds currently allowed. So what does this mean for brands like yours who want to start experimenting with long-form content on IGTV? Let's take a quick look at how IGTV videos will work and then we'll cover a few different ideas you can implement on your very own IGTV channel.
Here's Why IGTV Will Matter to Brands
As noted above, IGTV videos can be up to an hour long and will be uploaded to the individual channel of creators and publishers. Instagram Co-Founder and CEO Kevin Systrom wrote about how "you can upload your own IGTV videos in the app or on the web to start your own channel." These videos will then automatically play for users when the IGTV app is opened, or via IGTV's dedicated tab in Instagram. A host of content discovery tools will provide users videos they may want to watch, including highlighting shows from creators and publishers they already follow or suggesting popular or recommended clips related to users' preferences.
For brands, this may just be one of the best things about IGTV. Normally, when a new video platform is introduced to the social web, you have to scramble to learn the ins-and-outs, determine whether or not it's a viable platform for them to use, and then build up an entirely new viewer base on that outlet. This simply won't be the case with IGTV, where your followers will by default already follow every piece of content uploaded to IGTV. While this means you won't necessarily reach new viewers, it does mean you don't have to put in the work of building an audience alongside of creating and launching IGTV videos.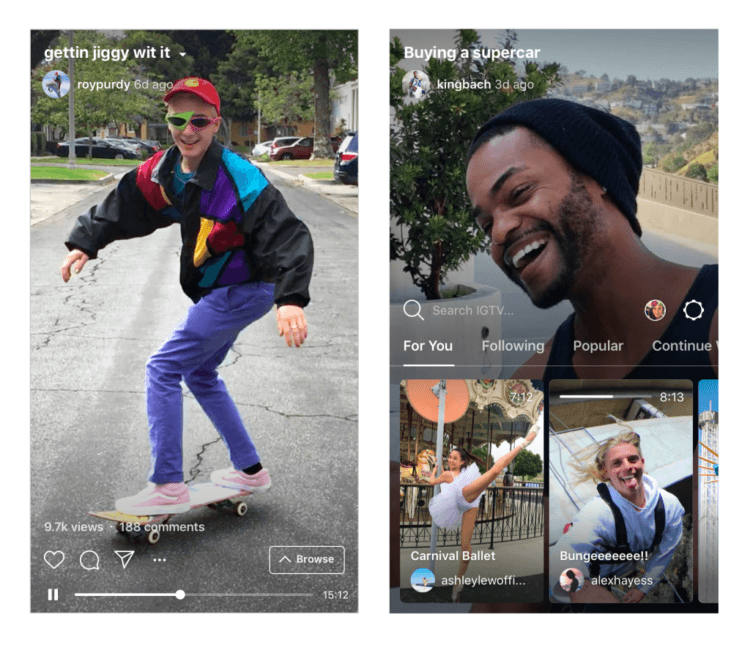 Another interesting aspect of IGTV is its vertical-only format. All the clips on the platform will not only be full-screen, but will also reflect the way most people naturally use their phones to watch content — up-and-down instead of side-to-side. So this isn't your regular, horizontal YouTube video-viewing experience; it's more akin to the mobile-first video approach taken by Snapchat's Discover section (some publications are betting IGTV will threaten both these established video platforms, actually). This is good news for brands and publishers who've wanted to experiment with vertical content and also improve their mobile-first digital video approach to stand apart from the competition.
Some brands may be unhappy to hear Instagram currently has no clear plans to monetize IGTV, but according to Business Insider, Systrom said the potential introduction of ads is "obviously a very reasonable place to end up. There will be a way for creators to make a living." For now, all brands and publishers need to worry about is setting up their own IGTV channels; AdWeek has a simple tutorial you can follow for this. You'll be able to start your channel in the next few weeks as IGTV rolls out across the world on both iOS and Android.
5 Types of IGTV Videos Brands Should Consider
Now that we've got the current rundown on the upcoming IGTV feature, let's look at some ideas for the types of IGTV videos your brand might want to create. While you may not yet have the ability to launch your own IGTV channel depending on the rollout status, that doesn't have to stop you from brainstorming video content for it!
These are just a few formats you can consider publishing on IGTV in the future (many of these are tried-and-true long-form methods which work well across a variety of traditional and digital mediums, but of course, you'll have to test to see which resonate best with your audience):
#1 Scripted
It's very hard to tell a thorough story in just 15-60 seconds, despite how well some clever creators were able to create some amazing pieces of fiction in just six seconds on the now-defunct Vine app. So when your brand wants to create its own scripted video series that's longer than a minute, you can now include IGTV as a distribution outlet alongside platforms such as Facebook and YouTube as you develop any scripted digital series in your content pipeline.
#2 Reality/Game Show
In the same vein as scripted series, reality or game shows are an excellent format for publishers and brands to create and release on IGTV. These types of shows often keep audiences coming back episode after episode because they want to see what happens next or who's going to win the next round, which ensures not just more views, but also more engagement as well as shares during the duration of the series. Highlights of memorable moments can often be snipped into shorter clips, too, and used as marketing collateral to promote the shows.
#3 Behind-the-Scenes/Educational
Reality shows can also take the form of behind-the-scenes content, which is another format publishers and brands should consider for their upcoming IGTV channels. This type of video can almost be turned into a documentary of sorts, where you feature a new topic or individual in your industry or company every week or educate viewers about an important issue or cause. You can also take viewers on a workplace tour, or show them how your products are made step-by-step. There're lots of options here!
#4 Tutorials
One of the most popular forms of videos across almost any social platform is tutorials and how-tos. We know from not just numerous studies and reports over the years, but also directly from Tubular data and monthly leaderboards, that online viewers love watching beauty tutorials, DIY content, and cooking and baking shows. This format worked well on linear TV for years, too; I'm thinking in particular of one of my childhood favorites, Bob Ross's The Joy of Painting, which fascinated viewers and entrenched itself into American pop culture. So it can't hurt to try this format for your IGTV channel, as well. Influencer LeLe Pons, for example, has already joined IGTV to launch her own cooking show.
#5 News Commentary
Depending on how your company makes a buck every day (i.e. media brand vs. automobile company), you could consider launching your own news show for exclusive release on IGTV. Commentary on local or national news, politics, and current events is very appealing to consumers around the world, despite how much the current U.S. administration would like to think otherwise. Make sure if you experiment with this format for IGTV you're not only accurate with your facts but entertaining at the same time so your audience wants to keep coming back for each episode you release to hear your thoughts on the news.
In short, if IGTV succeeds, the platform could be a huge boon to brands and publishers who wanted to take their Instagram video strategy to the next level. It's also a fantastic opportunity for brands to increase their video distribution without having to build an entirely new audience from the ground up on a separate outlet, thanks to the video platform's integration with your Instagram account and its current followers. So what content will your brand start creating for IGTV this year?