A new survey reveals that video has an extraordinarily positive impact on consumers during the purchase life-cycle, and in driving brand awareness and engagement. 73% of those surveyed confirm they are more likely to buy a product or sign up for a service if they watch a branded video that explains the product. But it doesn't end there, video also plays a huge role in further research into the brand, as well as in comparison shopping and in post-purchase information. The report, from online video creation site, Animoto, also states that 58% of respondents consider brands that produce video content to be more trustworthy.
Highlights of the Report
96% of consumers surveyed found videos helpful for making online purchase decisions
71% of consumers surveyed confirmed watching a corporate video left them with a positive impression of the brand, service or company
73% of all consumers are more likely to make a purchase after watching videos explaining a product or service
The Impact of Video on Consumer Sales
Of the 1,000 respondents to the survey, 96% said that video content was useful when making purchasing decisions online. Other metrics were also high regarding using video content for comparison shopping with 93% surveyed confirmed they used content this way. 87% found business videos helpful for further research into to services or products by the same brand, and 93% turned to video for post-purchase instructions and guidelines. Although it's a relatively small sample, the percentage of respondents that confirmed they used branded video to inform and guide them, both pre and post-purchase is fantastically encouraging.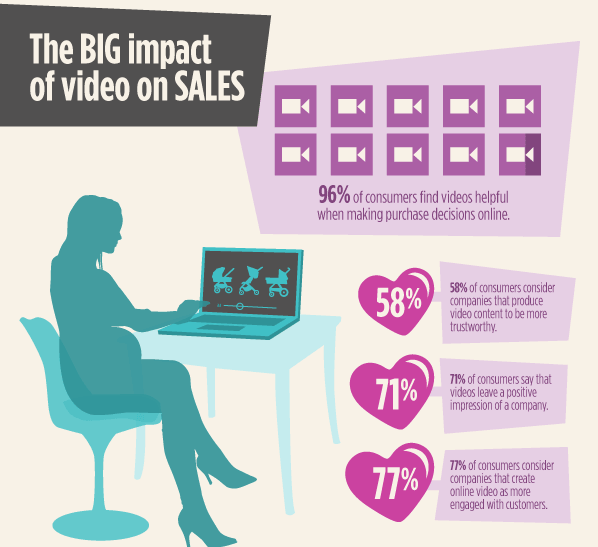 Consumer Video Preferences
83% of those surveyed confirmed that the ideal length for a sales or business video is 5 minutes or even less. Surprised that it's as long as long? Yep, us too. It would have been good to see some feedback on different video lengths and viewer preferences.
In terms of what business video content would be welcome, respondents wanted more across electronics (57%), restaurants (39%), travel (34%) and exercise/fitness (33%). 42% wanted more descriptive or demonstrative content such as 360 views of a product.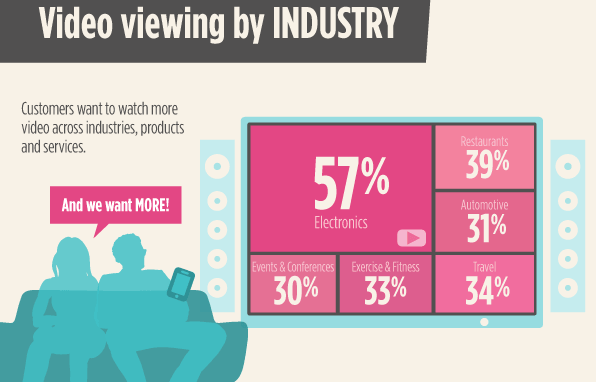 Most Shared Kind of Video Content
Video is playing a huge part in consumer's lives with at least 94% of respondents watching video at least once a week from their desktop, and 76% of smartphone owners watch videos at least once a week on their mobile devices. Viewers love to share what they've watched too, especially if that video has a 'share' option (80%). Even more encouragingly, 89% of all respondents are likely to share a video if they consider it educational and 86% of all respondents are likely to share a video if there is an incentive for sharing, such as a promotion or discount.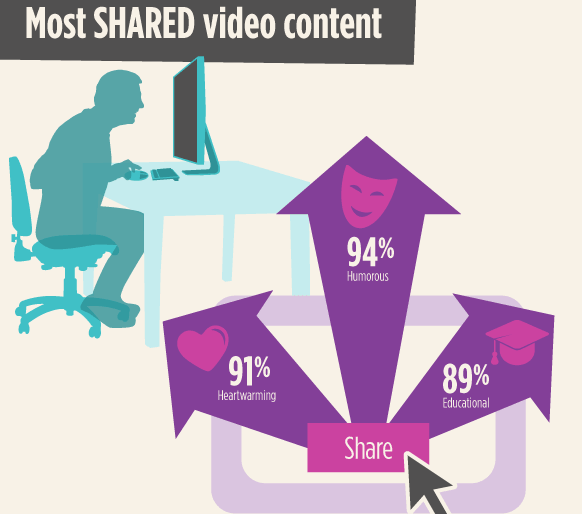 Methodology
Animoto surveyed a representative sample of U.S. adult consumers to learn about consumer perception and experiences with video marketing as a promotional medium. The web-based survey was fielded December 26-30, 2013 with a sample size of 1,014 (Margin of error +/- 3 percent at a 95 percent confidence level). Download the full infographic here.