The week ending 15th June 2018 saw 9 major movies released across the US, the biggest being 'Incredibles 2', 'Tag', and 'Superfly', which opened in the largest numbers of theatres. All have been heavily promoted on and offline but using exclusive Tubular data, we can give the industry an insight into how the official movie trailers performed across Facebook and YouTube, for both total views and view metrics within the first 30 days after upload. These are the views from the official trailers released by Disney/Pixar (Incredibles 2), Warner Brothers (Tag), and Sony Pictures (Superfly):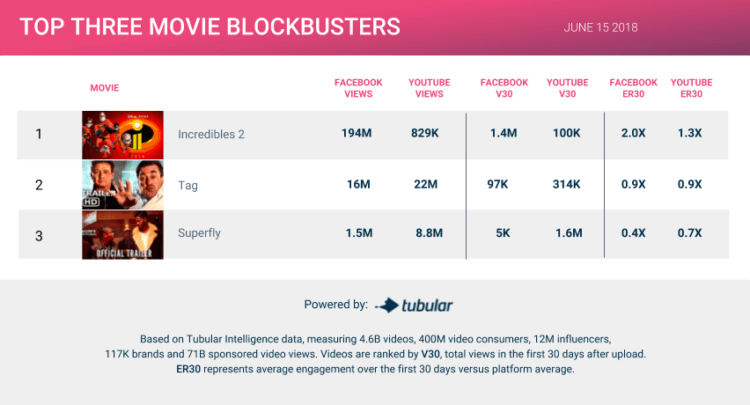 While the official trailers for 'Tag', and 'Superfly' generated a significant amount of online views and engagement – particularly on YouTube – official studio trailers for 'Incredibles 2' outperformed both by a considerable stretch on Facebook, where the engagement rate for 'Incredibles 2' uploads were twice the platform average.
Disney Online Properties & Blanket Promotion
The sequel to the 2004 smash hit is set to shatter Pixar's all-time opening weekend record, with a predicted $140M gross earn, and is just the latest asset in the Disney family's stable of iconic entertainment. Disney is the #3 most viewed media and entertainment properties in the world, with over 800 separate channels and pages across all the main social media platforms. It has an inbuilt network of owned sites that act as a massive distribution network for promotion and amplification.
With a global social presence on a massive scale, Disney and Pixar can carve up promotion across hundreds of channels, verticals, and assets. For instance, a Spanish version of the trailer, uploaded to Walt Disney Studios Facebook page in April, generated 25M views (with a V3 of 6M views), and 628K engagements.
Outside the Disney properties, the entertainment giant holds such a powerful position in the industry that they have the clout to place promotional video material across the top publishing pages on YouTube and Facebook. Using Tubular data, we can confirm that Facebook views for 'Incredibles 2' from top media and entertainment ,including those from the Disney/Pixar group of properties, but also from channels such as NowThis, Complex, MovieClips, and AMC Theatres generated a total of 232M Facebook video views, and 7.7M YouTube views. 'Incredibles 2' content from official properties and top media publishers over-indexed on both platforms for viewer engagement.
Incredibles 2: Sponsored Video Opportunities
With one of the world's most effective theatrical marketing machines under their wing, Disney didn't invest in sponsored content to any great extent. However, other brands partnered with publishers to create video content around the release of 'Incredibles 2'. Sponsors like Skillshare teamed up with YouTube movie critics The Film Theorists in a clip which challenged the creators to find out just who was the most Incredible of all the 'Incredibles'. the video generated 6.7M sponsored views on The Film Theorist's YouTube channel for Skillshare. The video also generated a V3 of 4.8M, which is an extremely impressive view count just 3 days after upload.
Dollar Shave Club also benefited from the film's release in a sponsored collab with The Know, to generate 135K YouTube views around a review of the movie. Non-Disney sponsors generated almost 7M social video views on YouTube for 'Incredibles 2' content, with a V3 0f 4.3M. Those kind of figures present a massive opportunity for studios and theatrical marketing teams to reach engaged audiences beyond their own properties.
In the coming weeks, Tubular will be releasing regular Leaderboards charting the success of official movie trailers and teasers online. Using exclusive data, we'll also highlight which franchises are winning with video, and which influencers and publishers studios are partnering with on promotional content.