Although YouTube is a US-based video platform, we know that consumption of its content comes from all four corners of the globe. But the views of the estimated 500 hours of video that are uploaded to YouTube every second are only half of a fascinating story. A huge number of brands and publishers are uploading content to very specific local markets, but those videos get picked up by viewers in other continents too, so there is a huge opportunity to reach a wider audience, if you know what that audience responds to, and engages with. For example, what social video insights and trends across Europe should you be aware of in that region to achieve online video success?
European Video Insights: Report Highlights
Denis Crushell, VP of Europe at Tubular Labs presented the latest trends on online video in Europe at the very first VidCon EU last week. Using data from Tubular, he presented some insights on how European content creators can gain success with a global audience. Some of the key takeaways you can find in the report are:
The UK leads the way in creating social media video content
78% of all YouTube views on videos uploaded by UK creators are watched outside the UK
The US is the top consumer of UK content: 31% of all UK creator views taking place in the US
Three of the global top five content creators are from the UK
European countries are creating and watching online videos in English
In the UK, Kids Entertainment is the top growth opportunity on YouTube
But on Facebook in the UK, it's News and Politics
[button color="blue" size="big" alignment="center" url="http://info.tubularlabs.com/l/67932/2017-04-10/9g9bvb"]Click HERE to download the European Video Insights report[/button]
European Video Content & Language
Understanding which content genres have the highest opportunity for growth on each platform, and in each market, will help content creators achieve success. Also understanding what countries consume the most European video content will also help you determine your video strategy if you want to build an audience in those markets. A huge consideration for creating content is language, and our exclusive report highlights the fact that younger audiences are watching videos on YouTube in English because not enough creators are producing enough engaging content in their own language.
This trend is particularly prominent in Netherlands, where 54% of the top YouTube videos from creators based in the country were uploaded in English, compared to just 37% in Dutch. Germany follows, where 30% of all YouTube videos from the top German-based creators are in English. However, in Spain, this figure is only 10%.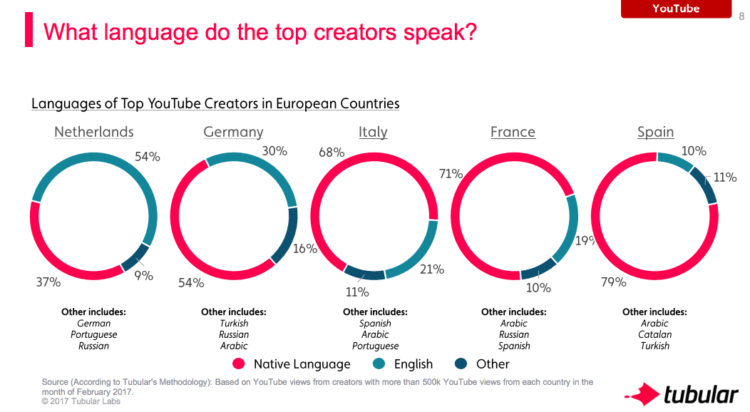 What does this mean for publishers, brands, and creators? If you are looking to connect with your target audience then you need to be aware of what language is most suitable for your market. If that target audience skews younger in your desired region, then you may be able to engage with them via an English-speaking video. But always test the market with a range of content to see what works for you, whether that's working with a native-speaking influencer, using multi-language closed captions, or creating original market-specific content from scratch. You need to have a language production and tagging strategy in place if you want to capture attention in Europe, and beyond.
And it's not too late to become a leading social video creator, especially on Facebook! In the UK, 35 of the top 100 Facebook video creators didn't feature in the top 100 just six months ago. For YouTube, this figure is 28. And in the Germany, half of the top 100 Facebook video creators didn't feature in the top 100 just six months ago. For YouTube, this figure is 30.
Download the Full European Video Insights Report Now
If you are a brand or publisher looking to leverage video outside of the US then download the full 'How to Achieve Global Online Video Success From Europe' report today. You can access the full report right now by filling in the form below. And click here for more tips and takeaways from VidConEU 2017.