Tonight, the initial batch of Democratic party presidential candidates will embark on the long journey to Election 2020 with the first Democratic debates. It's a sign of the times that this will be the first fully live-streamed primary event: the Democratic National Committee is requiring all of its network partners make the debates available online.
Even before the stream begins, however, the social video conversation about the primaries has been buzzing for months. Brands and influencers alike have promoted and panned the frontrunners in a mix of content that spans from analytical to straight-up comedic.
In general, here's how the frontrunners are navigating the net (and where their constituents like to hang out online) so far:
Bernie Sanders is sticking to Facebook, where his followers already are;
Joe Biden is the central topic of a heated left-vs.-right debate;
Elizabeth Warren is getting ahead of the conversation with her own content;
Kamala Harris is keeping it brief with Twitter-focused content;
Mayor Pete Buttigieg is enjoying light coverage of fluffy topics;
Beto O'Rourke has learned that the f-bomb has its viral perks;
Senator Cory Booker still needs to move beyond his current role as a senator to get followers serious about his presidential run.
Here's how some of the most visible Democratic primary candidates are faring in the web's 24-7 political debate and what it might mean for each frontrunner's 2020 chances.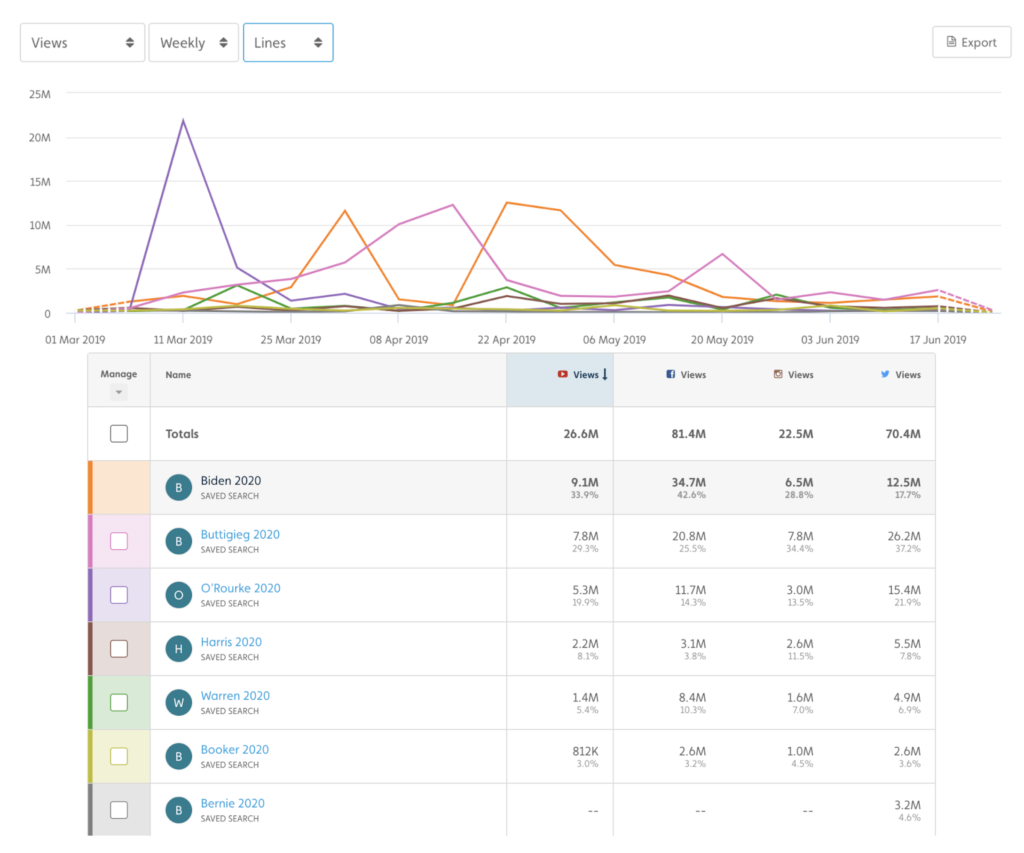 Bernie Sanders: Dominating the Conversation
A former 2016 primary candidate, Sanders clearly has staying power and his role in the social video conversation reflects that. Some of the networks and shows with the highest caliber of name recognition, including CNN and The Daily Show, have offered ample screentime to the candidate.
As of today, the top Bernie Sanders videos by views are:
With every one of these top videos over a million views, it's clear that viewers have a lot of interest in Bernie Sanders' next moves. Three out of these five are on Facebook, reflecting how much more pull Sanders has with that platform (26M) compared to YouTube (17.2M).
While the content creators are mainly top networks (along with Bernie himself), viewers tend to have plenty to say, with engagements on most of these videos in the tens of thousands.
Finally, it's worth noting that many top videos about Bernie Sanders are positive coverage — even "Is Bernie Too Old to Run in 2020?" concludes that his fans say age is just a number. For these reasons, Sanders is already coming out on top.
Joe Biden: A Polarizing Figure
He's gone from Obama's loveable sidekick of a VP to serious Democratic frontrunner, and the social chatter suggests voters aren't sure what to think of that image shift. Compared to Bernie Sanders' top videos, Biden's have far lower viewership yet double the engagement, suggesting that those following this candidate are already having debates of their own.
Right now, the top Joe Biden videos by views are:
Don't be fooled by official-sounding names like "White House Brief" or cryptic ones like "Follow The White Rabbit." All of the top four content creators are far-right Facebook pages. These creators' political leanings precede the negative analysis they present about Biden's campaign.
The fact that Biden's political opponents have dominated his social video tells us two things. First, it suggests that the right sees Biden as a serious contender and threat. Second, it's a sign that Biden's campaign ought to spend some time taking back control of the conversation.
The top four videos all come from Facebook, showing a clear platform preference for Biden fans and anti-fans. In the past two years, Biden-related content got 47.4M views on Facebook. The runner-up, Twitter, has just 14.6M — hardly a comparison.
Elizabeth Warren: Activism Online and Off
Since the day she announced her campaign, Warren has been coming up with a plan for every possible policy enactment, and her social video footprint reflects her active role. The coverage appears positive, but that's no wonder: most of it comes from the Warren campaign.
The top Elizabeth Warren videos by views are:
Two of these videos come from content creators who are consistently in Tubular's top ten by views and influence (Saturday Night Live and Group Nine's NowThis). But the other three are Warren's own: "U.S. Senator Elizabeth Warren" is her verified account, while "Elizabeth Warren" is her official 2020 campaign's.
It's clear that Warren and her campaign team understand the value of social video and have made efforts to control their own narrative. This may be a factor in why, leading up to the first Democratic debates, Warren is the most-viewed candidate across all social platforms over the past 90 days.
In particular, her campaign's focus on streaming video has led to a more even level of engagement across Facebook, YouTube, and Twitter.
Kamala Harris: Quick and To-the-Point
Like Warren, Harris is her own best promoter. Her most popular (and positive) streaming video coverage comes from her own campaign, but she can't outrun the naysayers.
Right now, the top-viewed videos about Kamala Harris are:
Unique to any other candidate, the majority of Harris's social views come from Twitter. In the past two years, 23.5M came from Twitter, compared to 20.5M from runner-up Facebook.
Twitter sets a max video length of 140 seconds, which means that Harris's top videos consist of snippets and sound bites that appeal to supporters or detractors, depending. Because of the prevalence of Twitter videos, Harris's top five videos combined make up the shortest social footprint of any candidate on this list before the first Democratic debates even start.
Mayor Pete Buttigieg: A Youthful Alternate
Out of all the candidates here, Mayor Pete is the one most closely tied to the primary age demographics of people who watch social video most often. Perhaps that's why content discussing his age is getting more interest than anything else before the first Democratic debates.
The top videos for Mayor Pete Buttigieg by views are:
The Mayor is enjoying video content on the lighter side, discussing his age and sexuality in a positive manner — plus a fluffy "celebrity endorsement" from the fictional protagonist of Parks and Recreation.
It's also worth noting that Buttigieg's two top videos are cross-platform uploads of the same content. With top videos on YouTube, Facebook, and Twitter, it's apparent that it's not the platform that matters, but the casual tone that is quickly becoming Mayor Pete's MO.
Beto O'Rourke: A Big Mouth Pays Off
Beto O'Rourke is the only candidate on the list with a fan creator's video listed alongside brands, influencers, and the candidate himself in the top five.
The top videos about Beto O'Rourke are:
"I am running to serve you as the next president. The challenges we face are the greatest in living m…" – Beto O'Rourke (5.2M)
"Running for president | Beto O'Rourke" – Beto O'Rourke (3.9M)
"Beto Announces 2020 Bid and Trump Attacks Him: A Closer Look" – Late Night With Seth Meyers (3M)
"Im so f*cking proud of you guys" Beto for president 2020" – Tay (2.9M)
With 2.9M views, the "Im so f*cking proud" video, tweet, and even the user account have all been deleted, a result of the average user being ill-equipped to negotiate viral fame. A version of the video, which is still available on YouTube, features O'Rourke at a rally dropping the f-bomb to thunderous cheers.
Like Trump before him, O'Rourke is finding that crass language comes with positive feedback, and a lot of it: O'Rourke's top five videos have the most combined views out of any candidate on the list other than Biden — and in O'Rourke's case, the attention is far more favorable.
Senator Cory Booker: What Presidential Run?
It's apparent that Sen. Booker has made more waves as the first African-American U.S. senator from New Jersey than he has as a presidential frontrunner — at least, so far.
Leading up to the debate, Senator Cory Booker's top videos are:
Other than Senator Booker's own two social video posts about running for president (on Twitter and Facebook respectively), two of the other top videos are remarkably long-lived ones about the Senator's criticism toward former Homeland Security Secretary Kirstjen Nielsen — still viewed regularly even after the secretary resigned in April.
Booker has developed a reputation as a hardline critic of the Trump administration, and the three videos in his top five that aren't his own reflect that role.
What's Working Before the First Democratic Debates
On a web where audiences are having an increasingly difficult time choosing which news sources to trust, there's a common thread throughout all of these candidates' top video: their self-produced content.
Except for Biden, every candidate has one of their own videos in the top five, showing that voters still prefer to hear about politics from the candidates themselves. While there are a few other themes in these videos (late night comedy and bite-sized news clips from NowThis), there's something to be said for candidates who work at speaking directly with their constituencies.
If there's one thing our social networks have taught us, it's that people value connection more than ever.
Based on social video, which candidate do you think will win the first Democratic debates?