Here at Tubular, we talk a lot about the biggest YouTube and Facebook channels around the world. But another leaderboard is rapidly setting itself apart thanks to the gaming industry.
In addition to the millions of views earned by gaming media and brands every month, sponsored content across gaming creators is also driving impressive numbers. In July, for example, the ten most-watched sponsored videos pulled in 23.5M total views in just seven days (V7)!
Let's take a closer look at the top ten branded gaming campaigns, and what they can teach media companies and brands about partnership opportunities in the gaming industry.
Top Gaming Industry Sponsored Content from July 2019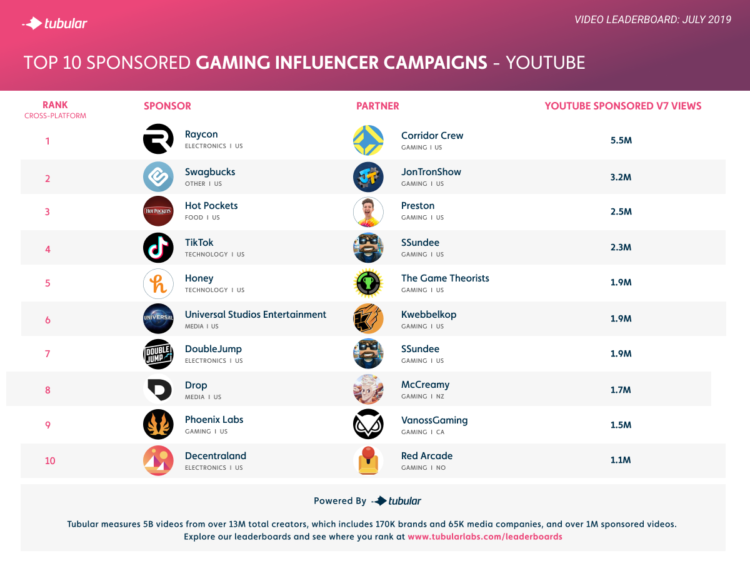 Reaching Gamers Is Easy with Gaming Partners
Back in May, we talked about how it just makes sense for video game developers and platforms to market to gaming audiences. Three such brands embraced this opportunity in July, as well.
DoubleJump was the only game studio from May that also appeared on July's branded content leaderboard in the gaming industry. The Canada-based developer teamed with American YouTube gamer SSundee on a video about playing hardcore Minecraft to earn 1.9M V7 views and a whopping 7-day sponsored engagement rate (ER7) of 9.5x, compared to an average platform baseline of 1x!
Canada was clearly represented in July, as there was also Vancouver-based Phoenix Labs at #9. This studio partnered with fellow Canadian VanossGaming to promote its title Dauntless, a team-up which pulled in a solid 1.5M V7 views.
Finally, we saw Decentraland work with game compilations channel Red Arcade. In case you're not familiar with Decentraland, it's a virtual reality platform where users can buy and develop virtual plots of land with cryptocurrency. It sponsored a Fortnite fails compilation video, resulting in 1.1M V7 views.
The most interesting thing to note about these three video game platforms is that two of them weren't highlighting their own titles or content. Instead, they chose to bet on the similar interests between their users and their partners' viewers.
Clearly, this strategy paid off for them, since they landed in the top ten most-viewed global sponsorships in the gaming industry last month. Other video game developers, take a cue!
Don't Miss: How Omnia Media Is Crushing the YouTube Gaming World
Tech and Electronics Companies Capitalize on the Gaming Industry
Another natural pairing with video games is tech and electronics. Five out of the top ten most-viewed sponsored campaigns from July hailed from these industries.
Raycon was the lucky #1 sponsor last month. The wireless audio and earphone brand, launched by rap artist Ray J, landed an impressive 5.5M sponsored V7 views thanks to its partnership with Corridor Crew.
While Corridor Crew is technically a production studio, it's heavily involved in the gaming industry. It's most well-known for riffing on and fixing poor visual effects from popular games, movies, and TV, which is what it did for the Raycon campaign:
At #2, we saw Swagbucks, an online coupon and loyalty rewards redemption platform. Teaming with long-time gaming creator JonTronShow, the two developed a video based on the idea of having a fireside chat with Jon himself. The collaboration pulled in 3.2M V7 views.
TikTok stayed on the leaderboard for another month in a row to place #4. Like DoubleJump, the growing-fast short-form video app worked with top gaming creator SSundee in July for an average V7 of 2.3M on two videos featuring unique game modes in Fortnite.
Ecommerce and coupon browser plugin Honey also appeared again on the sponsored leaderboard for the gaming industry in July. It's little surprise the plugin platform teamed with previous partner The Game Theorists, a collaboration that seems to work well for both of them (July's Super Mario Maker 2 video hit 1.9M V7 views to land the sponsor and creator at #5).
Finally, we saw Drop coming in at #7 thanks to a video with New Zealand YouTube creator McCreamy. Drop, an e-commerce website for niche products, was on the gaming industry sponsored leaderboard in May, as well; July's partnership earned it a 1.7M V7 on a (surprise!) Fortnite clip where McCreamy tries to win games with headshots only.
Media and Food Round Out July's Sponsored Gaming Leaderboard
Last but not least, July saw two industries on the sponsored leaderboard chart that may not seem as related to gaming as the previous sponsors: media and food.
Technically, media companies relate well to gamers because of their penchant for pop culture. Universal Studios Entertainment was betting on this when it convinced U.S. gaming creator Kwebbelkop to take the "Try Not to Say Wow" challenge to promote Spider-Man: Far From Home. The sponsored V7 hit 1.9M:
For the last sponsor to land on July's gaming industry sponsored leaderboard, we have Hot Pockets (anyone else hear Jim Gaffigan there?). Coming in at #3, the microwavable food brand teamed with 24-year-old gamer Preston to film a hide-and-seek video with his sister to keep his Hot Pockets away from her jealous hands (2.5M V7).
Despite seven out of these ten sponsors not hailing from the gaming industry, it's obvious these partnerships all paid off and that being outside the industry doesn't seem to matter.
The reality is that gaming sponsorships are becoming bigger by the day, and if they're done right with well-matched partners, these sponsorships can last for months or even years to come.
Curious to learn more about the gaming industry in online video?
Learn more about the opportunities for creators and brands in this emerging space in our market snapshot.