In the run-up to the Christmas holidays, brands went all-out on sponsored video to firmly place their products and services before as many eyeballs as possible. In fact, 19,400 different brands partnered with 4,613 different media publishers and influencers to create sponsored video content in December 2018!
LG Electronics, Pepsi, and Netflix were just three of the many brands reaching audiences through creative storytelling with partners expert in content creation and audience activation such as Tasty, So Yummy, and PewDiePie. Let's take a look at the top ten most-viewed sponsored videos of last month:
Top Global Sponsored Videos: December 2018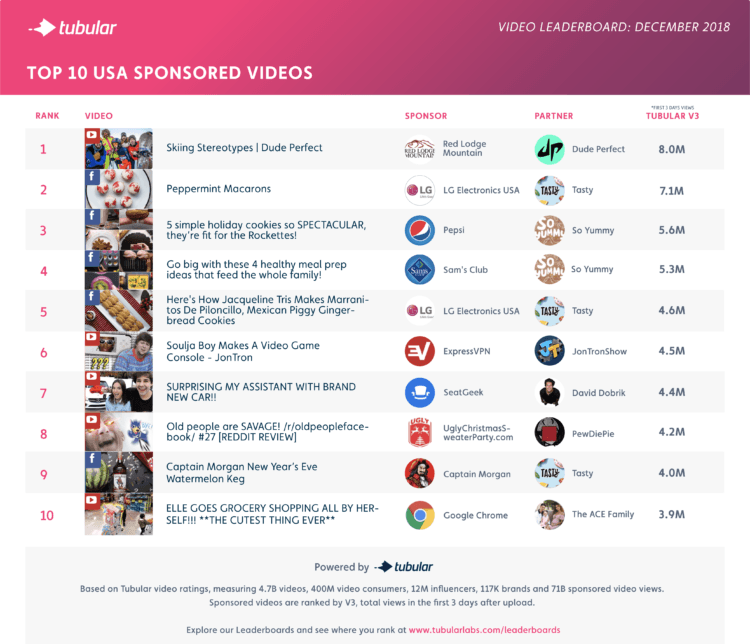 With the festive season fully in swing, the "Food and Drink" vertical is crowded with content aimed at the party-goer, potluck guest, or homemaker. Every type of recipe walkthrough or edible how-to is uploaded to the main social video platforms with a (video) view to attracting solid view counts and engagements. Even brands you wouldn't normally associate with food content are taking the opportunity to work with with content creators who have built a solid audience around the topic.
Take LG Electronics USA. While the LG brand is one of the world's major manufacturers of kitchen and home appliances, the video content it creates overwhelmingly focuses on the technology side of the business. To add "Food and Drink" videos to the mix may not provide the best ROI for the brand, but partnering with a publisher like BuzzFeed's Tasty ensures that the brand message reaches its target audience. During 2018, LG Electronics USA sponsored 17 videos with Tasty, generating an extra 40.5M Facebook video views for the brand. Thirteen of those 17 videos were uploaded to Tasty's Facebook page during December 2018 alone, attracting 33.1M sponsored video views during the festive push for visibility. The most-viewed of these hit the #2 spot on our chart with a mouth-watering V3 of 7.1M Facebook video views.
Digital-first publisher So Yummy partnered with 21 different brands in the US last year, generating 147M Facebook video views. Retail and food giants Walmart, Bed Bath & Beyond, Pretzel Crisps, and Pepsi all worked with So Yummy in 2018, with Pepsi and Sam's Club sponsoring festive content in the last month of the year. So Yummy's collaboration with Pepsi generated a V3 of 5.6M Facebook views for this delectable holiday cookie walkthrough.
In a break from his ongoing battle with T-Series to remain the most-subscribed to channel on YouTube, PewDiePie took time to partner with UglyChristmasSweaterParty.com on a YouTube video highlighting the absolute savagery of the older generation. Taking inspiration from one of the best subreddits online today (seriously, subscribe to /oldpeoplefacebook now) the video hit 4.2M views in three days in a perfect storm of pop-culture references. PewDiePie may remain one of the most controversial and talked about influencers online today, but he generated 117M YouTube views last year for brands like Green Screen and Origin PC. His YouTube engagement rate for sponsored videos is over 5x the platform average, so for brands willing to take a risk on him, the benefits can be substantial in terms of brand awareness.
In December 2018, 5,095 brands sponsored 19.4K videos that were directly uploaded to brand partners channels and pages on YouTube and Facebook. These are the top 10 ranked by views generated in the first 3 days (V3). Sponsored video volume is growing rapidly as brands try to find alternatives to ad blockers and "on my phone while the TV ad is playing" culture. As the industry leader, Tubular publishes a weekly leaderboard on who's winning in the world of sponsored video. Our DealMaker product tracks thousands of sponsored video campaigns from global brands and media companies. Congrats to all of the brands and publishers featured this week!
Want to Know More About Sponsored Video?
As a publisher of sponsored video in this highly competitive world, consider using Tubular to arm your sales teams to find the right sponsors for your audience, pitch them effectively, and report back on performance with industry-leading benchmarks. The Top Ten Global Videos Leaderboard chart is powered by the Tubular data, and for more information please click here.