The heyday of Levi's-clad cowboys and hippies is, sadly, behind us. This is the era of yoga pants by day and studded designer jeans by night.
So, how does Levi Strauss & Co stay on top in a crowded and ever-changing apparel market? It goes where the growth is.
The 166-year-old denim brand's focus: creating killer social video content for international markets, like India and China, and converting these new audiences into loyal consumers.
No easy task. Legacy brands looking to connect with new consumers in the age of video are up against so many smaller indie publishers that make it look easy. Brand content teams, as a whole, are tasked with both competing for views against native publishers and proving their online video efforts are worth it in the first place.
Levi's manages this dilemma by creating issue-based content that is targeted to a specific demographic, like India-based youth, or sales target.
So, instead of competing for every single eyeball, they are competing for a very specific viewership. The denim brand consistently scores among the top 10 apparel brands on Tubular's monthly global leaderboards when it comes to cross-platform video performance.
Whether you run a small or big video arm, working to find a foothold in the apparel video space is worth it. After all, apparel and accessories content is a hot growth area.
In this category, cross-platform views have increased by 13% and engagements by a whopping 19% in 2019, compared to the year prior, according to Tubular data. And the audience is huge all around. Fashion and style content creators reached 830M unique viewers worldwide in a single month last December.
Read on for a look at how expanding into APAC is done, Levi's style.
Levi's Draws on Core Brand Identity To Electrify Content
Apparel companies aren't just selling clothes, they're selling a lifestyle. The winners in the consumer-fashion space are using video as a vehicle to amplify the human element.
People and lifestyle-themed apparel brand content that runs at least a minute long scored higher average 30-day views (V30) in the last year than content about fashion alone.
(Note, these categories are not mutually exclusive, so one video could be in both). If we drill down further, it's content about women's culture that truly dominates.


To inspire its lifestyle content, Levi's has a long history to draw from. A pair of Levi's has long represented more than jeans itself.
During the Cold War, the jeans were worn by young people as an act of protest. And according to the company's CEO Chip Bergh, it was even a form of currency behind Iron Curtain. As Levi's reaches new audiences with this year's campaigns, it's drawing on what it's always stood for: self-expression against all odds.
"Levi's brand and product are rooted in authenticity and originality. The brand is a celebration of democratic and inclusive ideals," said Jennifer Sey, Levi's SVP and Chief Marketing Officer, in Retail Dive.
"We have always been a brand that connects people. Cool city kids, hipsters, people from the heartland, moms in the suburbs. They all wear Levi's and they all wear them their own way."
As brands expand into APAC and LATAM, content strategists and creators must trumpet themes that resonate in these regions, all the while staying true to their brand's core principles. This calls for that perfect balance between broadness and specificity.
And when it comes to converting views into sales, content teams benefit from innovation. It serves as a type of wind at their back, whether it be full-scale product development or even a new twist on a beloved product (churro-flavored Oreos, anyone?).
In recent years, Levi's has focused on developing both strong content and products, a symbiosis of impactful video campaigns and denim innovation. (Speaking of, ever worn a pair of temperature controlled-jeans? Pretty groovy.)
Read on for how this has played out in specific Levi's campaigns.
Levi's Call for Inclusivity and Equality
In 1990, being sexy in an advertisement was a political gesture. Case in point: Brad Pitt's 1990 Levi's ad appearance (before he was famous). Brad Pitt may still look the same, but when it comes to social issues, times have definitely changed.
Today, Levi's campaigns are diverse; they're in multiple languages and they call for inclusivity and equality. Many link to a specific action you can take or advice you can follow to better your life.
This strategy boomed in 2017 when the brand released "Circles," an ad that celebrates a world connected by music. The ad is among the brand's most-viewed and engaged content ever, with all versions on YouTube pulling in 82.3M views and 48.8K engagements and 29.5M views and 380K engagements on Facebook.
The ad resonated specifically well on Levi's India creator channel. Why? Because it serves as a unifier in a politically-divisive time. "Rich, poor, straight, let's live how we dance," the ad said.
In this case, data indicated that featuring a diverse cross-section of faces and voices resonated with audiences. This steered Levi's way towards the larger, highly-successful global campaigns to come.
Go for Growth: The Future of Denim Is Global and Female
The future of the jean industry is female and centered in China and India. As the overall U.S. denim market contracts, Asia saw a 6% growth rate in jeans sales over the past decade according to Bernstein, a research and brokerage firm.
Levi's is actively engaging these demographics on social. In the past year, it's pumped out documentary-style video content that stars global influencers and celebrities, covers political and personal themes, empowers women, and conveys the brand's evergreen principles:
Go beyond labels. Make the world a better place by living a life that is true to you.
Let's dive into some of the iconic brand's recent APAC campaigns.
"I Shape My World" 2019 Campaign Inspires Women
Last International Women's Day, Levi's launched the "I Shape My World" campaign, a series of stories from successful female influencers across the globe who are taking risks and speaking up for women's rights.
The overall effort drew 20M views and 17.2K engagements on YouTubeand 2.8M views and 74.1K engagements on Facebook as of this writing.
The content was positioned as personal telegrams to the 110 countries the company sells to, often presented in regional languages. The voices hail from India, Mexico, South Africa, Thailand, and more. The campaign video alone, which drew 2.8M YouTube views, gives me chills!
The most-viewed documentary shorts include:
"Proud to be More" Campaign Gives Indians a Voice
In November of 2019, Levi's launched its "Proud to be More" campaign, a collection of vertically-shot mini-docs. Think: cinematic vitamin C shot.
In this age of identity politics, Levi's takes a step back and shows how we are much more than one thing. The videos feature inspiring Indians from the LGBTQ+ community who refuse to be reduced to stereotypes: "You decide the worth of my mouth by who I choose to kiss with it. Not what I choose to shout with it."
The stories are all the more poignant in a country where homosexuality was illegal until very recently. In 2018, the Supreme Court of India repealed Section 377 of the Indian Penal Code to finally decriminalize homosexuality.
The campaign garnered 9.3M views and 557 engagements on YouTube and 3.3M views and 263K engagements on Facebook (as of 03/05/20). This helped push Levis' into the top 3 apparel and accessories brands worldwide in November 2019. (Source: Tubular Labs Leaderboards, Most-viewed Apparel & Accessories Brand Properties, Nov 2019)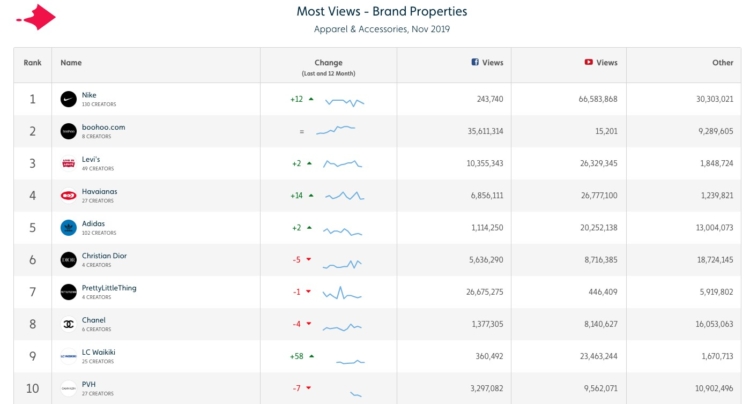 Using exclusive audience measurement tools, Tubular data is able to measure the viewers behind the views for Levi's. In November 2019, Levi's reached 9.1M unique viewers worldwide and the audience watched 12.3M minutes of Levi's content. That's more than 23 years of watch time!*
The most-engaged videos include:
Filmmaker Onir who refuses to live in the shadows. "I'm gay and I refuse to be invisible." (64.5K engagements on Facebook)
Drag performing artist Sushant Divgikr on the power of recognizing your male and female energy. "Your character and personality is way more than your orientation. It's your jokes. It's your flaws." (50.4K engagements on Facebook)
And artist Priyanka Paul who says, "I like cheesecake and I like girls. I like the color and I like glitter. And only one of these things I like separates me from the rest and puts me into a box." (55.8K engagements on Facebook)
India, the biggest democracy in the world, is clearly hungry for this type of content. And Levi's is delivering. In addition to Levi's dedicated India creator channel, Levi's U.S. creator has a 5.9% viewership in the subcontinent.
This focus has arguably had an impact on sales in the region. Levi's India had a decade high sales growth of 25% in its 2018-19 financial year. The brand saw the most growth in women's jeans in the region.
Levi's Honors Chinese New Year
China comprises 3% of Levi's sales, reports CNBC. And though the brand expects a financial hit this Chinese New Year season amid recent coronavirus concerns, the country remains a focus area of growth.
For the past several years, Levi's has reached out to Chinese audiences with an annual Chinese New Year's resolution, featuring such beloved stars as William Chan (2.2M YouTube views) and Qi Xing-hua.
The past two years, Malaysian-Singaporean actor Lawrence Wong took the driver's seat, drawing millions of Levi's fans. The video formula is simple and effective: Wong opens up and takes an honest self-inventory of how he fared the year prior.
This annual-check in becomes an opening for group reflection. At the end of the video, Wong has a resolution to share. For 2019, Wong told viewers "this year, follow your heart" (1.1M YouTube views).
For 2020, Wong said, "This year win your way." This year's campaign saw the strongest results yet, earning 3.6M YouTube views, 3.3M of which transpired in the first 30 days (V30). This compares to a V30 of 332KYouTube views for William Chan's 2017 Chinese New Year's video.
This is precisely the type of data that can inform future campaigns. In addition, Wong's resolutions surface at the end, presented as a type of Easter egg. This means a longer watch time, as viewers wait for the words of wisdom.
Extended time with a brand matters in this video climate. Is Levi's the mailman or the guest you invite in for tea? In the case of this ad, it's the latter.
The Way Forward: The Audience is Your Compass
For brands looking to follow Levi's lead, here are some closing thoughts.
Firstly, if you haven't activated Indian audiences yet, now is the time to develop localized content. Tubular Labs has seen record growth in the region.
On YouTube, there was a 53% increase in total views in India in the first half of 2019 as compared to the year prior. That's much faster than in the United States and elsewhere in the world. We also see growth on Facebook.
Want More Insights like This?
Secondly, what you say matters. An iconic brand helps inform who we are as an individual or a country. People use apparel brands to tell their story. They wear it as an extension of their identity. Are they a skater, a burnout, an intellectual?
A brand must have a fresh social-video life that matches the zeitgeist. When the product is static and the video feeds aren't taking on the major issues or pastimes of the day, the brand loses relevance.
When taking a stand, established brands need to be wary of the limitations of legacy. Look to your past brand messaging for openings and possibilities rather than limits. Build on brand authenticity, draw on nostalgia.
And when (not if) you take a stand on a contemporary issue, connect it to your past track record. Show how you've always championed this issue.
Your support of a more global perspective doesn't have to be so explicit. Even broadcasting from the country you are looking to reach can leave a large impression. Levi's Skateboarding arm, for example, takes audiences to the streets of Tbilisi, Georgia, where skateboarders jump over Soviet structures and dirt hill bombs and to Taipei, Taiwan as they pop ollies on brick-paved arteries.
When your brand's longevity depends on growth in specific markets, audience data becomes more important than ever. It's a way, beyond sales numbers, to see how your target groups are engaging with your brand, or responding to your messaging and innovations.
Make sure you have a clear sense of which demographic your brand is targeting on social video channels. Is it a specific age or gender or region? Then look to Tubular's data to see if your audience is aligned with your target market.
Look at performance insights for specific videos and campaigns to further see if you've increased audiences in your target area. Look at what your audience is also watching, a feature built into Tubular's platform. The insights may revitalize your approach.
Interestingly, Levi's creators draw more unique views from females than males on their cross-platform video feeds. It's data like this that can help provide a brand with clues on how to further refine content.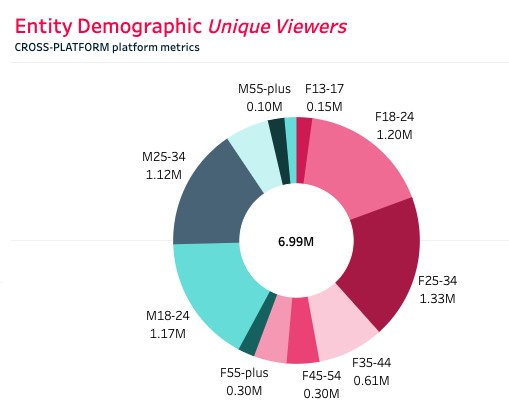 Finally, many brands see themselves on a pulpit, delivering messages to their audience. But it's actually the opposite. A new audience is your compass, your teacher, guide. Social video and engagement data provides a portal through which brands can determine what these viewers really want, building on successes and scrapping the rest.
Curious about how you can up your video game in the apparel industry?
* Source: Tubular Labs standardized audience metrics (Beta) | Cross-Platform (YouTube, Facebook)