2018 was a big year for beauty influencer campaigns on YouTube — more specifically, over 9890 sponsored videos were uploaded by 2915 brands working with 2056 different beauty publishers and influencers across Facebook and YouTube. But what's even more interesting is that when we took a look at some of these top influencer campaigns, two surprising trends popped out:
Male beauty influencers and creators are becoming more prominent in what is typically an industry that targets women.

Non-beauty brands are creating sponsored video campaigns aimed at the beauty audience.
Let's take a look at both these insights, starting with the men making their mark in beauty content!
Male Beauty Influencers Generate Millions of Views on YouTube
For over 14 years, YouTube has been the natural home of all types of beauty and fashion tutorials. Many of today's top beauty influencers grew up watching how-to videos from beauty OGs like Michelle Phan and Zoella, eventually crafting their own particular style and picking up millions of subscribers of their own.
Every kind of makeup artist and tutorial exists on YouTube, but the breakthrough of the male influencer in this vertical has exploded over the last couple of years. And by breaking through, we're not just referring to YouTube views and engagements — although they are as high as you would expect for some of the top performers. No, we are talking about how these male influencers have become the new faces of beauty across online video.
For example, the top two male beauty influencers who created sponsored content for brands in 2018 on YouTube were TeachingMensFashion (90.8M views) and Alpha M (52.6M views), both male fashion-focused accounts. James Charles (37.2M views) was the third most-viewed influencer in the vertical, which may not come as a surprise to his 15.2M YouTube subscribers, but might be for those who are unaware of the impact of male beauty influencers in today's online video ecosystem.
The big players in this space are also bringing in the brand deals. For example, Manny Mua has not only established himself on social media as a face to watch, he has also collaborated on many brand partnerships, and is an ambassador for Maybelline.
London-based beauty blogger Lewys Ball became the first male face of Rimmel cosmetics in 2017, while Jake-Jamie Ward, who goes by the title Beauty Boy on YouTube, rose to prominence when he started the online movement known as #MakeupIsGenderless. He has also been the male face of L'Oreal UK.
Patrickstarr, Wayne Goss, and Bretman Rock are also some of the biggest male beauty influencers on social video. Not only are they generating massive views and engagement, but they are inspiring a whole new generation of boys and young men to express themselves via fashion and beauty uploads to online video platforms.
In January 2019, the top two most-viewed beauty influencers on YouTube were James Charles and Jeffree Star. That's the most viewed of all the beauty vloggers currently uploading content to YouTube! Let's dig deeper into how these two creators are performing.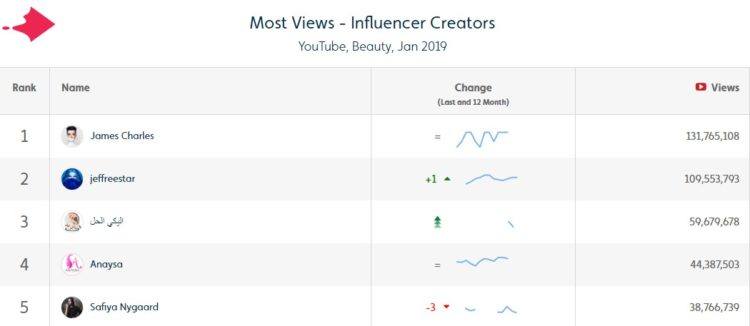 James Charles: 874M Views on YouTube
To say James Charles is on fire right now would be something of an understatement. Not only is he the first male spokesmodel for cosmetics brand CoverGirl, he's attracting enough attention to cause chaos on personal appearances. As the top beauty creator on social media (and the most-watched across male beauty influencers), he's generated a total of 874M views on YouTube, 24.2M on Twitter, and 231K on Facebook in 2018 alone.
Charles is part of the growing community of male beauty influencers enjoying huge success in the wider industry. As well as the CoverGirl deal, he's been working with brands such as ColourPop Cosmetics, NYX Professional Makeup, and Epic Games on sponsored content around their products and services. On YouTube, his most-viewed upload is his collaboration with Kylie Jenner where he made her over for Halloween. The clip has generated 27.4M views, and 1.6M likes, shares, and comments to date:
Jeffree Star: 580M Views on YouTube
According to Business Insider, Jeffree Star was among the top 10 highest-paid YouTubers in 2018, right up there with the likes of PewDiePie and Logan Paul. Famous from back in the day on MySpace, Star has founded a multi-million dollar cosmetics empire with Jeffree Star Cosmetics, but it is as an individual that he claims the #2 spot for the most-viewed beauty influencer on YouTube. Star has built up a 12.7M subscriber base on YouTube where he generated a total of 580M views in 2018 (he also garnered 2M views on Facebook and 2.2M on Twitter).
As the public face of his own cosmetics brand, Star is no stranger to uber-successful brand marketing, and with an estimated personal worth of $50M, he can afford to be playful and provocative with his own brand and the video content around he uploads around it. His most-viewed upload to YouTube to date, with 26.7M views and 939K engagements, is this dig at other cosmetics brands he dislikes, ones that failed the infamous "Jeffree Star Approved" test, or brands which have slated him via social media. The highly-entertaining clip shows Star at his wicked best:
Star also topped Tubular's Sponsored Video Leaderboard for July 2018, when his incredibly well-received series with YouTube favorite Shane Dawson went viral last summer. The five-part insight into Star's life generated 126.8M views for Dawson's YouTube channel, and for the brands who sponsored the series: SeatGeek, BetterHelp, and Qwikmatch.
Non-Beauty Brands Also Profit from Millions of Beauty-Related Views
Talking of sponsored video content, it isn't just beauty brands that are working with the biggest influencers and publishers in the vertical. In 2018, across the three top brands that sponsored beauty content on YouTube, only one was directly related to the beauty industry. They were Audible (18.9M views), Scentbird (17.3M), and gaming app Best Fiends (16.5M).
James Charles generated 11.4M sponsored video views for Best Fiends with his "My Little Brother and I Switched Lives for the Day." As for Audible, the brand worked with 58 different beauty vloggers last year, specifically on sponsored content uploaded to those partner's YouTube channels. Other non-beauty brands partnering with beauty influencers include Epic Games, Qwikmatch, Amazon, TikTok, and Nokia.
Epic Games, the U.S. video game and software development company behind the phenomenally successful Fortnite: Battle Royale, wanted to partner with James Charles, too, on a video where the makeup artist attempts to play the game. The upload generated 6.9M YouTube views for the software brand, but also opened an important door for collaboration between the gaming and beauty verticals.
The meal kit company HelloFresh teamed with 234 different partners on sponsored video campaigns in 2018, including 45 in the beauty vertical. 91 different video uploads to YouTube generated 5.5M views for the food brand, with 1.8M views coming from just one beauty influencer, Olivia Jade. The most-viewed video upload from the sponsored campaign with Jade garnered 674K views for HelloFresh:
Additionally, TikTok, the app formerly known as Musical.ly, teamed up with 11 different influencers in the beauty vertical last year. Partners included Patrickstarr, Laura Lee, CC Clarke, and YanissaXoxo, with all partners generating over 7.7M sponsored views for TikTok. Patrickstarr also collaborated with Google Chrome and Warner Bros. Pictures, alongside partnerships with traditional beauty brands like e.l.f. Cosmetics and Urban Decay.
The fact that certain brands outside of the beauty vertical are reaching out to Starr and other influencers like him show they understand the reach these social media stars have. While it's an unusual move, the numbers above prove brands shouldn't be afraid to step outside their own spaces when looking to partner with notable influencers. In fact, brands just need to look for cross-pollination opportunities, such as similar interests between the audiences of beauty creators and their own customers (like how James Charles's fans wanted to see him play Fortnite, as many of them likely do themselves).
Learn how Benefit drives sales and engagement in the world of beauty.