Ten years ago today, Minecraft made its debut into the world, marking a significant milestone in the history of video games. Just as we can't imagine the gaming industry without this universally-loved title, which has now sold 176 million copies worldwide, we also can't imagine what the video industry would look like without all those Minecraft YouTube videos.
Related Read: Debunking the "Typical Gamer:" What Brands Need to Know
Minecraft-related content has been a cornerstone to the game's success, driving around 436B views to date on YouTube alone! In celebration of the game's tenth anniversary, we looked at some of these videos to discover which creators, publishers, and brands are driving the conversation around Minecraft.
The Top Minecraft YouTube Videos of All Time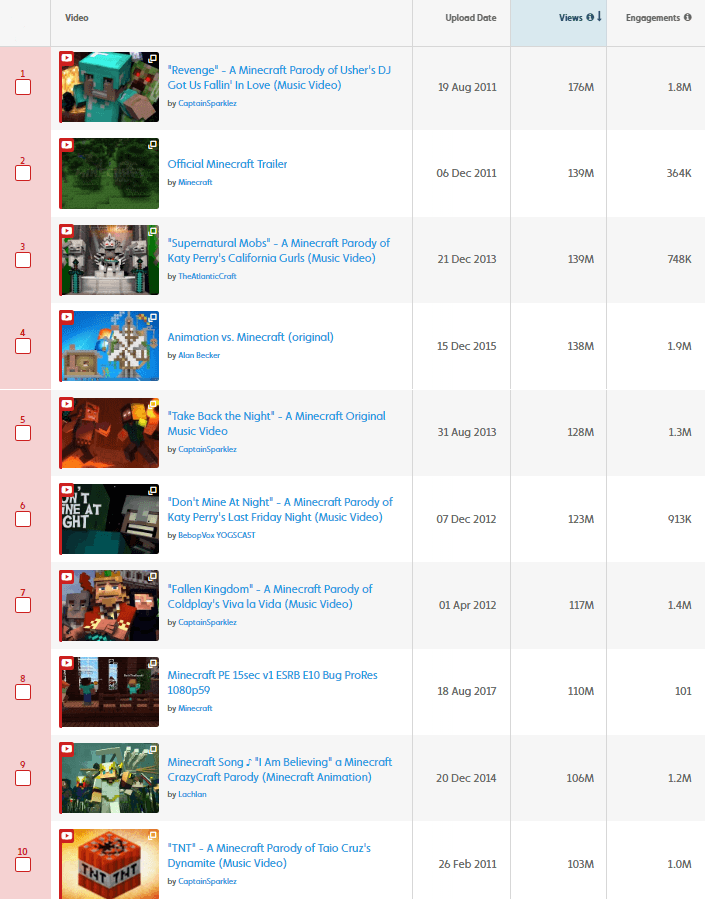 Minecraft and YouTube Are the Perfect Pair for Success
YouTube has been the go-to destination for content related to the game almost since the game's inception. In 2015, for example, the game was one of the most-searched terms on YouTube and boasted the #1 spot across the top 20 game franchises on the platform.
While the popularity of Fortnite videos seems to have given Minecraft a run for its money, the sandbox-style building and adventure game is still the #1 game on YouTube. In 2018 alone, around 311K user-generated Minecraft YouTube videos pulled in a total of 45.1B views.
Here are some other stats we discovered about the deep connection between YouTube and Minecraft:
5M Minecraft-related videos have been uploaded to YouTube to date.
On average, these videos pulled in a 58.2K 30-day view count (V30) and a 30-day engagement rate (ER30) of 7.1x, which is seven times the normal engagement rate across YouTube!
Longer Minecraft videos attract more views: clips of 10-15 minutes pulled in the most views (123B to date), with content that's 20 minutes or longer pacing not far behind (114B views to date).
The top five countries by views include the United States, Brazil, the United Kingdom, Russia, and Spain.
Influencers have uploaded the most Minecraft-related YouTube videos at 4.2M. Brands claim 7532K videos, while media and entertainment companies have uploaded 9806K.
YouTube + Minecraft = one of the best matches in the entire online video world. Anyone can film their gameplay of the title and upload to the platform, while YouTube benefits from all the traffic and advertising on the clips. And of course, this symbiotic relationship gives Minecraft owner Microsoft plenty of free attention on its beloved game.
The Award for the Most Minecraft Videos Goes to Influencers
When a power trend occurs in online video, influencers are some of the first to pick up on it. And Minecraft was certainly one of the first power trends in all of digital media.
As noted above, creators and influencers have uploaded the most Minecraft-related videos to date on YouTube. Among these, four out of the top ten most-watched clips were animated song parodies by popular gaming YouTuber CaptainSparklez.
The video with the most views of all time across influencers is Sparklez's parody of Usher's "DJ Got Us Fallin' in Love," which pulled in 176M views and 1.8M engagements:
The creator with the most overall views is PopularMMOs with 11.7B total views on content ranging from let's plays, arena battles, and mod showcases. DanTDM is the second most-watched Minecraft creator to date with 8.5B views, while family-favorite stampylonghead comes in third with 5.9B views.
This data is only the tip of the iceberg. It wouldn't be an exaggeration to say that without the support of influencers, Minecraft wouldn't be one of the top-selling games of all time. A note to game developers, brands, and media companies alike: never underestimate the power of a fanbase and what it can do to drive interest (and sales).
Brands and Media Companies Join in on the Minecraft Fun
While influencers are clearly leading the charge in regards to Minecraft YouTube videos, brands and media companies have also contributed their fair share of content. Their 12.3K videos on YouTube have garnered an all-time total of 4.4B views.
Fittingly, the company with the most views on YouTube is the official Minecraft channel itself. At 833M total views, the channel boasts seven of the top ten most-watched videos across brands and media publishers of all time. Minecraft's most-viewed clip is the game's official trailer from 2011, which has 139M views (in fact, almost all of the channel's top videos are trailers or update announcements):
Some of the other brands which showed up in our search included retailer J!NX Clothing (64.9M views), Telltale Games (79.7M views), and LEGO (241M views). All of these companies created Minecraft YouTube videos introducing their own products themed after the popular game title, and in turn, benefited from millions of views and reach.
As for media companies hopping on board the Minecraft train, we'd be remiss by not mentioning two of the top-performing channels of all time: gaming property LetsPlay and its parent company Rooster Teeth.
The former has pulled in the most media company views and engagements to date at 492M views and 7.9M engagements, while the latter claims 369M views and 5M engagements. Rooster Teeth has been making game-related content since before YouTube even existed, so it makes sense that some of the company's most-watched videos are on its Minecraft content.
Other media companies pulling in millions of views and high engagement rates on Minecraft YouTube videos include animation and cartoon company Mineworks (294M views and 2.2M engagements), gaming media and news company IGN (59.4M views and 632K engagements), and entertainment channel Smosh Games (169M views and 2.9M engagements).
Here's to More Minecraft in Online Video
Of course, the breadth of Minecraft's impact in the online video world doesn't end here. Gamers around the world upload or stream live content related to the title on other platforms like Instagram, Facebook, and Twitch on a daily basis.
But this sampling of Minecraft-themed content on YouTube alone is enough to see exactly why the game is not just so well-recognized and widely-played, but also why it has become eternally ingrained in global pop culture.
Happy tenth anniversary, Minecraft! We can't wait to see what the next ten years hold.