3 major movies open at the box office today to much fanfare, but how have 'Ocean's 8', 'Hotel Artemis', and 'Hereditary' performed online when it comes to official trailer releases? Using exclusive Tubular data, we can confirm not only how many all-time views the official studio trailers generated on Facebook and YouTube, but how those views performed within the first 30 days after upload.
While 'Hotel Artemis', and 'Hereditary' generated a significant amount of views and engagement – particularly on YouTube – the new 'Ocean's 8' franchise release, featuring a stellar all-female cast, grabbed the award for the most views across the two main social video platforms. Engagement rates for official trailers on YouTube were twice the platform average, which bodes well for audience interest and box office ticket sales. The Sandra Bullock led crime romp is expected to have the best weekend opening of any of the 'Ocean' releases, with a predicted $40M purse. Take a look at the rundown of online video views for the big opening movies of this weekend: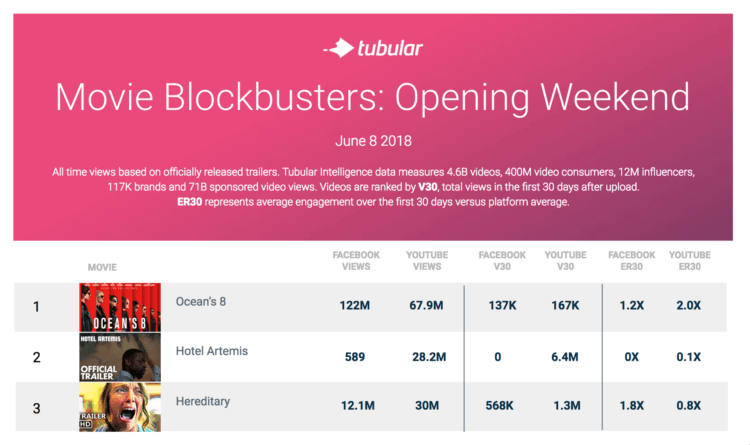 'Ocean's 8': Official & UGC Online Video Views
'Ocean's 8', starring Sandra Bullock, Cate Blanchett, Anne Hathaway, Mindy Kaling, Sarah Paulson, Awkwafina, Rihanna, and Helena Bonham Carter, is the fifth in the famous crime heist franchise. The previous three movies in the series, 'Ocean's Eleven' (2001), 'Ocean's Twelve', (2004), and 'Ocean's Thirteen' (2007) collected over $1.2B in global box office receipts, so the heat is on the for new heist movie to claim back more than the estimated $70M it cost to make.
Since the movie was announced back in 2016, Warner Brothers, officially-licensed partners, media and entertainment publishers, major influencers, and other creators have been uploading videos to Facebook and YouTube in anticipation of today's big release. Using Tubular data, we are able to break down total online views of the diverse video content uploaded around the Gary Ross directed movie.
While official trailers generated a very impressive 122M views on Facebook and 68M views on YouTube, uploads from officially-licensed channels and media and entertainment sites added significantly to the view count. Partnering with publishers on behind-the-scenes peeks, cast interviews and other promotional content is an integral component of theatrical marketing in the run up to release day, and of course it benefits both parties. The studios get to promote the cast and the film, and the publishers get to create content that they know will appeal to their own audience base.
'Ocean's 8' is also, like many movies these days, filled with a universe of stars, each with their own substantial online following. With a cast that includes Rihanna (80M Facebook followers), and Anne Hathaway (4.2M Facebook followers), it's little wonder that 21M Facebook views, and 22M YouTube views were generated by the stars, alongside other major movie influencers. User-generated content from smaller creators also contributed to the success of the movie's online presence.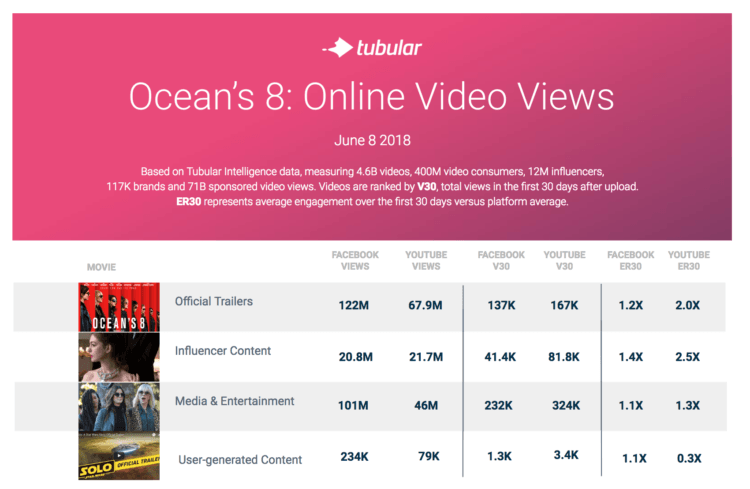 Ocean's 8 and Sponsored Video Partnerships
Just like 'Solo: A Star Wars Story', the marketing teams around the 'Ocean's 8' movie collaborated with a couple of publishers to capitalise on an already-engaged potential fan base. For instance, the official 'Ocean's 8' cast partnered with BuzzFeed for this game of 'Never Have I Ever' which generated over 1.1M sponsored video views for the movie.
In the coming weeks, Tubular will be releasing regular Leaderboards charting the success of official movie trailers and teasers online. Using exclusive data, we'll also highlight which franchises are winning with video, and which influencers and publishers studios are partnering with on promotional content.