For years, media sellers and buyers haven't been able to understand true, global audience reach and engagement across social video due to a lack of a measurement standard.
That's all changed with Tubular Audience Ratings™, which provides de-duplicated, cross-platform measurement for metrics like audience demographics, unique viewers, watch time, and more.
In our recent product webinar about these Ratings, we showed how advertisers can finally partner with media companies to reach the right audiences, and how media companies can position against competitors and prove the value of their audiences.
Here's a quick rundown of the key points!
How Advertisers Can Discover the Right Media Companies to Work With
As an advertiser, one of your primary goals is to partner with media companies who boast the right audience for your advertising and brand awareness needs.
Tubular Audience Ratings helps you pinpoint these exact companies. With these metrics, advertisers can now search for and partner with the most engaging creators in their industry by demographic and minutes watched.
Example: You're an advertiser at Toyota. You're tasked with reaching more young women in the U.S. with your next ad campaign to build brand awareness before these drivers get their first cars.
You need to find the best match across media creators in the auto and racing spaces who have high engagement and watch times.
Using Creator Audience Ratings, you narrow down your top choice to Donut Media, which boasts the highest minutes watched per unique U.S. female viewer aged 13-24 at almost 40 minutes per viewer.
Donut Media's channel has also increased its overall minutes watched by unique viewers fairly consistently, showing a more engaged female audience.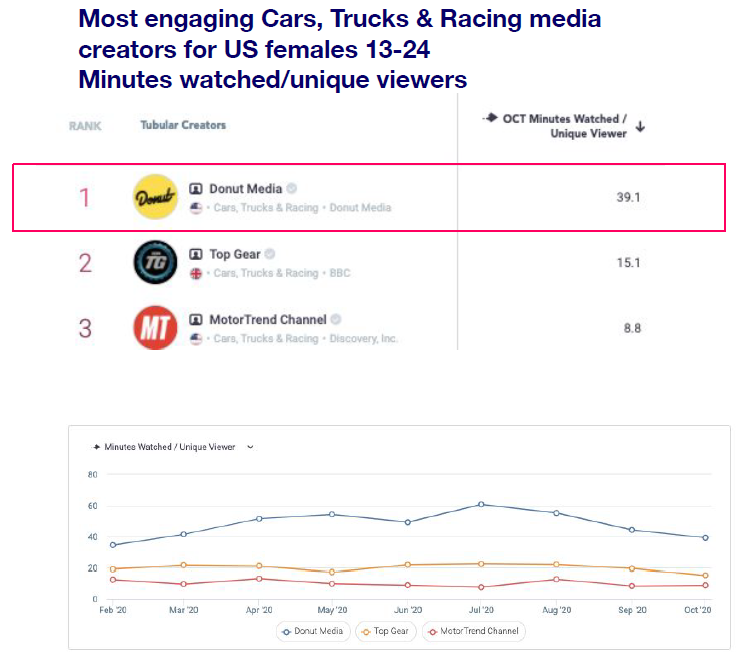 How Media Companies Can Prove Audience Value and Reach to Advertisers
As a media company, it's vital you prove your audience's value to advertisers. When you can prove a large audience reach or even a strong presence in a particular demographic, you can make stronger claims and win more RFPs.
Highlighting your top metrics can also help you position yourself against competitors and land more deals.
The more you can prove you efficiently reach key demographics, earn high views and engagement, and continue to grow your channel(s), the more likely you are to convince advertisers to work with you instead of a competitor.
Example: You're a media seller at Group Nine Media. You need to convince advertisers at your next meeting that you're the right company to partner with to help them reach new audiences.
Using Property Audience Ratings, you can select audience regions and categories you know you're strong in.
The resulting data shows that your property The Dodo is #1 by minutes watched for the pets category, is steadily growing by unique viewers, and has a low cross-platform audience overlap between your Facebook and YouTube audiences. These are powerful sales claims you can now make.
How Advertisers and Media Companies Can Find the Right Influencers to Partner With
Finally, both advertisers and media companies who want to improve their influencer marketing strategy in 2021 will need to find the best, most relevant, and most cost-effective fit for their brands. Tubular Audience Ratings help you evaluate influencers in this way.
For starters, you'll be able to go beyond subscribers counts to determine which influencers are most relevant to your brand based on your target audience, a certain topic, and overall reach and time spent.
You'll also see true de-duplicated reach and audience overlap between key influencers so you only pay for the actual, targeted audience you want.
Example: You work with influencer partners at Activision, and you're looking for influencers to help your gaming company reach new audiences in 2021.
When you start searching for influencers with millions of followers, you can now also see whether or not those viewers actually spend time with the content.
You can also narrow down your search to something like "French gaming influencers" with the most minutes watched in the previous month, and you could also find top creators by unique viewers on YouTube for the topic "Call of Duty."
Want to make your buying or selling more efficient?