Stephen Curry and the Warriors may have missed the playoffs this season, but the two-time MVP picked up another title: the most popular athlete on YouTube.
Based on viewership and subscriber counts, we ranked U.S. athletes and leagues on YouTube from March 1 through August 26, 2020, during the peak of Covid-19 and the shutdown of most professional sports teams.
Here's a quick rundown of what we discovered!
Top U.S. Leagues and Players on YouTube Since March 2020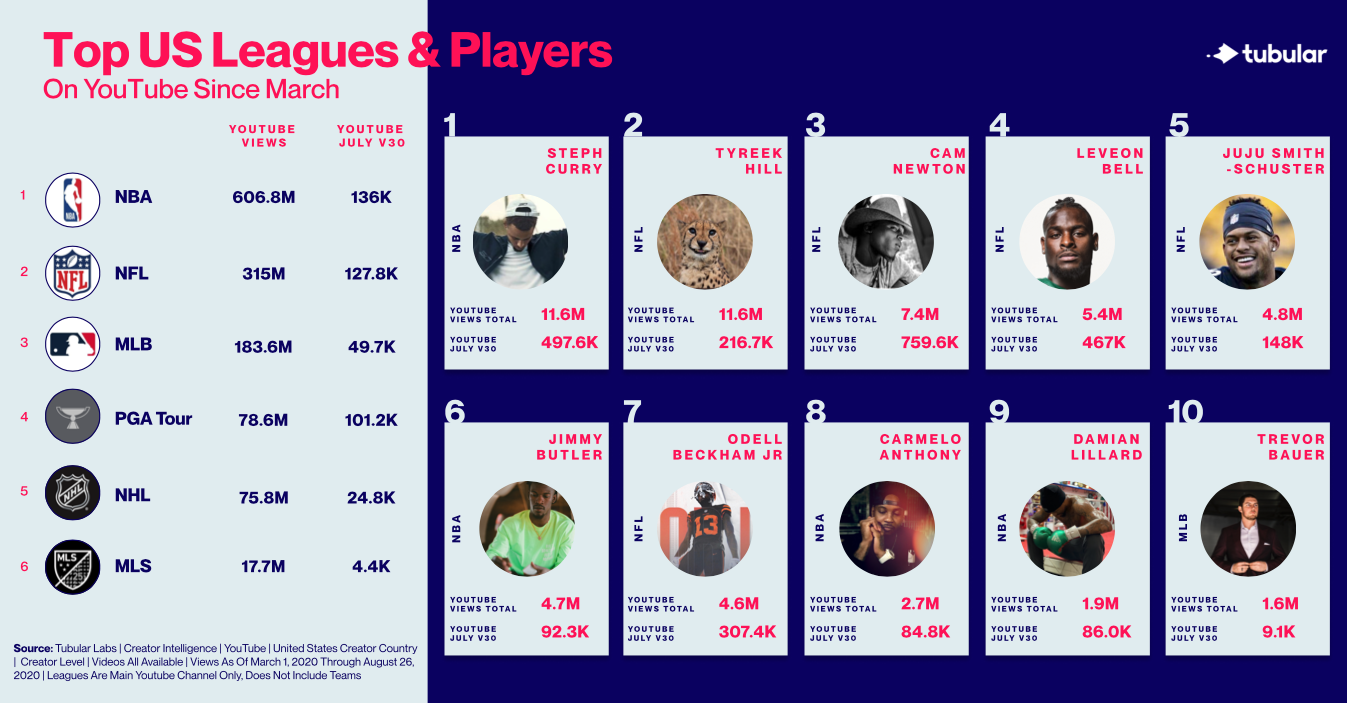 Our U.S. leagues and players leaderboard showcases the ongoing commitment of leagues on YouTube, with the NBA taking the top spot. More importantly, though, it shows a snapshot of an explosive trend in professional sports of athletes migrating to the platform as a place where they can own their audience and showcase their life off the field.
Athletes have built a massive fandom, with V30s (average views per video over the past 30 days) rivaling that of the sports leagues. With the pandemic re-shaping professional sports in 2020, the trend of athletes owning their audiences on YouTube has only accelerated.
Despite seeing an initial dip in sports viewership on YouTube from March (7.5B views) to June (6.2B views) as the world adapted to the pandemic, viewership rebounded from June to August to hit the same viewership numbers from March (7.5B views).
It's a testament to the insatiable appetite for sports fans to connect with the athletes they love most. And those that do it best are rivaling top creators — growing their subscriber base, driving engagement, and generating hundreds of millions of views.
Stephen Curry: How Athletes Should Approach YouTube
This growing category within media has endless potential for the athletes, from extending their relationships with fans to developing their off-the-field personae in a controlled environment. And as the numbers suggest, no one has demonstrated the power of YouTube quite like Stephen Curry.
After launching his production company Unanimous Media in 2018 and partnering with the award-winning content company Portal A to revamp his YouTube channel, Curry quickly grew to become the most-followed athlete in the U.S. with attention-grabbing series like 5 Minutes from Home and viral hits like the Hamilton sing-along with his daughters Riley and Ryan.
Like many successful athletes on YouTube, Curry has also used his growing influence on YouTube to amplify his brand relationships and endorsement deals. His signature series 5 Minutes From Home, which garnered 15M views on YouTube over two seasons, led to a partnership with Lyft Entertainment, and other videos have featured other partners like Infiniti, Under Armour, and Rakuten, as well as spotlighting his ABC series, Holey Moley.
Stephen may be the top athlete in the land for now – but the race is on for the #1 spot in 2021!
Want more insights like this?