Major SVODs like Netflix, Hulu, HBO, Disney+, and Amazon Prime are turning to social video more than ever before as a key marketing channel and way to reach new subscribers.
But this poses a problem: what is each streaming service's share of voice among all their competitors, and why does it matter?
Share of voice on social video platforms not only helps SVOD marketing teams make more informed decisions, but also helps them build the case for doing promotional marketing beyond paid campaigns and trailers. But they can't do this without first knowing their share.
In a recent report about streaming services, we dove into this dilemma and discovered:
Streaming services with the most views on YouTube were more likely to have the most paid subscribers.
Different SVODs use different content strategies across social video platforms, with most moving beyond uploading just trailers.
Earned content generates large percentages of views for top streaming services on Facebook in particular.
Let's look at these in more detail:
YouTube Content = More Paid Subscribers
When it comes to social video content, YouTube is the place to be for streaming services that potentially want to attract more paid subscribers.
We found that investment into YouTube correlated with the success of SVOD's paid subscriber bases. For example, Netflix claims 70% of views (6.2B total) across all streaming services content we measured, and it also boasts the highest number of subscribers at around 180M globally.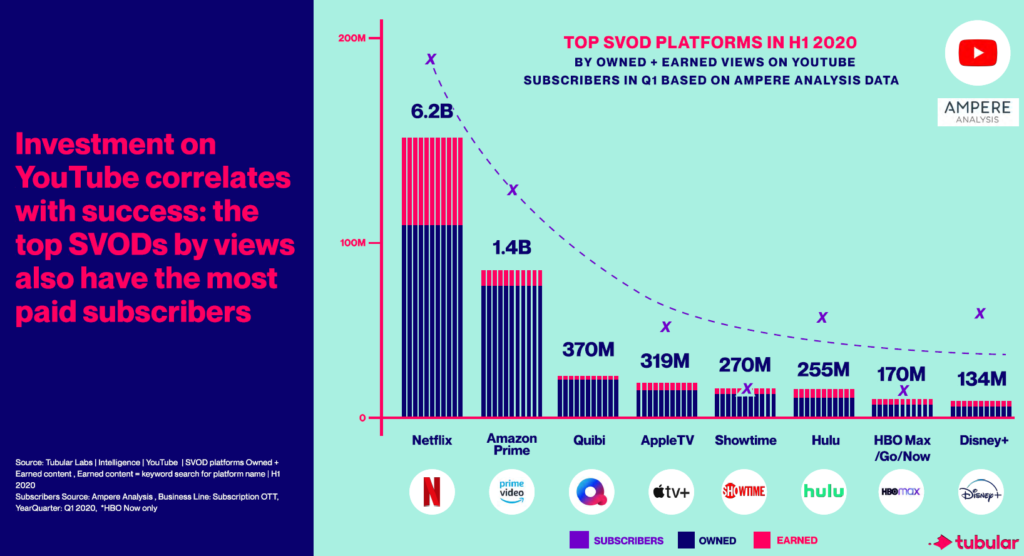 Takeaway: The top SVOD players see a correlation between volume of views on YouTube and paid subscribers. If you aren't already, start uploading more YouTube content so you don't miss out on your potential share of subscribers.
Don't Forget to Think Beyond the Trailer
Finally, streaming services need to embrace the fact that trailers are no longer the only or preferred content format driving views on social video. In fact, different formats, such as music videos, comedian show snippets, and shoulder content like fireside chats are working incredibly well for different SVODs.
On YouTube, Disney+ leans on promotional movie compilations, which make up 98% of its views on that platform based on its top videos.
On Facebook, music/dance clips are a key format for Prime Video, with two videos featuring music from My Best Friend's Wedding and Grease earning 50% higher engagement compared to the channel average. Additionally, Hulu relies heavily on shoulder content for Little Fires Everywhere, a format which makes up 93% of its owned Facebook content for that title.
Takeaway: Your SVOD social video strategy needs to be more than simply uploading trailers. Instead, you should treat your promotional efforts like a larger content strategy that integrates multiple types of formats to effectively engage and delight your show's fans.
Earned Views Boost SVODs' Reach
Facebook provides another factor for helping SVODs reach more subscribers: earned content. In general, the top streaming services on Facebook in the first half of 2020 saw large percentages of their views coming from earned — not owned! — content.
As an example, Hulu saw over half of its total 476M views stemming from content predominantly released by media companies and press. In particular, Hulu's The Handmaid's Tale indirectly earned 21% of its Facebook views from media, with 4M of these views hailing from just two videos from NowThis Entertainment.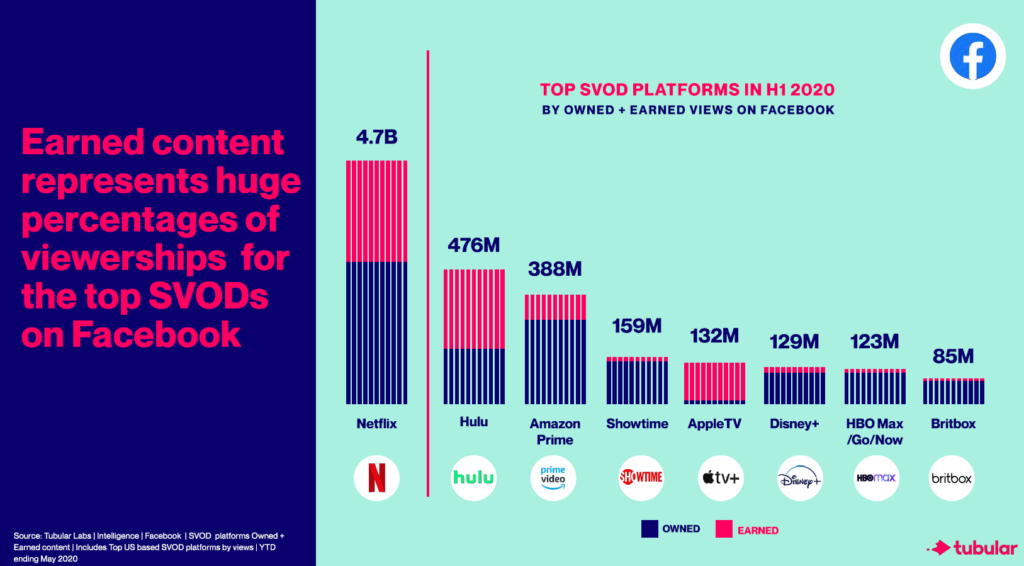 Takeaway: Not all content has to be generated by your SVOD company. Look for ways to make earned and user-generated content on Facebook work for you; for example, if media companies are bringing in millions of views for your shows, consider partnering with them to sponsor this content.
Want to know how you can claim your share of the streaming market on social video?