We are excited to share that Tubular has raised $10 Million in financing led by Marker LLC, bringing our total funding to date to $31 Million. Previous financing rounds were raised from FirstMark Capital, Canaan Partners, Lerer Hippeau Ventures, SV Angel, and others.
"Our goal since the beginning has been to help brands and publishers grow their online audiences," said Rob Gabel, Founder of Tubular Labs. "Today, with more than 55,000 publishers generating over 99 Billion monthly video views, online video has reached critical scale. What's missing is monetization of branded content. We're thrilled to partner with Marker and will use this new funding to expand our offerings enabling publishers to effectively prospect, pitch and report on branded content."
"Tubular is a pioneer and the clear market leader in a rapidly growing, increasingly diverse and critical online video industry," said Rick Scanlon, co-founder and partner at Marker LLC. "Over the last three years, the company developed a solution that tracks more than 2 Billion videos across 30 social platforms, its customer base has grown by more than 10 times and it is now considered the standard in cross-platform video intelligence."
We are also thrilled to launch Media Property Rankings. For the first time, major media companies can see their total monthly views across all online video properties, ranked against their competitors. Buzzfeed topped the list with 4.7 Billion views in April across their 94 online video publishers. Time Warner ranked #2 with 2.2 Billion April Views across their 148 online video publishers. Walt Disney, Comcast, and The LADBible rounded out the top 5. The rankings are a powerful at-a-glance tool for media companies to gauge how they're performing vis-a-vis competition in the quickly accelerating online video space.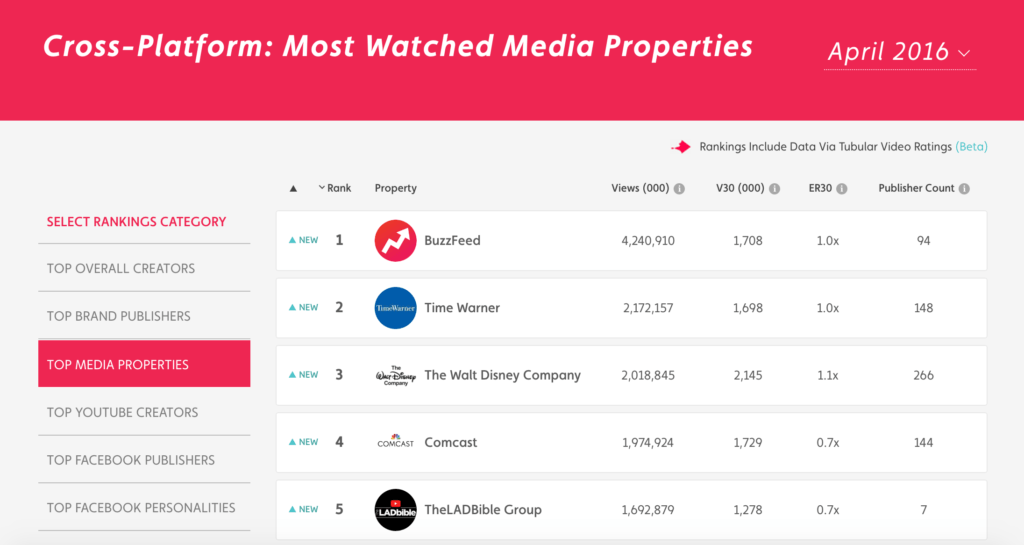 This news comes on the heels of the recent launch of Tubular Video Ratings, which benchmarks the reach and engagement of the world's videos, creators, brands and categories. The ratings are used to effectively plan and report on influencer marketing, branded video sales, and for data-informed content decisions. The ER30 metric or Engagement Rating 30 measures a video or publisher's engagement rate benchmarked against all content (e.g. 2.2x more engaging than average). The V30 metric measures the number of views a video gets in 30 days, or the average number of views per video a publisher gets in a 30 window.
To learn more Request a Demo.