Video Content Strategists (AKA Social Video Showrunners or Audience Development Execs) face an ongoing challenge: Deciding what kind of video their broadcast or digital first publishers should create on social channels to optimize views and grow specific audiences. This requires video strategists to figure out what content brands want to invest in, understand how their competitors are performing, and reduce the costs associated with content misses.
But, Showrunners don't actually need X-ray vision to recognize what content to publish to optimize views, grow audiences, and outpace their competitors in a genre. What they really need are the insights and highlights that are contained in Tubular's Q3 2018 State of Online Video Report. Over the next couple of weeks, I will take a closer look at several of the mega and micro trends that Video Content Strategists and Audience Development Execs need to focus on this fall and winter. But, I want to start with a platform trend that I first wrote about in November 2017: The Verticalization of Social Video.
Audience Development Via Verticalization
As the introduction to the latest in a series of quarterly reports on the State of Online Video says, "One major theme of this report is the 'Verticalization' of social video: We highlight a growing number of publishers who are experimenting with a portfolio approach to audience building by launching a number of related brand channels focused on specific genres." The report includes two charts. The first shows the size, growth, and opportunities by genre on Facebook.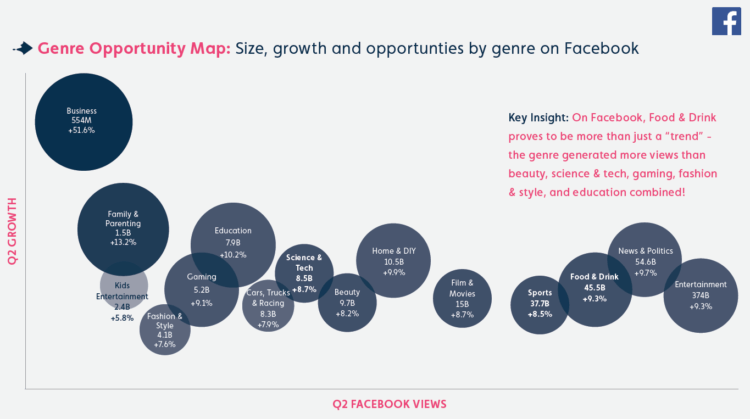 And the second chart shows the size, growth, and opportunities by genre on YouTube.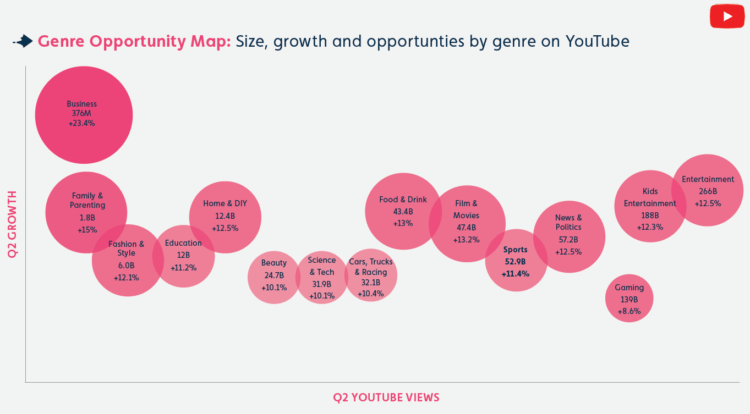 You can see that Business has generated more views than many of the other genres combined! And if you take a closer look at the Tubular Labs data, you'll see that one former newspaper and magazine publisher as well as half a dozen digital first publishers are already pursuing a vertical strategy.
For example, explore Axel Springer SE, which was founded in 1946 as a newspaper and magazine publisher and is now the largest digital publishing house in Europe:
Or, take a look at data for Group Nine and here's what you'll see:
Or, check out BuzzFeed:
Or, examine UNILAD, a British internet media company:
Or, inspect Jungle Creations, an online media house:
Or, observe The LADbible Group, a social media and entertainment company:
Or, glance at 9GAG, a Hong Kong-based online platform and social media website:
So, why would all these publishers segment their properties into several verticals instead of just stuffing a broad range of content into giant, horizontal Facebook pages and YouTube channels? Because in an increasing competitive online video ecosystem, you're more likely to engage audiences with content that is narrowly targeted at their special interests than you are with a random collection of content that may or may not appeal to their general interests. In other words, it's smarter to go deep than it is to go wide.
Now, there are a lot more strategic insights to glean from reading Tubular's Q3 2018 State of Online Video Report.