Of the top videos featured in this week's Global Sponsored Videos Chart powered by Tubular Labs, four out of the ten were created by YouTube mega influencers. Not only are brands working with some of the top digital first publishers in the industry, they are also maximizing the opportunities available by collaborating with independent creators in specific verticals to expand the visibility of their products and services.
Taking the #3 spot is SeatGeek and their partnership with Zane Hijazi. Hijazi is a seasoned sponsored partner to brands like Epic Games, SwagBucks, and The Purge TV, and is one of the top 20 influencers in the US in the 'Cars, Trucks & Racing' vertical. His 'Surprising my little sister with new car!!' video, uploaded to him YouTube channel which has 2.5M subscribers, generated 3.3M sponsored video views for SeatGeek.
Also generating huge views with sponsored video partnerships were Walmart and Burnett's Vodka who partnered with BuzzFeed's Tasty on two walkthroughs for a BBQ treat and a surprising cocktail mix. These two videos generated a combined 6.5M views for the brands across the Tasty Facebook property.
Top 10 Global Sponsored Videos Leaderboard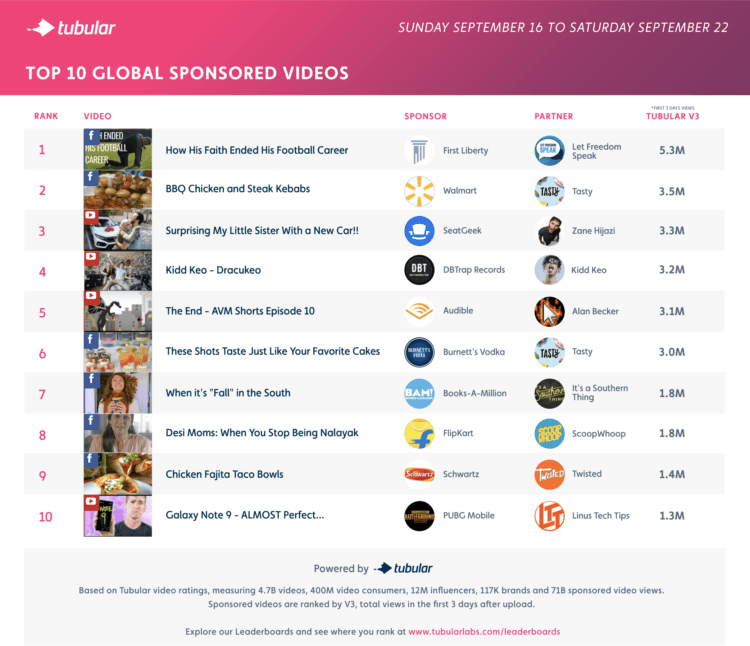 Between the 16th and 22nd of September 2018, 4,680 brands sponsored 8,964 videos that were directly uploaded to brand partners channels and pages on YouTube and Facebook. These are the top 10 ranked by views generated in the first 3 days (V3). Sponsored video volume is growing rapidly as brands try to find alternatives to ad blockers and "on my phone while the TV ad is playing" culture. As the industry leader, Tubular publishes a weekly leaderboard on who's winning in the world of sponsored video. Our DealMaker product tracks thousands of sponsored video campaigns from global brands and media companies. Congrats to all of the brands and publishers featured this week!
Want to Know More About Sponsored Video?
As a publisher of sponsored video in this highly competitive world, consider using Tubular to arm your sales teams to find the right sponsors for your audience, pitch them effectively, and report back on performance with industry-leading benchmarks. The Top Ten Global Videos Leaderboard chart is powered by the data provided by Tubular. Learn More.