The 36th Annual MTV Video Music Awards (VMAs) take place this coming Monday, August 26.
Off the heels of our predictions for the 2019 BET Awards, we thought we would see if we could make lightning strike twice and predict this year's award winners for the VMAs (check out Pitchfork for the full list).
Let's dive in…
Note: Throughout this article, we'll be referencing Tubular's Video Ratings (TVR's), a standardized set of metrics that allow content producers to measure and benchmark the performance of their videos relative to others. V30 is defined as the cumulative amount of views in the first 30 days after publication.
VMAs Video of the Year
The nominees for Video of the Year at this year's VMAs are:
And the (projected) winner is… Ariana Grande's "thank u, next"!
Artist of the Year
The nominees for 'artist of the year' are:
Cardi B
Billie Eilish
Ariana Grande
Halsey
Jonas Brothers
Shawn Mendes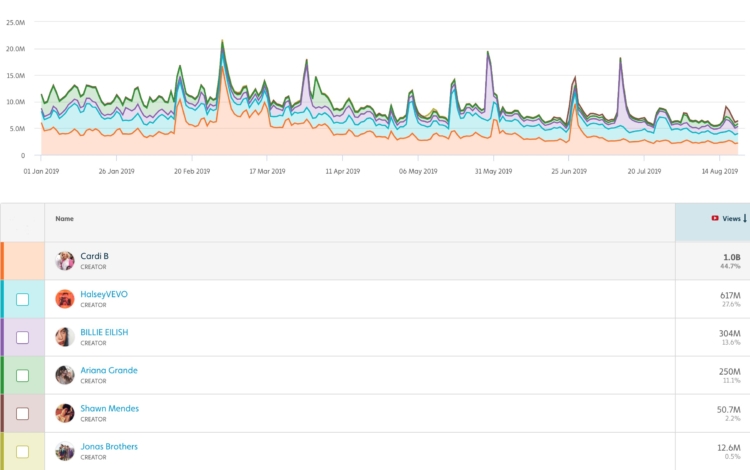 By our analysis, the clear (projected) winner is our national treasure, Cardi.
Song of the Year
If we're judging solely based on our V30… Ariana can't be stopped. She's poised to take home Song of the Year, as well.
Best New Artist presented by Taco Bell
Ava Max
Billie Eilish
H.E.R.
Lil Nas X
Lizzo
ROSALÍA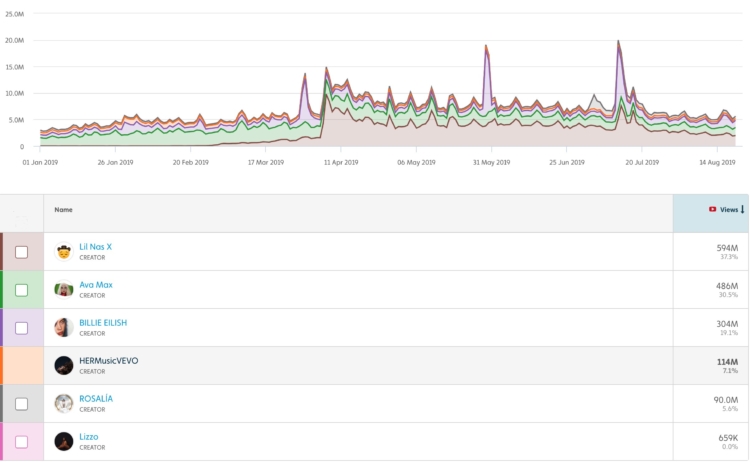 What a list! According to the figure above, there are three front runners: Lil Nas X, Ava Max, and Billie Eilish.
But low and behold, Lil Nas X is projected to take this one! Congrats, young buck (if we're right, that is).
Related Read: Battle of the Fast Food Chains: Who's Winning on Social?
Best K-Pop
We've covered K-pop here before. The global phenomenon has recorded some of the highest V30s on record. It's only right that the VMAs honor the genre this year.
Let's see who the winner should be!
There's no debate who the #1 & 2 K-pop stars are. This time around, BTS should be playing second fiddle to the ladies in BLACKPINK.
Best Hip-Hop
Ok, the old head in us has difficulty classifying this as "hip hop," but it doesn't matter. It looks like Lil Nas X will get at least one this year. Congrats!
Best R&B
We projected that Bino would sweep the BET Awards earlier this year. Will he take this too?
Certainly looks like it, taking in a strong V30 of 54.3M.
Best Latin
Why did we select this as the last genre to cover? Para la cultura…
In the battle between Bad Bunny and Anuel AA, the latter is projected to take the award. Shocking considering how big ROSALÍA and J Balvin's "Con Altura" was this year. We're certain we'll see you back next year, ROSALÍA.
So there we have it. Tubular's projected winners of the 2019 VMAs. Check back next week when we update this article after the awards show airs!
How many of these do you think we'll get right this time?