As the 2020 U.S. presidential election nears its end, social video is now flooded with content related to the highly-anticipated event. Many of these clips focused on the presidential debates, in particular.
Using these clips, we decided to see if there were any valuable insights and trends that came out of this year's video-based election coverage.
Here's what we found…
Late Night Hosts Front and Center in Presidential Debates Coverage
One of the most interesting trends in this 2020 election is that news media isn't the only type of creator generating the most views on social video. In fact, viewers seem to love watching videos from late night hosts and their comedic commentaries on the candidates.
When we look at the top 10 presidential debate videos of the last 90 days with the most 7-day average views (V7) on YouTube, we see four of them hailing from late night hosts.
Stephen Colbert, Trevor Noah, Jimmy Kimmel, and Jimmy Fallon all landed on the chart for videos about the presidential debates in particular.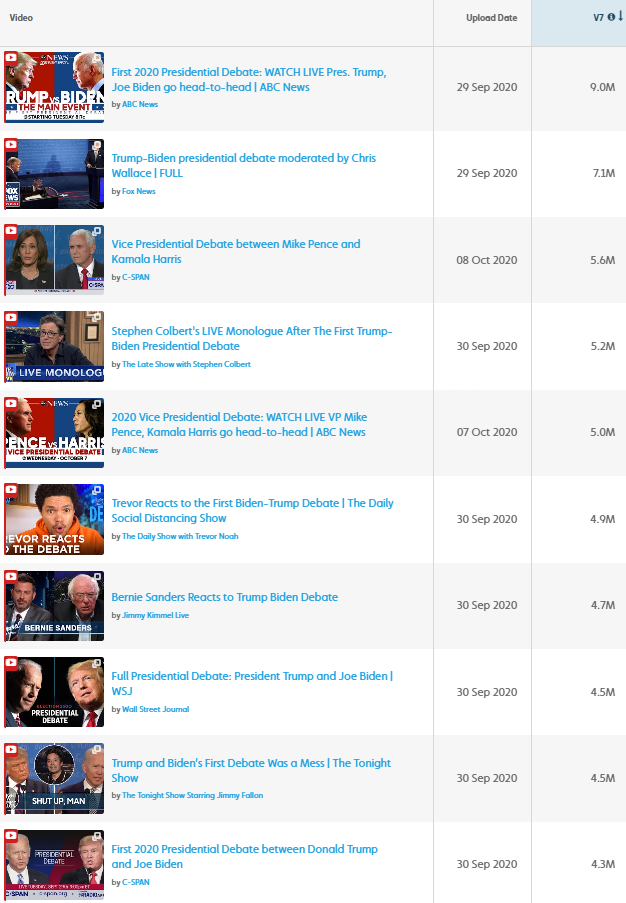 The popularity of these videos from late night hosts only makes sense considering viewers often want a lighter take on a more serious subject.
And the high 7-day view counts imply that these comedians really hit the mark in terms of their analyses, appealing to millions of people around the U.S. (and even around the world).
Debate Viewership Lower Overall This Year Compared to 2016
After looking at presidential debates content on Facebook, we uncovered another fascinating trend. On that platform, viewership dipped this year compared to the numbers from 2016's debate content.
For example, in September 2016, the peak viewership on debate content reached a high of roughly 150M views, with subsequent debates receiving lower overall views (around 100M each).
However, in 2020, audiences seemed less keen to watch debate content on Facebook. The peak viewership on that video content this year was about 125M total views, with two following debates generating less than 50M views each.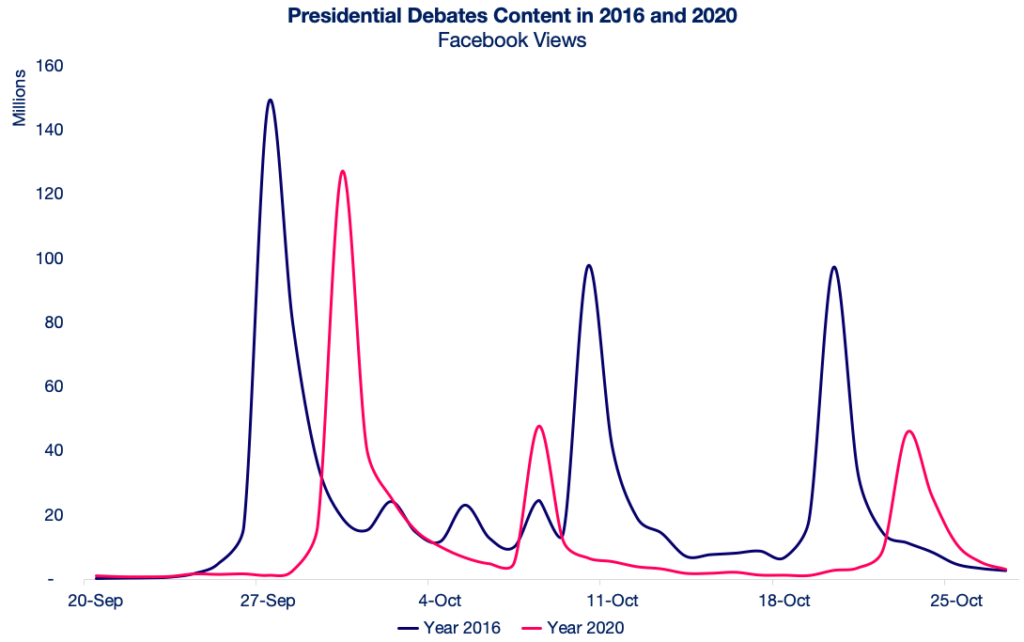 Any number of reasons could contribute to why viewers watched less presidential debate content on Facebook than they did in 2016.
The important thing to remember, especially for media publishers and news outlets, is to make sure you distribute your content across multiple platforms if you want to reach the highest amount of viewers possible.
Want more insights like this?