The Holiday season is just around the corner, and it looks a bit different than previous seasons. Many consumers are returning to the store aisles, while others are sticking to online purchases. On top of this massive consumer transition, we're also facing a world of economic uncertainty. Consumers are preparing for the worst, shopping sooner, and hunting for deals.
But if you're not already positioning your company to own the season, not to worry. We've pulled together our 4 Social Video Strategies to Win the 2022 Holiday Season.
---
1. Start your engines earlier this year!
Most holiday gift purchases will be made in October and November. Due to economic uncertainty, many agree that shopping earlier avoids spiked gift pricing and helps to spread the financial burden across several months rather than a last-minute pinch in December.
According to a survey presented by Samba TV & HarrisX, Gen Z plans to spend the most this holiday season and 69% use TikTok as the #1 resource for gift ideas.
We looked at the historical TikTok data using the following hashtags: #christmastiktok, #christmas, #shopping, #shoppinghaul and #haul.
Tubular revealed that in 2021, there were 900k views for these hashtags in August and 4M in the month of September. However, in 2022 we've seen a huge spike! August 2022 reported 3M views and a whopping 10.6M in September. That's a 2.6x larger viewing audience than the same time last year and it will just continue to increase as we get closer to the holidays.
If you haven't started dishing out your holiday content, request a free demo with Tubular to find your perfect influencers and the niche content categories that are driving sales in your industry!
---
2. Cut the TV cord, your highest spending consumers are not watching cable! They're on social.
It's not news that Gen Z viewers are not watching linear TV. In fact, many of them have grown up in homes that never had cable. According to Samba TV's Holiday Report less than half of US adults pay for cable and that number falls even further within Gen Z.
Gen Z has now matured into earners who have the funds to spend more on loved ones. These shoppers are spending more time on social than any other generation. In total, Tubular reports that this age group makes up 40% of total time spent watching videos in the Gaming category on YouTube. Another product category that makes up a large percentage of holiday sales is Technology. 33% of watchtime in the Tech & Science video category on YouTube is from Gen Z viewers.
But just because Gen Z isn't watching linear TV, doesn't mean they aren't watching scheduled programs at all. In fact, this generation makes up 36% of the watchtime of all YouTube's Television category. Examples of these videos might be dramatic clips from Real Housewives or series trailers of Emily in Paris season 3.
Reach your audience where they are and nurture brand recognition with the fastest growing demographic of spenders by shifting your focus onto social.
---
3. Double down on your sale day strategies
Black Friday and Cyber Monday have always been some of the year's biggest sales days. But with economic uncertainty tainting holiday gift giving, we expect to see these sales days grow bigger than ever before. It's likely that consumers will be waiting out for these discount days to purchase high-ticket items like phones, laptops, and other electronic devices.
In fact, those that searched for Black Friday online are most likely to shop for technology online. We found that the top 10 products this audience is likely to shop for are all under the tech umbrella. Not far after that, however, are other high-ticket items like light hair removal, collectible toys, games, electrical oral care, and even drum sets.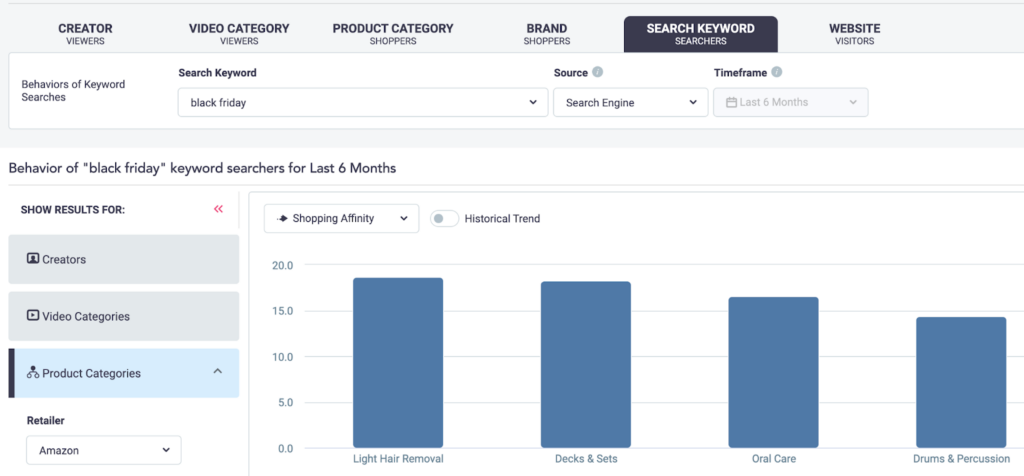 Make sure your discount day sales news reaches your target consumer by leveraging white space in niche content categories where content is unsaturated and viewership is growing.
---
4. Identify high-impact influencers to livestream your favorite products
Trust is big for skeptical shoppers this year. They want to ensure they're getting the bang for their buck and that the brands they're buying from aren't jacking up prices unnecessarily. There's no better way to instill a sense of trust than with a candid live stream.
Finding the perfect influencer who aligns with your brand's values and can drive major conversions. Apparel is one of the biggest product categories that will profit from holiday gift giving. Certainly, this industry thrives on Instagram and TikTok while other industries like gaming win on YouTube.
We looked at influencers whose audience is watching fashion content. What initially popped up was a list of A-List celebrity accolades, from Kim Kardashian to Billie Eilish. Needless to say these celebrities cost a pretty penny and partnering with them is not always the go-to strategy for end of year sales.
When we narrowed our influencer search to smaller Fashion & Style influencers, we found a long list of creators with audiences that have extremely high affinities for apparel content. Although their Instagram and TikTok follower count may seem modest in comparison, oftentimes these influencers have unique connections with niche-communities that are likely to shop online.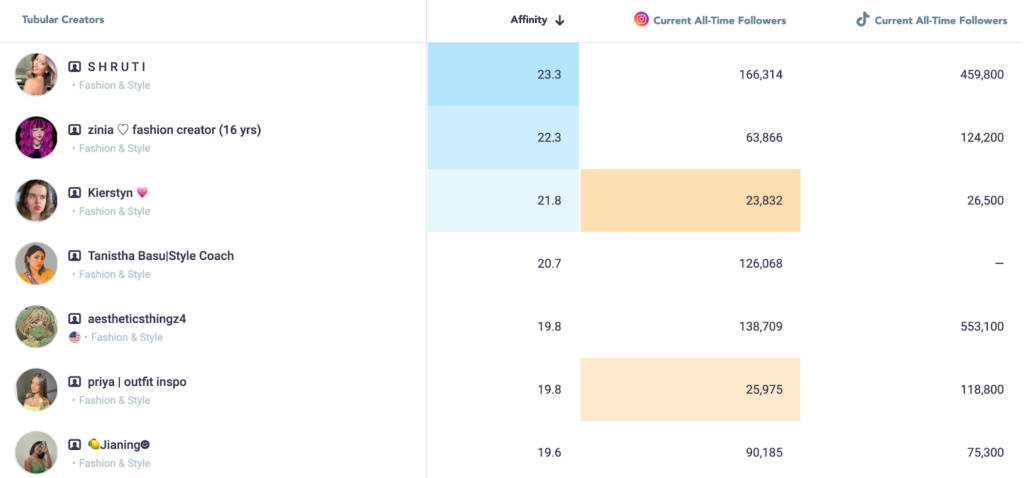 For more on influencer identification, check out our Influencer ID Guide to help you unlock creators that drive powerful ROI for your specific brand and/or category.
---
Economic uncertainty makes this holiday season more stressful for consumers — but it's also putting pressure on marketers and decision makers from the world's leading brands to drive major ROI.
We feel you. Mitigate risk by pinpointing success. Know what influencers will convert and what content viewers will resonate with. No more guesswork (ain't nobody got time for that). Accurately predict the success of holiday marketing strategies down to the dollar.
If you haven't already jumped on the bandwagon, request a free demo and unlock unprecedented insights with the Tubular platform.