For many creators, brands, and media companies around the world, one of the best highlights every month is seeing who lands on the leaderboard charts. Fortunately for them, February's Facebook leaderboard is live, and with it came some new trends which we'll dig into a bit more below. For starters, the 10 most-watched Facebook video publishers pulled in over 12B total views last month!
These are some of the other key points across last month's top video publishers on Facebook:
For the third month in a row, six publishers claimed at least 1B views each in January (the most-watched publisher on Facebook hit more than 2 billion).
The best average views across 30 days from the top ten was 4.2M, and was earned by the same publisher that maintained the highest average views reign since December 2018. The highest 30-day views across all 100 publishers hit 11.7M.
The highest average 30-day engagement rate of the top ten publishers was 1.2x, while the highest rate of the 100 top Facebook video publishers was 3.6x.
Out of all 100 publishers, 12 increased their rankings by at least 100 positions each. One publisher managed to jump an incredible +1961 spots to claim the biggest position change in February!
February 2019's Top Facebook Video Publishers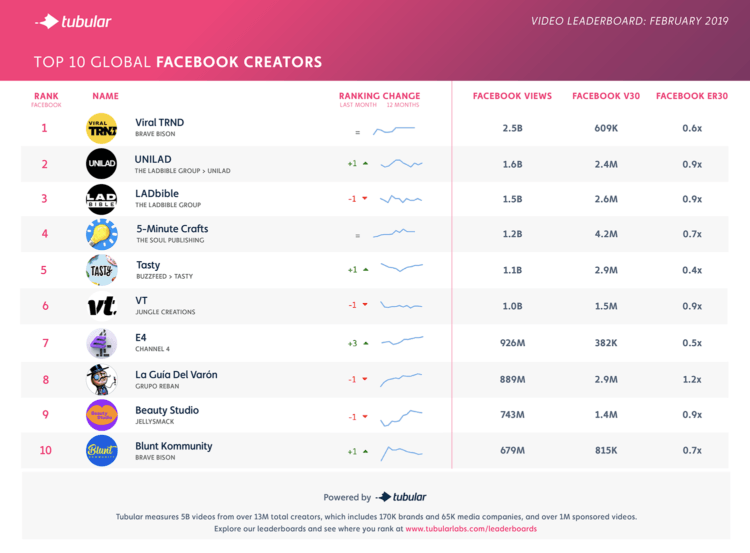 For the sixth month in a row, Viral TRND (a property of VideoAces winner Brave Bison) is still #1 across all Facebook publishers in the world, while its sister property Blunt Kommunity bookended the top ten last month.
5-Minute Crafts maintained its #4 position from December and January, and also continues to dominate the V30 metric, while Spanish-language entertainment and comedy channel La Guía Del Varón held its claim to the highest ER30 for the third month in a row.
BuzzFeed's Tasty jumped up one spot to hit #5, and was just one of many food-based publishers to set themselves apart in February. For example, Chefclub had the highest V30 across last month's top Facebook publishers at 11.7M, while First Media's So Yummy had the third-highest V30 at 9.5M (just behind Barcroft Media's Born Different at 10.3M).
However, the biggest trends in February stemmed from viewers' obsessions with animals, sports, and news media. Let's see how these performed last month!
Animal-Based Facebook Publishers Gain Significant Traction in February
If the differing communities of the internet can be brought together on one particular topic, it's probably their love of animals. Last month's leaderboard certainly catered to (and benefitted from) this penchant, as some of the biggest rank changes and key stats from February were headed by animal- and creature-based video publishers.
MetDaan Animals, for example, jumped 327 spots and boasted the highest ER30 of the top 100 publishers at a whopping 3.6x, more than 3x the average engagement rate seen on Facebook!
Dog lovers publisher Woof Woof only joined the leaderboards last month, but since then has increased by an astounding 1916 spots to land at #62 (or maybe this isn't so astounding, considering people can never get enough of humanity's best friend!).
Wild Animals, which posts videos about the more feral species of the creature world, jumped up 70 spots to land at #69, while education-based The Animal Kingdom also landed in the 100 top Facebook publishers thanks to a truly impressive leap of 701 spots.
What does this mean for other publishers, and even brands? The internet will never tire of animals, so incorporating them into an overall video strategy is sure to get results.
More so, as the channels above prove, publishers and brands don't have to niche down to a particular type of creature Granted, it certainly can't hurt — it worked for Woof Woof, so it could easily work for other ambitious publishers, too!
Sports Joins News Media in Facebook Video Takeover
Over the last several leaderboards, we've catalogued the rise of news media publishers on Facebook, and this trend isn't slowing down in the least. February also saw plenty of news companies, both new and old to the chart, reach lots more eyeballs than before.
For starters, the UK's E4 channel landed at #10 in January, but last month it increased its ranking to #7 thanks to more than 926M views. Likewise, the UK's Daily Mail, (whose Australian counterpart has consistently ranked in the 100 top Facebook video publishers, as well), jumped up 170 spots to place twentieth in February.
Some of the other global news media publishers from last month who increased their views include:
This list doesn't even touch on the sports-based news and entertainment publishers which are gaining bigger footholds on the monthly leaderboards, too. For example, ONE Championship, a martial arts publisher, claimed #41 after jumping 17 spots, while the WWE held steady at #44 across the top Facebook publishers.
The NBA increased +11 spots to land at #61; it was also the #1 cross-platform sports publisher in the U.S. and across the world last month! Other media giants like SportsCenter (+77 spots) and ESPN (+44 spots) rounded out the sports-based Facebook video publishers who trended upward in February.
We've said it before and we'll say it again: if you have the opportunity to get in on the news and sports video trends on Facebook, now is the time to do it. Audiences on that platform are hungry for information on local, country-based, and global news, as well as updates and tidbits surrounding their favorite sports teams and organizations.
This is also an opportunity for brands to partner with media companies to create sponsored content that could quite easily knock it out of the ballpark.
Don't forget to check out February's top YouTube channels, or head over to our 3rd annual VideoAces page to see all the winners from last year!
Tubular Video Ratings
You'll notice some exclusive data in this month's chart as we include Tubular Video Ratings, a unique group of online video metrics that set the standard for measurement of views and engagements across videos and publishers. They include a simplified first 30-day engagement rating (ER30) and first 30-day views (V30).
Get the Full List of Top 25 Facebook Video Publishers
Tune in Every Month for the Most Up-to-Date Stats! Each month Tubular Insights will publish the most up-to-date leaderboard charts, so stay tuned! In the meantime, sign up for a free Tubular account and get access to the complete list of the top 25 video creators across YouTube, Facebook, and cross-platform.