The shiny new 2018-19 NBA season has arrived, heralding in an exciting eight months for fans of top level basketball. With much off-court action during the summer (LeBron James signing with the Lakers, The Golden State Warriors bringing DeMarcus Cousins onboard, the Jimmy Butler drama….), this could really be a season for the ages.
While broadcast numbers for NBA games are on the rise (the 2017-18 season finals between the Cavs and the Warriors averaged 18M viewers), and attendance numbers also up, there's another key performance indicator of success: online video performance. Tubular can confirm the top 10 most watched NBA teams across social video in September 2018 generated a staggering 80M views while the combined views of all 30 teams topped 115M. And that was just in pre-season.
NBA: Most Viewed Teams September 2018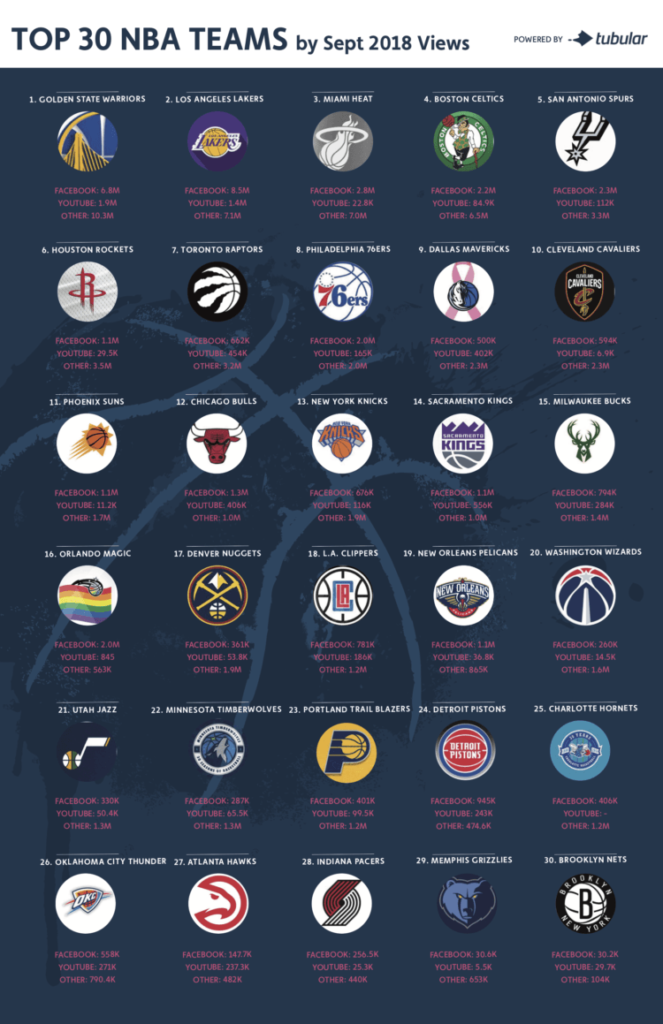 Some interesting things to note regarding NBA teams and social video:
All 30 teams have an official presence on Facebook
29 teams are actively posting video content to Twitter and YouTube
28 teams are uploading video to their official Instagram Pages
This blanket presence across the main social video platforms has been a vital audience development strategy for the individual teams. Not only do they have a channel to post match highlights from every game, social video provides a major source of amplification for promotion and community. Uploading behind-the-scenes footage, courtside commentary, player insights, and exclusive team news is a sure-fire way to keep fans and community engaged – during the off-season right up to the finals.
LA Lakers: All Eyes on LeBron James
Sitting at #2 in our NBA Leaderboard, the LA Lakers are one the of the Association's stellar teams who will see more than half of their regular-season games broadcast on national TV. It's an exciting season for fans of the West Coast superstar team with all eyes on James, and the Lakers have been amping up the anticipation with plenty of LeBron-focused content across their social channels. This upload to Facebook – King James' first Media Day appearance – generated a V3 of 379K (total views in the first 3 days after upload).30
NBA Creator Profiles: September 2018
Want to learn more about how each NBA team is performing across the main social video platforms? Check out each Creator Profile for the latest insights and data on performance.