Note: This post was originally published on May 12, 2018.
Any digital-first publisher or brand knows how vital data-driven insights are to their programming and audience development strategies. Long gone are the days when a video creator could spot an obvious opportunity in the market and create quick and easy content that would fill that gap and give the social video audience what they wanted.
But times have changed. The video content strategist faces intense competition to create engaging content in a huge range of genres and verticals, and across a multitude of social video platforms. Savvy publishers and hungry brands are fighting for the same share of voice in a bid to win over eyeballs, minds, and dollars. And those creators all face the same issues: how to easily identify the types of videos that succeed, and how to find growth opportunities within digital video.
For video strategists and programming directors tasked with creating content and growing their audience, Tubular Labs has long been the leading video data platform that creates confidence in the daily video decisions you make. We're excited to introduce Performance Insights, a new reporting functionality that is designed specifically to simplify and enhance your video content analysis workflow.
Related reading – Audience Insights: Creating Intelligent Content Strategies With Metrics of What Your Audience Wants
Performance Insights: Benchmarking the Video Ecosystem
The video ecosystem is changing fast. Content strategists need to make quick decisions but there's so much data from all over, how do you generate those insights and turn them into rock-solid content decisions? Performance Insights! Performance Insights draws on the power of Tubular's comprehensive platform of videos across platforms and devices. With access to 5B videos, 400M views, and 13M creators, we can provide content strategists with visualized insights for confidence in your strategic video decisions.
Beauty Video Content: Stellar Insights in Less than 20 Seconds!
Let's take a look at the metrics around video duration and beauty video uploads to YouTube in the past 30 days. Using the dropdowns, you can toggle between many content characteristics such as creator type, video duration, top properties and many more in order to compare various performance metrics along those dimensions. We wanted to focus on optimum duration, so selected that particular metric.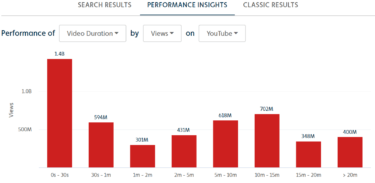 Performance Insights allows you to quickly (the above example was generated in less than 20 seconds) to sort the results by various success metrics, giving you a wealth of instant information. If we sort Top Beauty Creators on YouTube, defined by engagements, we can confirm that Protex Brasil has the highest average views in the first 30 days (V30) after uploading content to the platform.
This kind of data driven insight can help you find partners with the right fit for your company, or showcase your own success in various dimensions. Using Performance Insights, programming directors creating content around beauty can find the hottest influencers to work with in a matter of seconds! And what's more, you can instantaneously sort the results by different success metrics with one click.
"With Performance Insights, I am prepared to quickly respond when asked for the optimal video length for our videos. Insights such as video duration performance guide editorial decision-making and saves my team time."

Stephen Reader, Senior Manager of Analytics and Insights at Viacom.
Performance Insights: Competitor Research & More
No publisher, brand or influencer is creating social video in a vacuum in 2018. Tubular's revolutionary software gives video content strategists the instant ability to cross-reference industry metrics and filter out the noise to find the nuggets that increase your decision making efficiency, and validate existing decisions in a few seconds. You'll be able to dig deep and see how your content is performing in the ecosystem against some of the biggest players in the game.
At Tubular, we believe you should spend less time without direction in video and more time producing results with better content. With Tubular Intelligence, you can finally create with confidence. To learn more about Tubular's Intelligence platform, check out the product features to see how it can help you. We look forward to serving the market's leading video insights platform.
Take your video content strategy to the next level with our White Paper "Audience insights: how to create video from data, not guesswork"