Every month, thousands of brands and companies around the world partner with top creators and publishers for sponsored content campaigns. In many cases, an analysis of these campaigns can reveal to both potential sponsors and their partners the types of videos and topics that resonate with viewers in their area of the globe.
As such, let's take a look at some of the best-of-the-best of these sponsorships from the United States, the UK, France, and Germany! Here's what we discovered from April's top sponsored content campaigns from these countries.
Top 10 U.S. Sponsored Videos of April 2019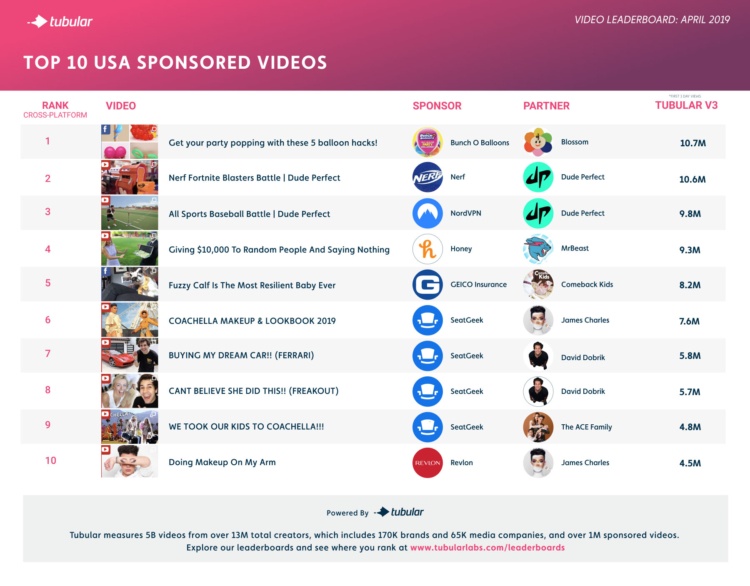 SeatGeek dominated April's U.S. sponsored leaderboard. Across the ten clips with the highest 3-day view counts (V3), the ticketing platform claimed four of them, with its highest V3 hitting 7.6M. SeatGeek partnered with YouTuber David Dobrik for two of these videos, as well as with male beauty creator James Charles.
Charles also appeared a second time on April's chart alongside Revlon, while sport and trick-shot entertainment group Dude Perfect rounded out the partners who appeared at least twice on April's sponsored video chart for the U.S.
However, the sponsored video with the most views in April came from self-sealing balloon company Bunch O Balloons and DIY-centric media partner Blossom. With a 10.7M V3, the Facebook video covers five different balloon hacks to make viewers' parties even more exciting:
Top 10 UK Sponsored Content of April 2019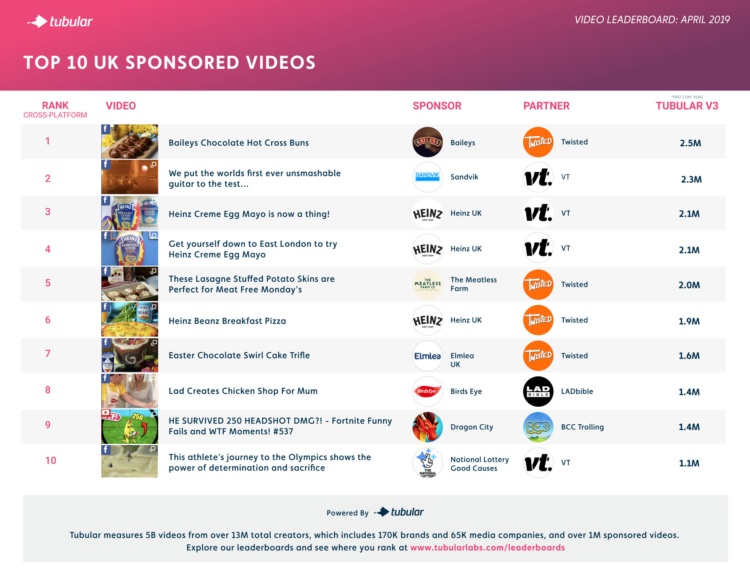 Apparently, UK viewers were hungry last month, as seven of the ten sponsored videos with the highest V3s centered around food and drink! Heinz UK was the most prolific sponsor in April with three different videos. Two of them featured its creme egg mayonnaise and the other created a recipe for a breakfast pizza with beans.
VT was a popular partner in April. Four videos hailed from this viral entertainment publisher, including three in the top five. Its most-viewed clip by V3 at 2.3M was surprisingly one of the only ones not related to food; instead, it was sponsored by engineering company Sandvik and tested whether or not the world's first unsmashable guitar could indeed be crushed.
Another partner with a large presence on the UK sponsored leaderboard for April was Jungle Creations' Twisted. With four of the top videos by V3, the foodie media publisher earned the #1 sponsored video in the UK last month thanks to a partnership with Baileys to create a recipe for chocolate hot cross buns.
Top 10 France Sponsored Videos of April 2019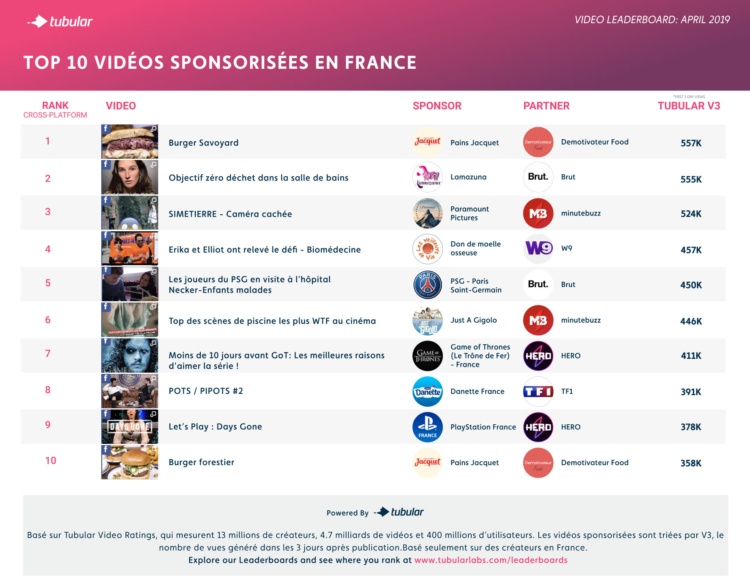 The sponsored leaderboard for France in April was a little more diverse in content than those in the U.S. and UK. Three different partners and one sponsor appeared more than once on the chart. Food publisher Demotivateur Food and bread manufacturer Pains Jacquet bookended last month's leaderboard with the #1 and #10 videos, with the top clip about a burger recipe earning a 557K V3.
Minutebuzz was another partner who claimed two videos on April's France leaderboard. The viral entertainment publisher worked with film studios and campaigns only last month, including Paramount Pictures and Just a Gigolo.
In general, French viewers seemed to want entertainment-based sponsored content in April. Along with minutebuzz's videos, we also saw media entertainment publisher HERO team up with both PlayStation France and the official Game of Thrones France brand for a let's play video and an end-of-series recap, respectively.
Top 10 Germany Sponsored Content of April 2019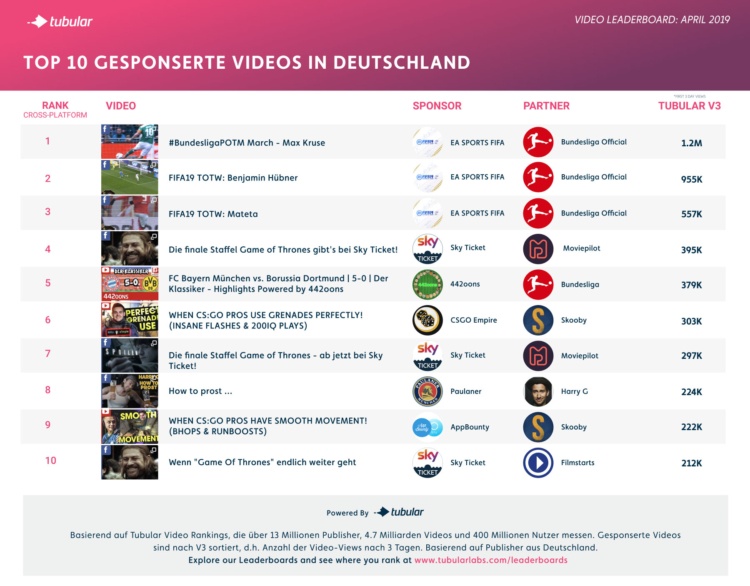 While UK audiences seemed obsessed with food and France's with entertainment, German viewers preferred sports and video games in April, with a dash of entertainment for good measure.
For example, the top three sponsored content pieces were football-related videos sponsored by EA Sports FIFA and created by the Bundesliga Official football league account. This winning team-up produced the highest V3 of all sponsored content of April at 1.2M, with their second clip claiming 955K and the third 557K.
In terms of video game content, gaming creator Skooby partnered with both gambling platform CSGO Empire and app rewards platform AppBounty to create two clips about the popular esports title Counter-Strike: Global Offensive. And for entertainment-based sponsored content, German audiences couldn't get enough of Game of Thrones, which was featured in three of the top clips (all of which were sponsored by OTT platform Sky Ticket, and two of which were created by entertainment media publisher Moviepilot).
Want more leaderboards like this every month? Check out DealMaker, where you can see top sponsored videos across the world!