A couple of weeks ago, I shared eight critical takeaways from the 2018 Digital Content NewFronts. One of those takeaways were the surprising findings of a survey of established online video viewers by Ogilvy and The Young Turks (TYT). Among other things, the survey found that online viewers do not just watch videos in a one-and-done fashion. Rather, they stitch together viewing sessions that frequently last an hour or more, curating their own content on the fly.
According to the Ogilvy/TYT survey, 68% of the nearly 2,400 respondents reported their average online video sessions last more than 30 minutes, with 40% reporting average sessions of over an hour. The data also suggested these are frequently occurring events, with 73% reporting having 30+ minute viewing sessions more than three days a week and 29% saying they view for 60 minutes or more — per session — on a daily basis.
Now, the continuous engagement of viewers over long periods of time is one of the more important trends in the digital video marketing business. The longer and more frequently people watch video, the more fertile the landscape becomes for brands, influencers, and publishers. But, the concept of "session viewing" overturns a lot of conventional wisdom and old habits, too.
Session Viewing and Video Consumers
In a post entitled, "7 Lessons from Established Online Video Viewers," Rob Davis, the Head of Digital, US at Ogilvy, said, "The data suggests a major disconnect between how consumers watch videos and how advertising is presented to them. Marketers tend to look at advertising on a per-asset basis while quantifying success by tracking views, completion rates and click-throughs of individual videos. This single asset focus disregards the fact that the audience is likely engaged in a session where an advert is just a small part of their overall viewing experience. It may be time for brands to change their thinking from 'How do I get someone to watch my pre-roll before a video?' to 'How do I integrate my brand message into a consumer viewing session?'"
The concept of "session viewing" also has significant implications for the 107,000 brands that have sponsored content as well as the 15,000 influencers and publishers that have sold over 660,000 sponsored videos that Tubular tracks. In fact, it's probably time to start asking if sponsored videos are more effective in long, cross-platform sessions than just running a pre-roll unit before one of those videos.
Another finding of the Ogilvy/TYT survey provides the likely answer to this question. Online video consumers prefer advertising that is related to the content they are viewing. In fact, three out of four respondents wished online ads were relevant to the shows they are watching when the ad runs. And 57% reported paying more attention to ads featuring talent from the specific video they are watching. That's good news for content creators and media companies who are working directly with brands and agencies to develop sponsored videos.
In his post, Davis observed, "It harkens back to the earliest days of television when cast members of a show would also be involved with advertising segments. (Online video) viewers respond to the same thing. The viewing audience builds bonds with the talent they watch online; thus advertising featuring that same talent feels more connected to the overall session experience. Given that (online video) is a two-way platform where viewers and talent can – and do – communicate, the more we mix the style and creative of favorite programming into advertising, the more likely the viewer is to feel the ad is an extension of their session rather than a disruptor." You can watch Rob talk more about the report in this video:
Why The Young Turks Want Your Coffee Mug on Cenk Uygur's Desk
There was a panel discussion of the findings of the Ogilvy/TYT survey at an unofficial event held during the 2018 NewFronts at the Ogilvy offices in New York. The panel included Davis, Cenk Uygur, the Host and Founder of The Young Turks, and Deanna Brown, the President and COO of TYT Network. The discussion covered a wide range of topics, but here is what was said about why The Young Turks, which has an advertising-supported business model, would really prefer to have your coffee mug on Cenk Uygur's desk.
The TYT Network includes 30 owned and operated and partner shows such as The Young Turks, What the Flick?!, ThinkTank, TYT Sports, TYT Interviews, TYT Politics, TYT Investigates, Pop Trigger, Nerd Alert and more. Across YouTube and Facebook, the TYT Network has more than 8 billion lifetime video views, gets over 200 million monthly unique video views, and 12+ million total subscribers. According to the most recent comScore ratings, TYT ranks #1 in News and Politics on all digital platforms among the millennial audience (18-24).
Rob Davis – Head of Digital, US at Ogilvy: "How's it going, in terms of your platform expansion? I know that you started in pre-YouTube days. I know you went from YouTube, the app, and Facebook. What kinds of things are you looking at in order to increase visibility for the TYT Network?"
Cenk Uygur – Host and Founder of The Young Turks: "How much can we say?"
Deanna Brown – President and COO of TYT Network: "As much as you want."
Rob Davis: "We get the scoop, right here."
Cenk Uygur: "So, let's put it this way, we are very seriously looking at the OTTs and the skinny bundles and they are very seriously looking back at us. So, hold for announcements. So, here's our view of the platforms: We're platform agnostic. Of course, we care which one is performing better and, historically, YouTube has performed way better. Not just because it's where we started and it had a lead in terms of video. Facebook, obviously, came much, much later. But, because it provides much longer watch times and more, and deeper engagement. And, by the way, more money. So, that also counts. Now, having said that, we have a huge audience on Facebook. It doesn't monetize as well, but it is huge. Then, we've got Hulu, Roku, and Pluto. We're on all those. Then you've got the OTTs coming up. We just launched our app a couple days ago, so the idea is huge top of the funnel and you get more and more engagement as you go down the funnel."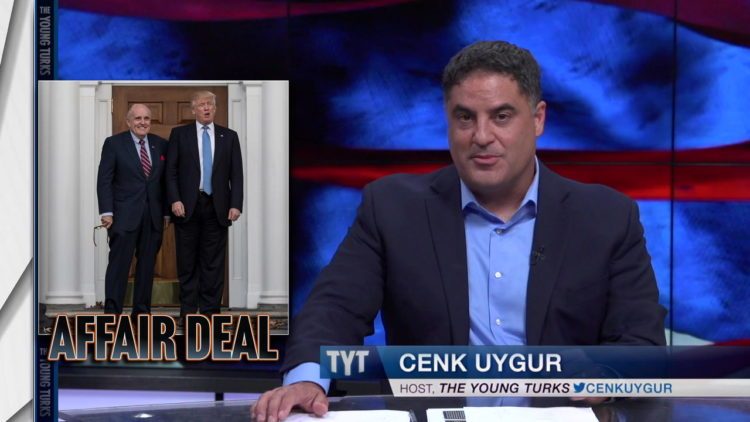 Rob Davis: "So, as you're thinking about those different platforms, are you thinking about different ways to advertise across them? You've been trying different kinds of formats. I know that you've done it somewhere, you've had TYT talent in the ads. That was something that popped up in the survey. What are you seeing, in terms of are there trends that you're identifying on what you're being asked to do?"
Cenk Uygur: "Well, Deanna knows a lot better. Let me just give you the historical context. Yeah, we put our host in the ads. And I didn't have facts and studies to back it up. I do, now, which I feel great about. But, it was intuitive that they came to watch us so if we're in the ad, they're far, far more likely to watch it. So, we did a Crunchyroll ad, where I play some sort of cartoon monster or something. And then our other anchors were the reporters. It was just a ton of fun and everybody got that it was tongue-in-cheek. I did an ad for Squarespace where I built my own website, which is miraculous. Because the audience is aware that I suck at tech. Even though we have the longest running show on the internet, I could barely turn on a computer. And the tagline was, 'So simple, even Cenk can do it.'"
Deanna Brown: "Yeah. I think what this is really about is: What is the most effective sort of messaging for brands? You established this notion of native advertising being kind of the most contextually relevant in session viewing. So, what you saw in the study was very complimentary with the feedback we were getting that the host could do what we'd call a 'live read.' That that could be the infamous coffee cup on the desk that he could really bring brands into the conversation in a meaningful way. And we could also then deliver, you know, non-skippable presence for brands throughout the broadcast of the flagship show and throughout, ultimately, all the different shows and properties throughout the network. The other part that we feel very strongly about beyond the native is just the opportunity to sort of amplify or activate. So, what we mean by that is to take this opportunity that appears on the show and then extend it into all of our 30-plus channels, so we really can immediately get to scale very quickly. And then, lastly of course, we have a great partnership with Facebook, YouTube, and Twitter, and such. We can package directly to that inventory where they actually give you a very efficient and effective media bite by owning a shared voice and that type of thing. So, it's early days for us in terms of native plus media, just-media, just-native. But, we're in business to sort of really partner with brands and it's an exciting time to be very much in this business."
Cenk Uygur: "And I would just add, in new media, let the creators play around with your product. I know that it's sometimes a little hard to let go. So, we have Aspiration Bank as a sponsor and they have the mug that Deanna's referring to. I asked for a mug. I said, 'What are you guys doing? I need a mug,' right? And then the logo on the mug was just too light. So, I kept talking about how you could barely read Aspiration on it. Why? Because it constantly focuses people on Aspiration. It gets them trying to read it. It seems like I'm criticizing them but I'm not. It's all playful so that everybody can focus in on Aspiration. And, finally, one night, I kept doing it over and over, again. Totally tongue-in-cheek but having fun with it. And tweets started rolling in. The first guy said, 'Fine, Cenk, you broke me. I'm signing up for an Aspiration account.' So the second guy responds to that tweet, 'It was the mug,' and then a whole bunch of them."
Rob Davis: "But, when brands like Aspiration come to you and you know the different things about relevance and what works and what doesn't work with your audience. Do you find that the media agencies are bringing you the ideas or are you now in a position where you're kind of educating them and it's more of a collaboration?"
Cenk Uygur: "Well, historically, it's been largely us pushing it. We know our audience, right? And we know how to connect to that audience and we know what's going to work and what's not going to work and what's going to seem authentic and what's going to seem fake and is not going to resonate with them. But, I mean if folks have good ideas, we're super receptive to it. I think it's just a tiny bit of give and take so that we can craft so that that message is better delivered to that specific audience."
What should brands, influencers, and publishers do with this strategic insight?
So, what should you do with this strategic insight? Well, if you are a brand, then you may want to put your logo on a coffee mug before you meet with The Young Turks. It will be well worth the investment. And, if you are an influencer or publisher that wants to sell sponsored videos, then you may want to encourage more brands to start asking if sponsored videos are more effective in long, cross-platform sessions than just running a pre-roll unit before one of your videos. Both you and your viewers will benefit if the concept of "session viewing" overturns a lot of conventional wisdom and old habits.
NewFronts Presenters: 2018 Video Statistics
Tubular has put together a full ratings sheet with all the NewFronts 2018 presenters top properties listing their Facebook March Views, Facebook V30, YouTube March Views, and YouTube V30. Click below for the full list!