I'm old enough to remember when ESPN was launched back on Sept. 7, 1979. It debuted with an estimated 30,000 viewers. And the first words spoken by SportsCenter co-anchor Lee Leonard were, "If you love sports…if you really love sports, you'll think you've died and gone to sports heaven." The first score that George Grande, the other co-anchor, reported was Chris Evert's victory over Billie Jean King at the US Open. SportsCenter lasted a half hour and consisted mainly of videotaped highlights. Following the conclusion of the telecast, the network aired a slow-pitch softball game along with other programming, including wrestling and college soccer.
Fast forward to today and we learned at the 2018 Digital Content NewFronts that when you combine television with digital, its flagship site ESPN.com now reaches 215 million sports fans a month in the U.S. As Travis Howe, ESPN's Senior Vice President of Platform Ad Sales Strategy & Global Operations, said at ESPN's NewFront event, "That means we are larger than Facebook and right behind Google as the largest platform."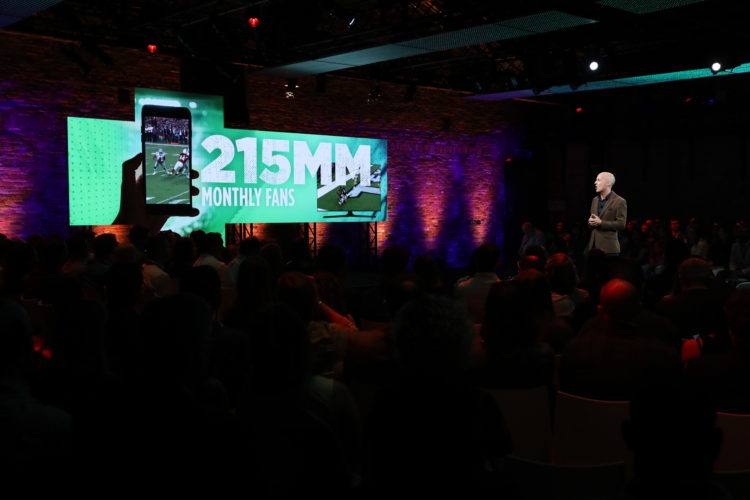 Now, in football, that would be called a "misdirection play," because it leaves you with the mistaken notion that ESPN's success in the digital video era has been "going wide" to reach more and more casual fans. That's what conventional wisdom says is right way to reach more eyeballs, right? Well, conventional wisdom is wrong. In fact, ESPN's actual strategy has been "going deep" by engaging passionate fans who love sports, really love sports, and think they've died and gone to sports heaven watching "up-to-the-minute sports news coverage, scores, highlights and commentary for NFL, NHL, MLB, NBA, College Football, NCAA Basketball, Soccer, Fantasy, UFC/Boxing and more."
ESPN Properties: 1.1B Social Video Views April 2018
So, just how successful is Disney owned ESPN in the digital video era? Well, according to Tubular, ESPN's 83 properties have uploaded a total of 138,000 videos to the main social platforms in the last 3 years. These videos have received a total of 17.4 billion (that's billion with a "B") views and more than 1.6 billion (that's billion with a "B") engagements. So, by any definition, that's not a "casual" relationship with sports fans. That's a "passionate" relationship with sports fanatics.
Can I give you some examples? Sure. Check out "The Truth About The Ball Brothers' Unknown Sibling | ESPN." This 4-minute-35-second-long video got 3.1 million views on YouTube in its first 30 days and it is 3.1 times more engaging than average benchmarked across all content.
Hey, you don't get the joke if you don't already know who Lonzo Ball, LiAngelo Ball, LaMelo Ball, and their father LaVar Ball are. So, this is an inside joke. It assumes that viewers are knowledgeable sports fans. It doesn't dumb things down to reach a broader audience. It acts like a magnet for viewers who really love sports – and there just happen to be a lot of them. But, it also acts like a screen to filter out casual fans who have no clue who the Ball brothers are.
ESPN: Using Video to Connect and Communicate
This explains why the show announcements and related programming highlights unveiled at ESPN's first NewFronts presentation could be described as "going deeper" instead of "going wider." Or, as Howe said at the event, "Connecting with people and building communities has never been more important for our culture and society than it does today. I know of no other experience that can bring complete strangers together to scream at the top of their lungs at a television set or a mobile phone and go on an emotional roller coaster together. And, yes, occasionally cry all for the love of the game. It's that profound ability that sports has that had an incredible impact on digital. Sports connects people. At ESPN we live our mission every day. To serve the sports fan anytime, anywhere. It's because of our passion for the fan that ESPN is always first with the clip, the highlight, the point of view, and the story about the game. Which is the reason why fans always choose ESPN first."
In fact, take a look the show announcements and related programming highlights below that were unveiled at ESPN's first NewFronts presentation and let me know if you'd describe them as "going deeper" or "going wider."
Always Late with Katie Nolan:
Weekly late night digital show coming soon.
Host Katie Nolan's sharp, irreverent and authentic voice will be brought to the forefront, highlighting her take on the world of sports, pop culture, and beyond.
Featuring reaction to and commentary on the week's news, produced segments and interviews with athletes, celebrities and more,
Hosted by Scott Van Pelt and other SportsCenter anchors.
Video series will be a daily curation of the top things fans need to see, know and look for in sports.
Includes what fans missed last night, top plays and what to expect today, highlighting the array of content from across ESPN.
Will feature prominently on each fan's Home screen every morning upon first opening the ESPN App each day.
SportsCenter Live, which was announced at Twitter's NewFront presentation on April 30:
A Twitter take on its flagship program and an extension of its popular @SportsCenter handle that reaches more than 35 million sports fans.
When news breaks, ESPN will bring fans robust and unparalleled coverage through video and the innovation of the Twitter Moments experience with @SCLive.
Blending insight, analysis, and reporting from a wide array of talent and reporters on the Twitter platform.
Fantasy Focus Live, which was also announced at Twitter's NewFront presentation on April 30:
ESPN's award-winning and most popular fantasy sports podcast will now also be live streamed daily on Twitter.
Each morning, fantasy experts Matthew Berry, Field Yates, Stephania Bell and Daniel Dopp will provide player previews, injury reports, game overviews and strategies, as well as featured guests and interviews, throughout the football season.
The show will take fan questions and opinions, and engage the Twitter audience using key football moments and social content.
NBA Playoffs show featuring two of the most trusted and respected voices in basketball, David Jacoby and Ryen Russillo.
Together, they will provide a preview of each playoff, conference final and NBA Finals game prior to tip-off.
Real-time conversation with fans will be incorporated as they discuss the upcoming match-up.
ESPN's new weekly college football show.
Delivering a recap of the best highlights of the day and a preview of the biggest game of the week on every college football Saturday throughout the season.
Fans will be able to interact with the show through Twitter.
Coming off last year's success, Rankings Reactions returns with Mike Golic, Jr. and Jason Fitz this upcoming college football season.
Each week, Mike and Jason will react to and discuss the latest College Football Playoff rankings from the moment they are first unveiled on October 30 through Selection Day on December 8.
Audience questions and insights will be brought in directly from Twitter to the forefront of the conversation.
Shred Hate:
Launched by ESPN in January 2017 at X Games Aspen.
In the fall, MLB joined forces with X Games to reach even more students.
Program aimed at eliminating bullying and encouraging kids to choose kindness.
As part of the program, No Bully – a nonprofit that trains schools how to activate student compassion to eradicate bullying and cyberbullying – works directly with local school districts and cooperating schools through its innovative curriculum.
The program reaches over 25,000 students through 42 schools throughout the country.
When a school implements the program, over 90% of bullying instances were eliminated.
Disney Difference:
Enterprise-wide offering that allows customers to tap into assets across The Walt Disney Company.
Client specific and client driven program delivers fully customized, tailor-made opportunities that go beyond the company's marketplace leading ESPN and Disney/ABC media assets and include promotional opportunities across the entirety of the Walt Disney portfolio – including movie studios and parks.
Packages can be global, national or regionalized.
Clients have unique access to valuable Disney data, insights and technology.
Now, I don't know about you, but I'd say that's "going deeper" than a casual sports fan would watch. But, don't take my word for it. Here's what Connor Schell, ESPN's Executive Vice President of Content, said at the NewFronts event: "So I'm here to talk about our content strategy. ESPN serves sports fans anytime, anywhere and that's what we've always done. We're committed to meet fans with the sports content that they want, where they are, at that moment. And we customize that experience and give them content based on the platform that they're consuming. So, that means that different fans get different content experiences on our app, on the ESPN shows on Twitter, people at the ESPN highlights through their Instagram story. These are different stories that are told different in tone and different in texture, but it's all ESPN. We connect with fans. We entertain them, we inform them, and we surprise them. And all of this makes more informed, more invested sports fans and we know that a more invested sports fan engages with ESPN."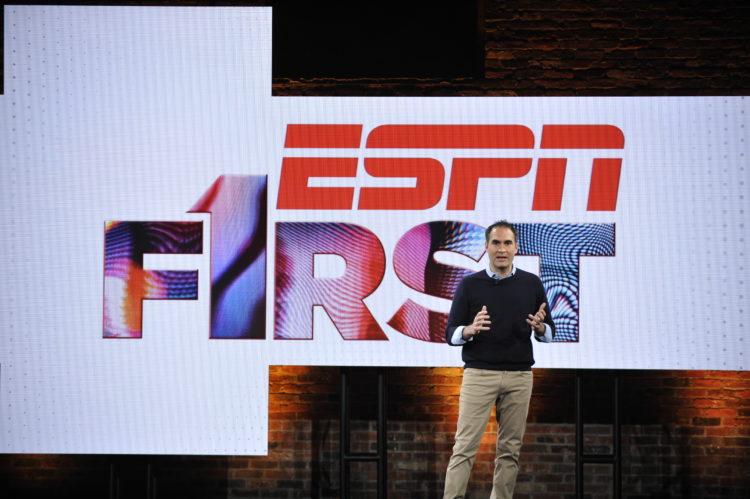 Schell added, "So, as Travis said, this strategy's working. We have nearly 100 million people each month on ESPN Digital platforms, and now we're spreading ESPN content to new venues. So, you'll hear later in this presentation about how our fans are engaging with each other and our talent on Facebook through First Take: Your Take or how millions of young fans are watching 'SportsCenter' every day on Snapchat. All of this is storytelling. My background is in long form storytelling through '30 for 30,' and I'm biased here but I believe we are best in class in that genre. But, fans come to us over and over again, every day, for so much more than that. They come for news. They come for analysis, commentary, opinion, journalism, viral videos, and of course they come for highlights and scores. These are all stories and we believe that we tell them better than anyone."
Yes, Schell said, "spreading ESPN content to new venues." But, he also said, "We know that a more invested sport fan engages with ESPN." So, you be the judge. Is ESPN going wider or going deeper? Heck, let's watch "Always Late with Katie Nolan NewFronts presentation" to see what the host of the new show had to say at ESPN's event:
Did you notice that her sizzle reel included words like "professionalism"and "sophisticated"? Or, did you hear her say, "So, here's what we've got. Host, me. That part's not negotiable. Set in stone. It's gonna be a weekly show, once a week. It's gonna be about half an hour, but it's gonna be on ESPN Digital. Living in that universe, like Connor said. So, some weeks maybe it'll be 27 minutes. I don't know. I had stuff to do. Other weeks might be 35. We'll go crazy. It's called 'Always Late with Katie Nolan', which solves the problem of it's a late night show, but you can watch it whenever you want to. So, it's like, you know, when you're watching it, it's always late night. Like when you put pizza on a bagel. You can eat pizza anytime. What else? Basically it's just gonna be me taking everything in, because sports fans get inundated with information and stats and games all week long and ESPN has the best in the business informing you. I just want to take all that, chew it up, and then help you digest it. I'm like the mom bird and then the fans are like little baby birds. This is getting really gross."
So, you tell me. Who do you think will be watching "Always Late with Katie Nolan" when it debuts? Will it be the casual sport fan? Or, will it be the passionate sports fanatic? Anyway, those are my strategic insights into ESPN's success in the digital video era. Hey, it's okay to disagree. We're talking about sports, aren't we? You can always find something to disagree with in sports. Just ask the referees.
NewFronts Presenters: 2018 Video Statistics
Tubular has put together a full ratings sheet with all the NewFronts 2018 presenters top properties listing their Facebook March Views, Facebook V30, YouTube March Views, and YouTube V30. Click below for the full list!