Inflation is rising, war is ongoing, and economic uncertainty hangs in the air — sounds jolly, right? But the 2023 Holiday season hopefully will not be as dim as some might expect! And with the right content strategies, marketers can overcome a difficult economic environment and reach new revenue goals!
While some brands and media creators brace for a less-than-spectacular Holiday sale season, Tubular data reveals that shoppers are actually more eager and excited for Holiday celebrations and gift-giving than in 2022.
So far, uploads of Holiday videos across platforms are up by +1 million compared to this time in 2022.
TikTok viewership has increased by 79% since last year
YouTube viewership has jumped by 6.5 billion views already
Facebook engagements have increased by nearly 100 million engagements
As many consumers tighten their wallets, companies should focus on their deal day strategies as consumers are more likely to leverage deal days like Cyber Monday and Black Friday.
'Tis the season to boost your ROI
Amazon's October Prime Day was first created in 2022 to compete with other major Holiday deal days. 2023's October Prime Days just passed on the 10th & 11th. According to CNBC, Amazon said this year 'outpaced' last year's October deal days. While Amazon didn't release revenue numbers, they did report that Prime members ordered more than 150 million products, up from 100 million in 2022. 
The data doesn't lie, folks— this Holiday season is slated to be merry and bright! If Black Friday and Cyber Monday follow the same suit as Prime Day, we should see good revenue growth for sellers.
Now let's unwrap holiday content trends that will help you stand out on social and how to tailor your content to deal days.
---
How to Leverage Holiday Deal Days in 2023
With consumers watching their spending, it's a good strategy for companies to focus efforts on sales days, as well as offer creator promos and special deals.
So what's the best strategy to attract customers and win sales against the fierce competition? That answer depends on your product category!
Regarding deal day shopping, Tubular data reveals an order of operations. Some purchases are planned well in advance, while others are impulse purchases.
Technology & Gaming

Tubular's Consumer Insights data uncovered the correlation between people shopping for tech & gaming products and searching for "Black Friday" in search engines. Last holiday season, those who searched for "Black Friday" in October of 2022 were 14.3x more likely to shop for a global technology brand, Logitech. This number was up from 11.5x in September.
Similarly, those who searched "Black Friday" in October of 2022 were 24.8x more likely to shop for Xbox products online— up from 21x in September.
Takeaway: Consumers plan their technology & gaming purchases early in October. These products are typically more expensive, and so consumers take more time to consider their spending. Brands in this industry should start publishing holiday content as early as possible and sparse out UGC and owned content leading up to mega-deal days.
Beauty & Fashion

The shopping for MAC cosmetic products also searched for "Black Friday", but rather than doing so in October, they were 5x more likely to do so in November.
The Ugg brand made a major comeback in 2022, and their platform mini-boot was one of the most popular holiday gifts of the season. We found that the highest overlap between those who searched for "Black Friday" and those who shop for Uggs began to grow in November and peaked in December.
Takeaway: Smaller ticket items like beauty & fashion products are impulse purchases compared to expensive items like gaming consoles. Consumers don't take as long to consider these purchases and sometimes wait until the last minute to hit the checkout button! Fashion & Beauty brands can schedule their deal day campaigns for later in the holiday season.
---
Holiday Content Trends on the Horizon
As we ramp up for the holiday season, we looked at the early trends formulated over the last ninety days. Keep reading to find out when, where, and what to post to optimize your holiday content and drive sales.
Best Day to Upload Holiday Content
In the last 90 days, Sunday and Monday have been the most popular days to upload Holiday videos to YouTube – but videos uploaded these days have the lowest amount of views & engagements. Saturday has the least amount of uploads but wins for both views & engagements!
On average, YouTube videos posted on Saturday average 2x the amount of views per video than those posted on Sunday & Monday.
On TikTok, the worst days to post Holiday videos are Tuesdays and Thursdays; on Facebook, the worst days to post are Friday and Sunday. However, video upload day does not have as drastic an effect on these platforms. Overall, video performance remains more consistent regardless of the uploaded day.
Takeaway: Got an important holiday YouTube video you've put a lot of time and resources into? Post it on Saturday to maximize reach and engagement.
Best Time of Day to Post Holiday Videos
White space opportunity alert! 12-1 p.m. UTC is the most popular time to post Holiday content on YouTube and receives the most views. However, the upload time with the second-highest views is 3-4 a.m. UTC and has about 50% fewer uploads than 12-1 pm. The 3-4 a.m. time frame averages the highest number of views per video (~10k more than 12-1 p.m.) and is the best time to post.
On TikTok, 4-5 p.m. is the most popular time to upload Holiday videos while 9-10 p.m. receives the most views per upload and 12-1 a.m. is a close second.
Takeaway: Upload times matter because they can change how platform algorithms prioritize content. Tubular data lets you discover the optimal times to upload to reach as many viewers as possible.
How Long Should My Holiday Videos Be?
On YouTube, stay above the 30-second mark! For Holiday videos, the 30-second-1-minute videos average 26.2k views per video while 0-30s only average 10k views.
On TikTok, 0-30s videos are highly over-saturated. The highest views per video time frame on Holiday content is actually 2-5 minutes! With very little saturation and relatively high viewership, you can use this longer timeframe to cut through the holiday clutter and shine!
Takeaway: While short videos have been the most popular content format for some time, this changes depending on social channels and content categories. Audience preferences are always changing and the data shows that longer videos are currently earning higher views on Holiday uploads.
Top Holiday Video Categories
Youtube
While the most viewed Holiday video categories on YouTube are People & Lifestyle (456M) and Home, DIY & Crafts (232M), the category with the highest average views per video is Family & Parenting, which is garnering almost twice the amount of views per video than the People & Lifestyle and Home, DIY & Crafts.
Drive revenue and cut through the clutter by targeting parental audiences with your YouTube holiday content!
TikTok
In the last 90 days, TikTok videos about Christmas Gifts have garnered 103M views.
Home, DIY & Crafts is a main Holiday content category. Within this category, Paper Art is the most viewed topic within this, followed by Pottery, Sewing & Needlework, Art Materials & School Supplies, and Woodworking.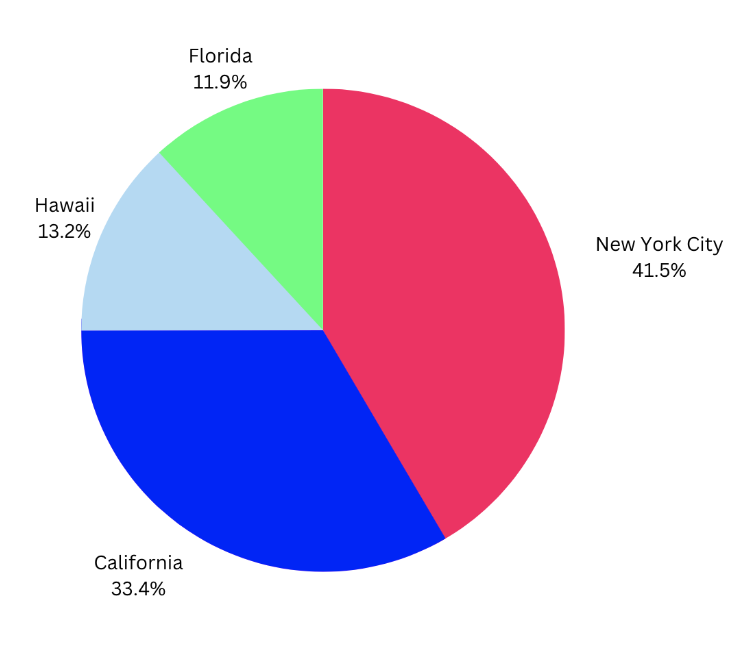 Within the Holiday Travel category, Air Travel, Luggage, and Cruises are leading topics! US Travel is outpacing European and Asian Travel. Within the US, New York City accounts for 41% of views, and California, Hawaii, and Florida make up the rest!
Takeaway: Understanding categories beyond your own is crucial to reaching new audiences. Fashion, Technology, and Cookware brands can all participate in Holiday Travel content in their ways! Understanding viewership trends, a fashion brand could partner with an influencer to create a New York City holiday wardrobe video.
Top Trending Holiday TikTok Sounds
Uncovering trending sounds is a genius hack for marketers. That's because algorithms will boost a video's discoverability based on sounds growing in popularity!
While the aforementioned holiday sounds have a lot of views, they also have a lot of uploads. By going beyond the top sounds, you can discover those that are growing in popularity, such as Mariah Carey's Baby Please Come Home, which has only had 613 uploads in the last 90 days and has garnered 52 million views and a 13% engagement rate.
Takeaway: Discover Holiday sounds growing in popularity before they blow up. This will prioritize your content and increase reach.
---
With the upcoming holiday season and the current economic landscape, marketers must be strategic about their content to ensure it reaches customers and drives ROI. Holiday deal days will be a big focus for consumers in 2023 and marketers should use data to understand when and where their customers start planning their deal day purchases.
Creating great content is only half the battle. Understanding optimal video durations, topics, and posting time will help propel content to new heights.
Thanks for tuning into Tubular's Holiday Social Playbook. Keep your eyes peeled for our upcoming report on 2023's hottest holiday trends with our partners at Chartbeat.
If you're ready to start unwrapping your analytics and looking into your competitor's strategies ahead of the holiday season, request a free Tubular demo today.