The most talked-about video app in 2020 was arguably TikTok, which reportedly had 800 million active monthly users at the start of the year alone, making it the 7th most-used social platform in the world. Surprisingly, that success carried over to other platforms, as well.
In a recent analysis, we discovered TikTok content, trends, and even challenges aren't only successful on that platform, they're also amplified when they're recreated on YouTube.
If you're looking to grow your content on YouTube in 2021, and want to capture some of the success of TikTok content, read on to see what worked — and why — in 2020.
YouTube Became a Second Home for TikTik Content in 2020
As of December 14, 2020, videos about TikTok on YouTube uploaded last year attracted 145B views. This is a 187% increase in YouTube views over the same time period in 2019.
The most popular categories across these YouTube videos were Home, DIY, & Crafts; Food & Drink; and Kids Entertainment & Toys. Video Games and People & Lifestyle weren't far behind.

These topics, along with the massive rise in views on TikTok-based content on YouTube, imply that both the uncertainty of the app's legal future in the United States and the Covid-19 pandemic drove audiences to find related content on YouTube in 2020.
Audiences also turned their attention to content from brands and media companies. While influencers uploaded the most videos about TikTok in 2020, brand and media company content commanded higher average 30-day views (V30) at 304K and 163K, respectively. Influencer content trailed behind with a 67.8K V30.
When it comes to engagement, however, all three creator types captured the attention of viewers around the world. Influencer content about TikTok in 2020 earned an average 30-day engagement rate (ER30) of 2.6x, more than twice as engaging as the average engagement rate across YouTube.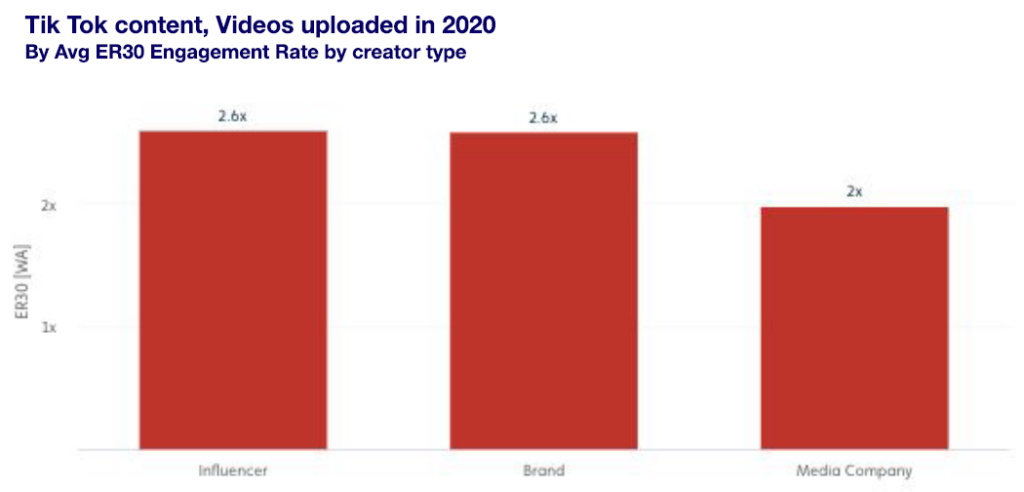 This was the same engagement rate of brands' TikTok-related 2020 YouTube content (2.6x), while media companies weren't far behind at a 2x ER30.
Clearly, if you're a brand or media company looking to grow your content slate on YouTube this year, you have lots of opportunity to grow your channels by developing TikTok-based content and riding the success of that platform's trends.
YouTube Viewers Embrace TikTok Challenges
In addition to the categories mentioned above, we also discovered YouTube audiences love a good challenge video, especially if it's recreated from TikTok content. In fact, the viewership for this type of TikTok-style content only seems to be growing.
Content about TikTok challenges on YouTube, even on videos uploaded to the platform in past years, earned 5.1B views from January to December 14, 2020. This represents a 200% growth vs. views on similar content in 2019.
While the majority of these YouTube videos covered multiple challenges, the most successful videos uploaded in 2020 featured specific viral TikTok challenges. Across the top 40 TikTok challenge videos, the "Jelly Fruit Challenge" earned the most views on YouTube at 16M V30, with the "Tim Burton Challenge" next at 11M V30.
Across all YouTube TikTok-related challenge content, one of the most popular video formats was re-uploads of successful TikTok challenges.
This format earned on average 8M V30 views per video from January to December 14, 2020. Videos in which TikTok challenges are being tested or recreated by others on YouTube earned the same 8M V30.
On top of that, we found testing/recreation videos of TikTok challenges tailored to YouTube's longer-form content performed better on the platform despite TikTok's famous short-form style.
Videos related to TikTok challenges on YouTube earned higher V30s when they were longer, at least ten minutes or more. Videos over 20 minutes earned the highest V30 at 244K.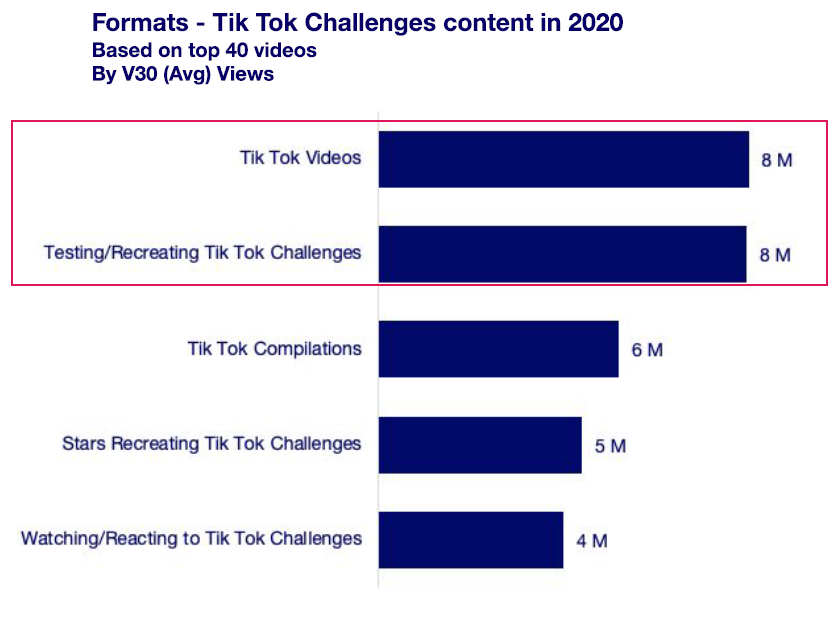 Media companies don't necessarily need to be on TikTik to reap the benefits of this popular platform. Instead, they can get a piece of the pie by creating content around TikTok trends and challenges on other platforms, potentially reaching new audiences and gaining more viewership.
Want to find more insights like this for yourself?