Until now, social video lacked an independent audience measurement standard, like Nielsen does for TV, and Comscore does for web.
That's all changed with Tubular Audience Ratings™, which measure de-duplicated audience reach and minutes watched by demographic and location across YouTube and Facebook. These allow media companies, brands, and agencies to compare, partner, and invest effectively in the video marketplace.
Based on these new metrics, our latest report presents the true, cross-platform top 10 U.S. media giants based on unique reach.
Read on to see who made the list!
Top 10 Cross-Platform U.S. Media Companies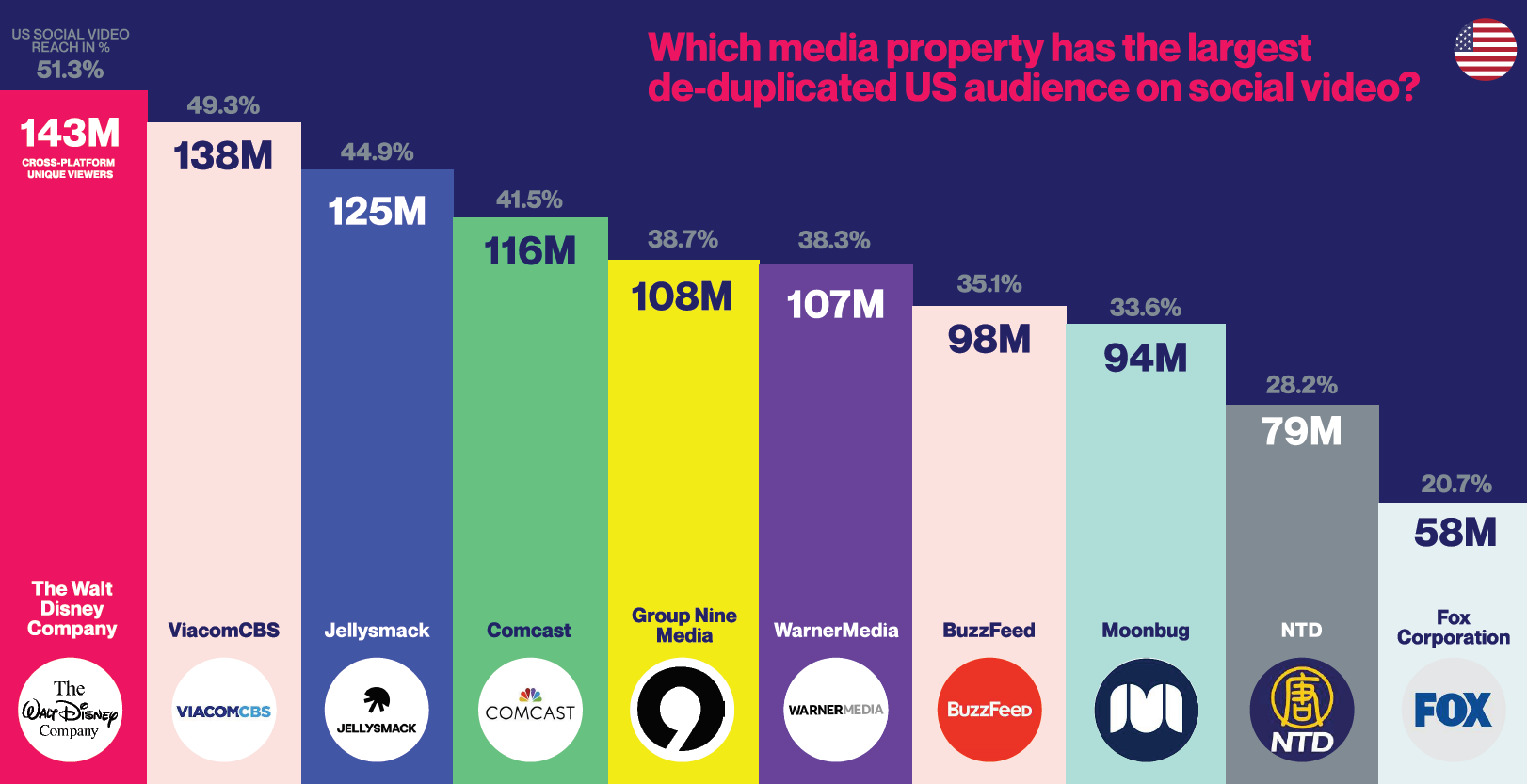 Based on their September de-duplicated U.S. viewers (with a 30-second quality views) on Facebook and YouTube, ten U.S. media companies came out on top with the largest unique American audiences on social video.
Disney was #1 with 143M unique cross-platform viewers, while ViacomCBS was a close second with 138M uniques. In third place, New York-based Jellysmack earned 125M unique viewers.
Only six of these top ten U.S. media properties reached over 100M unique U.S. viewers, and Disney is the only media company in the world to reach over 50% of the U.S. population.
Additionally, these ten companies captured 59% of the 50B total minutes watched on media companies' content in the U.S. in September on YouTube and Facebook.
Audience Measurement Reveals Demographic Leaders
When it comes to reaching unique demographics, we also looked at key media creators to see which were leading the charge from July to September 2020.
As it turns out, six different media creators earned the highest unique viewers in their respective demographics.
Comcast's Movie Clips, for example, was the #1 property by reach for males aged 13-24. Disney's SportsCenter earned the most reach for males 25-44, while Fox's Fox News dominated the 45+ male demographic.
In the female demographics, BuzzFeed's Tasty was at the top for young women in the 13-24 age range. Moonbug's Cocomelon was first among millennial women aged 25-44, and Group Nine Media's The Dodo garnered the most attention from 45+ women.
Media Giants Compared by Genre and Minutes Watched
From Entertainment to Sports, audiences spent millions of minutes watching individual creators from media giants in the U.S.
In September 2020, the majority of total minutes watched went to Entertainment content at 32%. Kids' Entertainment and Animation landed next with a 19% share of the minutes. News & Politics was third with 12%, and Sports claimed 10% of the total watch time.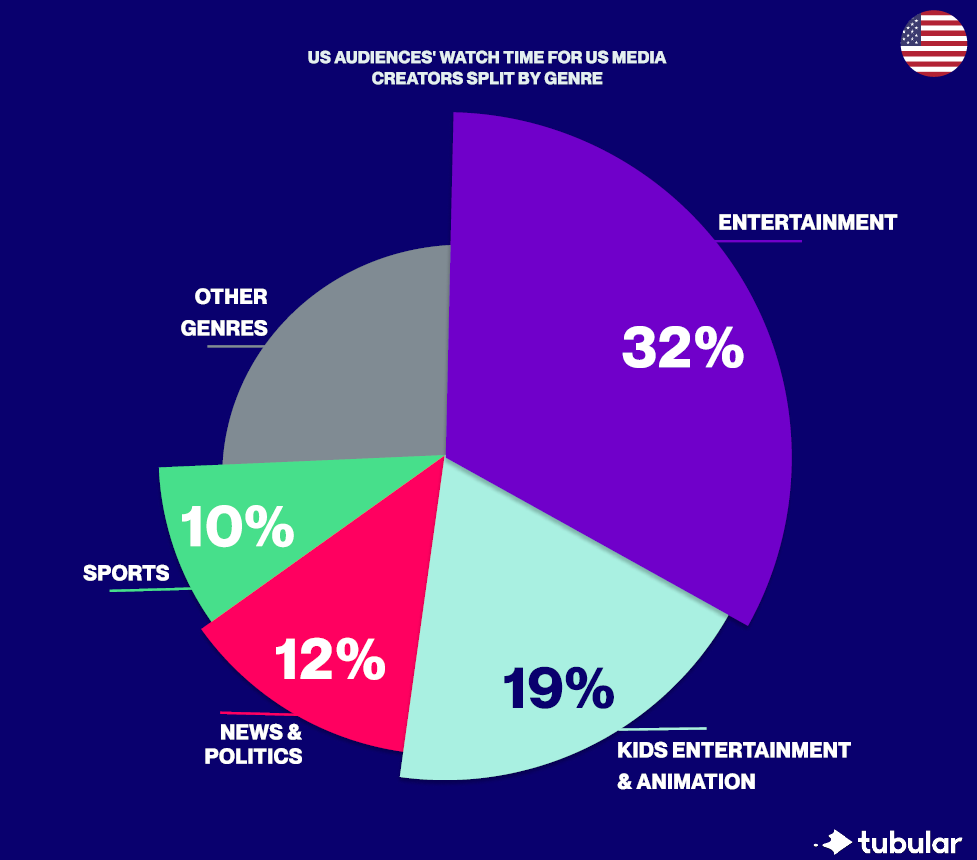 The top entertainment creator was A&E with 875.1M unique minutes watched in September, while Cocomelon earned 2.8B minutes watched in the kids' entertainment genre. Fan-favorite World Wrestling Entertainment (WWE) dominated the sports category in September with 910.7M minutes watched.
Want to know your unique cross-platform reach in the U.S.?