April was an interesting month for Tubular's Facebook leaderboard. The top ten most-watched publishers saw a total of nearly 11.8 billion total views. However, many of these publishers were not ones we regularly see on the leaderboards, which not only means there's more competition arriving on the social video platform, but also that they seem to know exactly what they're doing in terms of attracting eyeballs on their content. Here's a quick summary of publishers' accomplishments from April:
Seven publishers claimed more than 1 billion views each
Four publishers improved their rankings by at least 4 positions each, with the largest improvement coming from a publisher who jumped a whopping 38 positions
One publisher has never appeared on the leaderboards before
The highest average 30-day view count (V30) from one publisher hit a solid 8.1 million
Curious why April's publishers surprised plenty of us here at Tubular? Keep reading…
Top Facebook Publishers April 2018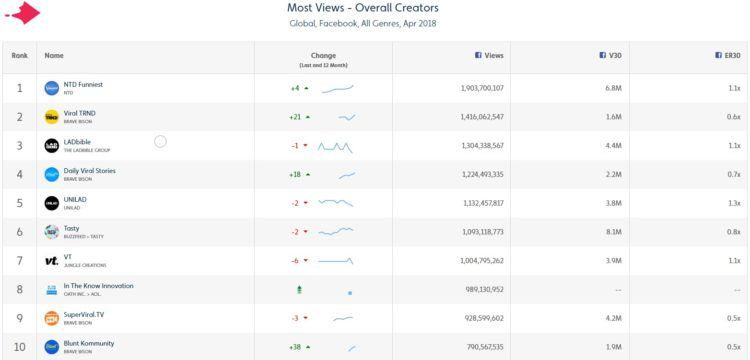 There's plenty to talk about here for spot #1. For starters, this rank has been held either by UNILAD or LADbible for over an entire year. Then, in March, long-time competitor VT finally claimed the most views of all Facebook publishers and took the honor of first place. Now, however, we see an entirely different publisher claiming #1. NTD Funniest, a publisher frequently found on the leaderboards, landed at the top of April's leaderboard thanks to over 1.9 billion total views, which helped it jump up four positions from fifth in March.
How did NTD Funniest do it? It certainly helps that viral entertainment, the publisher's forte, is always a hit with Facebook audiences. But a few other factors seem to have come into play here, too. First of all, NTD Funniest uploaded more videos in April (114) than it did in March (91), meaning there were more opportunities for views on its content. Second, the publisher also increased its V30 from 4.4 million in March to 6.8 million in April, meaning it convinced viewers to keep coming back for more (either through paid media or through organic word-of-mouth sharing/promotion). NTD Funniest's top video, for example, (which was also the most-watched out of all this month's publishers), earned 133 million total views and maintained a very high V30 of 108 million through the last day of the month.
As we continue down the Facebook leaderboard, we run across another publisher who's new to the game — or rather, our leaderboards. Viral TRND, a property of the UK media group Brave Bison and a sister publisher of the familiar SuperViral.TV, placed second in April with more than 1.4 billion total views. Previously, the publisher was at #23 on Tubular's leaderboard, so that means it skyrocketed 21 whole spots over the last month! The publisher generates content just like its name implies: viral entertainment. Its top ten videos from April covered topics such as magnet fishing and funny wedding speeches. If Viral TRND continues to present content like this which viewers can't get enough of, we suspect we'll be seeing more of the publisher on future leaderboards.
Ah, LADbible. One of the friendly faces of our leaderboard neighborhood, LADbible found itself dominating the #3 spot in April with more than 1.3 billion total views. The UK-based viral content publisher can also boast about its improved ER30 for the month, which hit 1.1x (vs. March's average baseline equivalent of 1x). What type of content was the most engaging for LADbible's viewers last month? Unsurprisingly, it was a clip featuring animals putting on an elaborately choreographed show for a live audience, which saw not just 36.3 million views, but an impressive 1.7x ER30.
Remember how we ran across Viral TRND earlier? Well, here's another publisher from the Brave Bison family: Daily Viral Stories. The UK brand clearly has an agenda to become one of the most-watched Facebook publishers each month. Its property Daily Viral Stories is helping it reach that goal for sure, contributing just over 1.2 billion total views and an amazing 18-position increase over March to land at #4! This means Daily Viral Stories is the second Brave Bison property to land on this month's leaderboard after improving positions by at least 18 spots; as we'll see later on in this article, yet another Brave Bison brand will also boast this feat!
Continuing the trend of viral entertainment publishers landing on Facebook's leaderboard, we have UNILAD, another UK-based brand (apparently, the British know how to reach more than just fans of dry humor). This publisher landed in the top five this month with just over 1.1 billion total views in April. UNILAD also earned the highest ER30 of the month's top ten publishers at 1.3x, which was also an improvement of 0.1x over March's stat (as well as a 0.2x improvement over February). Essentially, this means the viral video publisher is paying attention to the exact type of funny content which generates engagement amongst its audience and is working to release more of those clips. For example, the most-engaged video from UNILAD for the month had 614K engagements thanks to a kitten swatting away the words of everyday human annoyances such as "bills" and "relationships."
Buzzfeed really knew what it was doing when it started up Tasty, its food-based digital video vertical and publishing branch. The publisher is a long-time top ten showrunner on Tubular's leaderboards, and this month was no different with its nearly 1.1 billion total views. Tasty is also very good at keeping viewers' attention, earning it a high V30 every month (which makes sense considering the recipe-like nature of many of its clips means viewers need to rewatch in order to catch all the preparation steps). April was yet another month the publisher saw a high V30 — 8.1 million, to be exact, the highest of any of the top ten publishers of the month.
Jungle Creations property VT is the final publisher of April to hit more than 1 billion views, making it the 7th most-watched brand across all publishers and social video accounts on Facebook for the month. Like many of the publishers on this leaderboard, VT is based in the UK and specializes in viral entertainment, which its top ten videos for the month testify to as they range from clips about a truck which can fix potholes in 5 minutes to a 22.7 million-views-strong #1 video about a man grating cheese directly into his mouth (because why not?).
Here's a publisher we haven't seen in the top ten for our leaderboards before. The AOL property In the Know Innovation is a Facebook Watch show, which have been popping up on Tubular's monthly leaderboards from various publishers for the last couple of months now. These shows tend to debut strongly, scoring many views right off the bat, and In the Know Innovation was no exception. The show, which is "highlighting innovative ideas from around the globe that are transforming lives every day," landed eighth with 989 million views to date.
Remember earlier when we said Brave Bison as a media brand seemed to be taking over the top ten most-watched Facebook publishers? This property, SuperViral.TV, is another reason it's able to do so. The UK publisher of viral videos (surprising, right?) is the third of Brave Bison's sub-properties to land on this month's leaderboard, and was also in the top ten in March. For April, SuperViral.TV generated almost 929 million total views, an improvement of 34 million views over the previous month! As we noted in March, the publisher seemed to be niching itself into the realm of building, construction, and industrial topics, which mostly held true this month, as well. However, it's most-watched video about shoeing a horse broke that mold thanks to 25.9 million total views.
To end April's leaderboard, we're taking a look at the fourth and final Brave Bison property to land in the top ten: Blunt Kommunity. This publisher, which calls itself "a straight up community of people who straight up make you laugh, smile, or experience other positive sensations," was the third Bison brand to achieve a position improvement by at least 18 spots, but this one knocked its siblings out of the water by improving an astounding 38 ranks thanks to almost 791 million views! It's most-watched clip showed the primitive way of making paper from tree bark, which fascinated enough people to pull in 30.4 million views and earn a V30 of 28.9 million.
Most Watched Facebook Publishers April 2018