April's top YouTube channels leaderboard is now live, and boy, does it bring with it some fascinating changes! The ten most-watched channels scored a total of 14.5B views last month, with the top six all claiming at least 1B views each.
While there are always trends to be found on YouTube each month, the most interesting discovery across April's leaderboard was the significant movement of a few key channels:
Cocomelon is officially the #1 channel in the world. This kids' entertainment channel moved up one spot to claim the most-watched creator in April.
Well-loved media companies are staking their claim. Sometimes it can be difficult for traditional media to keep up with the hordes of views on digital-first creators, but three of them from April proved it can be done.
K-pop is now a permanent resident on the leaderboard. A few key channels from this genre haven't left the leaderboard in a few months, and have, in fact, worked their way up the chart.
Here's some more insight into how these channels improved their rankings!
Check out all of this month's leaderboards here!
April 2019's Top YouTube Channels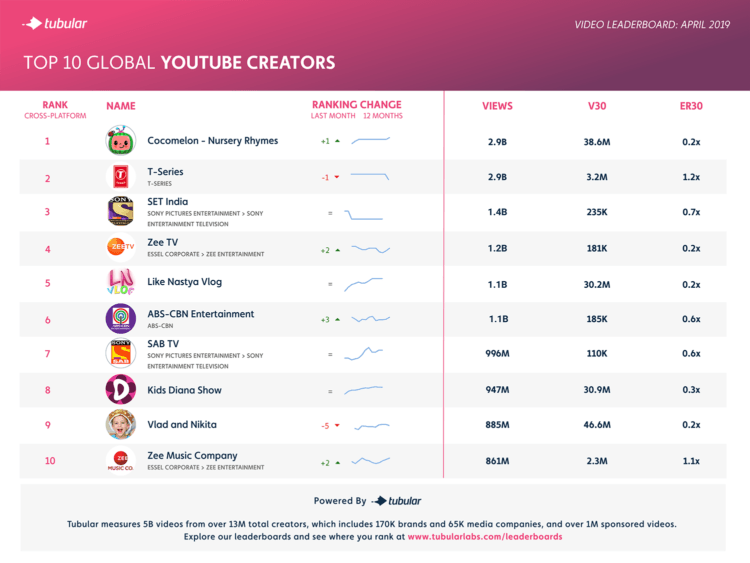 Across the top YouTube channels for April, we can clearly see that children's programming and Indian and Asian entertainment are some of the most-watched channels in the world (a fact we pointed out in March, too). Companies like Zee TV, ABS-CBN Entertainment, and Zee Music Company all increased their rankings last month, while others like SET India, Like Nastya Vlog, SAB TV, and Kids Diana Show all maintained their positions.
While these trending topics are still the norm for April's leaderboard, we're now seeing specific channels work to increase their views and find their own space within these genres. Let's check it out.
Cocomelon Becomes the Most-Watched Channel in the World
After more than a year of wondering when a YouTube channel other than T-Series will snag the #1 position on the leaderboard, it's finally happened (and I can barely believe I'm writing this right now!).
Cocomelon, a kids' entertainment and animation channel, was the #1 channel in the world by views in April. With more than 2.9B views last month, Cocomelon was able to leave its #2 position, which it's held since July 2018. It earned about nine million views more than T-Series to do so.
The family programming channel also boasted the second-highest average view count after 30 days (V30) across the top ten at 38.6M views. Cocomelon earned more views in April than it did in March, despite uploading fewer videos than that month (nine versus 11).
However, with a breadth of content for families to watch beyond just April's uploads, all those views quickly added up. Cocomelon's most-watched clip from April boasted 288M views alone:
Don't get us wrong — T-Series had a phenomenal run. It's been #1 by views for more than a year. Plus, it's currently the most-subscribed YouTube channel in the world after battling it out with the competition, aka Swedish gamer PewDiePie (who's also working his way up last month's chart to land at #36 after jumping 25 spots).
T-Series is still holding strong at #2 in April, and it also claimed the highest 30-day engagement rate (ER30) of the top ten channels at 1.2x. We have no doubt the Indian entertainment label will give Cocomelon a solid run for its money in May, and we'll come back next month eager to see which of these two are in the #1 spot.
Traditional Media Uses YouTube to Reach More Viewers
Digital-first creators and channels typically have a leg up on traditional media when it comes to ranking on each month's leaderboards. After all, they're highly familiar with the platforms and how they work. However, April's top YouTube channels proved some media companies know their way around online video.
Take Ellen, for example. Having recently joined the Global Video Measurement Alliance, the Ellen brand is one of the biggest success stories of traditional media going digital.
In April, the Ellen YouTube channel jumped 58 spots to land at #59 with over 325M views. Also last month, the media company was #1 out of all U.S. entertainment creators across all platforms as well as #1 on YouTube for this same category!
Next up we saw Sesame Street coming in at #76 thanks to a rank increase of 64 spots and more than 281M views. This media company, which celebrates its 50th anniversary this year, has the perfect combination going for it: not only is it uploading content to the ever-popular kids' entertainment genre, but Sesame Street also boasts a longstanding reputation for quality family programming.
Its top video from April was an adorable mashup of popular character Elmo talking to some Game of Thrones characters about respect, right in time for that show's series finale:
Another traditional media company placing on April's leaderboard at #93 was Saturday Night Live (SNL). This NBC-owned property has landed in the 100 top YouTube channels before, but it made a comeback in April thanks to a jump of 25 spots with almost 256M views.
The driving force behind this increase? It's probably the appearance of K-pop band BTS performing two songs on the show, with the live version of its song "Boy with Luv" pulling in 19.5M views.
A note to traditional media companies and broadcasters: with the right strategy, you can also generate millions of views on YouTube and reach a wider audience. Your audiences are hungry for more content outside of linear and streaming, as is evidenced by Ellen, Sesame Street, and SNL's success in April.
K-Pop's Domination of Digital Video Is Still Going Strong
Speaking of K-pop bands, the YouTube leaderboards are no longer complete without at least one or two channels from this genre. In April, Korean music groups pulled in millions of views and some of the highest ER30s of the month.
First off was BLACKPINK at #14 with more than 792M views after a 79-spot jump. In April, the all-female K-pop group made YouTube history by pulling in the most views (56.7M) in its first 24 hours of any video on the platform with its new song "Kill This Love."
This clip was what drove BLACKPINK towards the top of April's YouTube chart, as well; as of this writing, the music video now boasts 354M total views.
Not too far behind at #23 was ibighit with a 65-spot change and just over 599M views. The K-pop music label is the official home to BTS, whose "Boy With Luv" music video was the most-watched in April at 310M views to date.
It's likely BTS's appearance on SNL helped drive more views for its own YouTube channel, and vice versa. Cross-promotion, anyone?
Creators, brands, and publishers around the world can learn a lot from April's K-pop channels, especially when paired with SNL's stats. If there's a way to get K-pop included in your content, it's a sure-fire way to gain more eyeballs. Interviews, performances, behind-the-scenes clips, parodies, or even analyses of popular K-pop bands and songs are just a few of the ways to get your foot in the door of this popular musical genre.
Tubular Video Ratings (TVRs)
You'll notice some exclusive data in this month's chart as we include TVRs, a unique group of online video metrics that set the standard for measurement of views and engagements across videos and publishers. They include a simplified first 30-day engagement rating (ER30) and first 30-day views (V30), and more information can be found here.
Get the Full-List of the 25 Top YouTube Channels & Other Video Platforms
Tune in Every Month for the Most Up-to-Date Stats! Each month Tubular Insights will publish the most up-to-date leaderboard charts, so stay tuned! In the meantime, sign up for a free Tubular account and get access to the complete list of the top 25 video creators across YouTube, Facebook, and cross-platform.