The newest leaderboard for the top YouTube channels around the world is live! February 2019's chart reveals a couple of prominent trends across the 100 top channels, as well as an exciting milestone for the most-viewed YouTube channel in the world.
The leading ten channels from February 2019 generated just over 13B total views alone. Here are some other numbers achieved by last month's top 100 YouTube creators and channels:
The top four channels saw at least 1B views each.
The top three channels have all maintained their same positions since July 2018.
The best average views across 30 days from the top ten was a massive 27.7M, but the highest 30-day views across all 100 publishers hit an astounding 81.7M!
The highest average 30-day engagement rate across the top ten was 2.9x. The highest rate of the top 100 channels was, like in January, a whopping 10x+, or ten times the normal engagement rate across YouTube!
Out of the 100 most-watched YouTube channels, seven of them increased rankings by at least 100 positions, with the biggest change in ranking hitting +236 across these creators.
Let's check out this month's top performers!
February 2019's Top YouTube Channels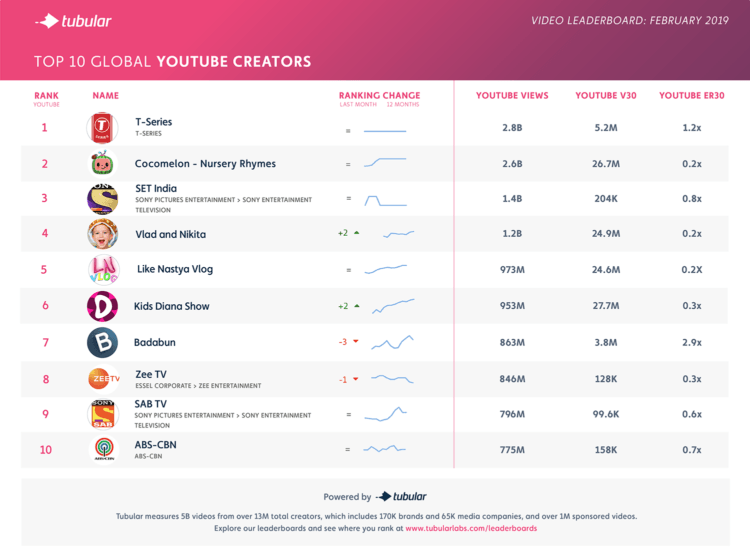 There wasn't a huge difference between this month's top YouTube channels and January's. If anything, they just shuffled around a bit! All of them were in the top ten in January, as well, with eight of them either maintaining or increasing their rankings in February.
However, the really interesting stuff starts to show up when you look at the top 100 best-performing channels in terms of views.
February 2019 saw two key trends across these channels: the continued growth and presence of India-based entertainment and content, as well as the high engagement rates and rank increases for musical artists.
Let's dive into each trend now!
YouTube Is the Go-To Platform for Indian Video Creators
Viewers around the world consistently visit YouTube for popular genres of entertainment such as family-friendly programming and music (more on that in a bit). But over the years, YouTube has also become the destination for some of the best video content from India, Bollywood, and everything in-between. The monthly YouTube leaderboard has shown this to be true in the past, and it did so again in February.
T-Series is, of course, probably the best example of this trend. After a long battle with Swedish gaming YouTuber PewDiePie, the Indian music and entertainment company finally claimed the title of most-subscribed YouTube channel in the entire world. T-Series has been the most-watched YouTube channel for well over a year now, consistently pulling in 2B+ views per month.
Across the top ten most-viewed channels from February, even more Indian channels have staked a claim in the world of YouTube. SET India has been the #3 contender since July 2018, while Zee TV and SAB TV have been in the top ten for months now. The remaining top 90 positions are seeing the growth of Indian channels, as well; some notable standouts from last month include:
India is currently the world's second-largest online market behind China, which definitely helps explain the popularity of YouTube in that country. For any brands, creators, or media companies wanting to reach a more international audience, India-based content on YouTube is a sure way to reach more eyeballs.
Musical Artists Have the Best Engagement Rates
The next trend from February's most-watched YouTube channels was the increased popularity of some select musicians. Daddy Yankee, for example, moved up 147 spots to land at #65. However, along with a bump in views for some artists also came incredibly high engagement rates. In fact, with the exception of Brazilian vlogger Felipe Neto taking home the highest 30-day engagement rate at 10x+, musicians had some of the most-engaged channels from February.
For starters, EDM artist Marshmello jumped +122 positions last month to hit #20. With a 30-day engagement rate of 3.2x, we suspect Marshmello's YouTube channel and engagement experienced a surge in popularity thanks to his live concert performance within the game Fortnite at the start of the month. And sure enough, his most-viewed video from the month is still his recording of this event, which boasts 32M views and a 30-day engagement rate of 4.6x:
Other musically-inclined channels which claimed higher-than-usual 30-day engagements across this month's top YouTube channels were the K-pop creators BLACKPINK and 1theK. BLACKPINK saw a rate of 3.4x, while 1theK improved its overall engagements by about 0.4x over January to hit 3.2x. K-pop in general has seen an upswing in popularity over the last year, and related channels were some of the most-watched in January, as well.
Last but not least is the much-loved singer Ariana Grande, whose channel moved up 27 spots to land at #29 with over 455M total views in February. Grande's average 30-day views are certainly where she shined last month at a whopping 81.7M views. However, her 30-day engagement rate was also impressive at nearly three times the average engagement rate on YouTube at 2.9x. Overall, Grande was the #2 global influencer in the music and dance category across all social video platforms in February!
There's a lot at play when it comes to the success of artists' YouTube channels (i.e. there's likely paid promotion behind them to help them reach such levels of viewership and engagement). However, brands and companies should note the successful artists and figure out a way to potentially work with them, whether through a sponsorship or through another means. Traditional celebrities still have lots of influence both on and offline, so don't forget to leverage that!
Tubular Video Ratings
You'll notice some exclusive data in this month's chart as we include Tubular Video Ratings, a unique group of online video metrics that set the standard for measurement of views and engagements across videos and publishers. They include a simplified first 30-day engagement rating (ER30) and first 30-day views (V30).
Get the Full-List of the 25 Top YouTube Channels & Other Video Platforms
Tune in Every Month for the Most Up-to-Date Stats! Each month Tubular Insights will publish the most up-to-date leaderboard charts, so stay tuned! In the meantime, sign up for a free Tubular account and get access to the complete list of the top 25 video creators across YouTube, Facebook, and cross-platform.