We know you've been waiting for them, so here they are: the June 2018 leaderboards for the top YouTube channels! While you can only see the top ten here (you can get access to more by signing up for full access to the Tubular Leaderboards), we're going to show you the important trends and changes from this last month across the top 100 publishers and creators on YouTube. Let's start with the key stats from June:
The top ten most-watched channels garnered more than 10 billion total views.
Creators #1-3 claimed at least 1 billion views each, with the top performer garnering over 2 billion alone; these creators all also stayed in the same positions they held in April.
The highest average 30-day engagement rate (ER30) of the top ten publishers hit 2.5x, while the highest ER30 of the top 100 publishers hit an impressive 7.1x.
The best 30-day average (V30) from the top ten was more than 21.8 million, while the best overall V30 across the top 100 channels landed at 74.5 million.
Out of all 100 creators, 6 of them increased rankings by at least 100 positions.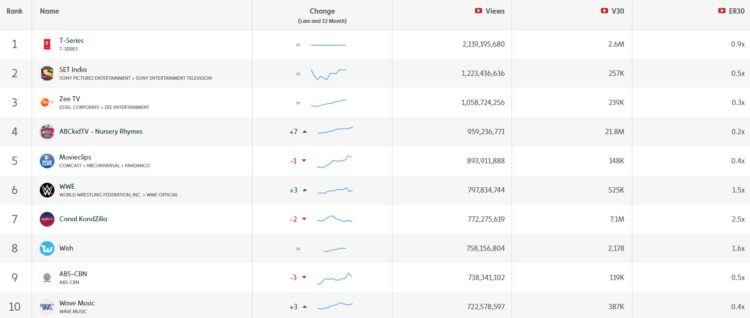 Top YouTube Channels June 2018
Most of the top ten creators on last month's chart probably look very familiar to those who follow our monthly leaderboards. Indian music label and movie studio T-Series, for example, continues to dominate at #1, while two other India-based channels (SET India and Zee TV) placed second and third. Additionally, we saw huge leaps in rankings for several music channels after they released new songs and content in June; for example, Maroon 5 jumped 419 spots, while the K-pop group BLACKPINK skyrocketed +552 positions! Even the channel of rapper xxxtentacion, who passed away on June 18, saw a +307 boost in ranking thanks to the release of a post-mortem music video.
However, we've known for years now that YouTube is a big deal in India. We also already know music is one of the most-watched types of content on the same platform. So instead of delving into those channels, let's focus on other valuable data this month's leaderboard revealed to us when we looked through all 100 of the top YouTube channels and creators:
Kids' Entertainment Channels Grow Leaps and Bounds
Okay, okay, this isn't news, either. Family-friendly programming frequently appears on Tubular's YouTube leaderboards due to the genre's massive view counts and higher-than-average V30s. That being said, ignoring the recent growth of some of these channels would be detrimental to video showrunners looking to tap into content trends and ideas for their own brands, especially if producing kids' entertainment would be relevant to their goals. For example, consider the following channels which saw big improvements in June:
What's driving this success, you might ask? It looks like nothing more than good old-fashioned video SEO, with probably a hint of YouTube algorithms thrown in and possibly some paid pushes. Tubular's software doesn't show these channels worked with any sponsors over the last few months, which makes sense considering legal issues can arise when it comes to showing advertisements or marketing to children (at least here in the U.S.). But that doesn't mean video showrunners can't take advantage of the popularity of children's content on YouTube; basically, if it's in line with your brand's goals and video strategy, you could attract lots of eyeballs by producing your own family-friendly content and using both paid and organic methods to get it in front of young audiences.
World Cup Created the Perfect Tentpole Event Opportunity
The 2018 World Cup just finished yesterday (congratulations to all France supporters and fans!), but before the final two teams took to the field, brands and creators were using the global sports event to their advantage in some brilliant video marketing pushes. For example, over the last few months, we saw the shopping and ecommerce app brand Wish partner with individual soccer players whose teams no longer qualified to advance in the event; the brand's idea behind these clips was to show how the players used Wish to shop, now that they had time on their hands again!
Also taking part in the World Cup tentpole event was, unsurprisingly, FIFATV from Electronic Arts. This Swiss channel, which was #1 in June across all genres on all its video platforms in its native country, made it a goal to provide recaps, clips, and highlights of several of the matches leading up to the final game of the 2018 World Cup yesterday. The channel's most-watched video from June was a snippet from the Portugal vs. Spain match, which pulled in 58.2 million views. The clip's high V30 of 57.3 million makes sense, considering dedicated soccer fans around the world had likely been rewatching their favorite moments up until the last game.
We talk a lot about tentpole movies and events on TubularInsights, but that's because their importance can't be overstated in the world of online video. For example, Universal Studios worked with influencers to promote Jurassic World: Fallen Kingdom to generate anticipation for the film's release, which resulted in 3x the engagement rate of an average clip. Basically, when companies pay attention to popular events, trends, or topics from around the world, they ultimately benefit not just from short-term views and attention on their content, but also from long-term brand-building and name recognition. It's a win all around!
Tubular Video Ratings
You'll notice some exclusive data in this month's chart as we include Tubular Video Ratings, a unique group of online video metrics that set the standard for measurement of views and engagements across videos and publishers. They include a simplified first 30-day engagement rating (ER30) and first 30-day views (V30).
Get the Full-List of Top 25 Video Publishers on Facebook & Other Video Platforms
Tune in Every Month for the Most Up-to-Date Stats! Each month TubularInsights will publish the most up-to-date leaderboard charts, so stay tuned! In the meantime, sign up for a free Tubular account and get access to the complete list of the top 25 video creators across YouTube, Facebook, and Cross-platform. Get access today just by clicking this link.