Welcome to the newest edition of Tubular's monthly leaderboard, featuring March's top YouTube channels. Last month's most-watched channels boasted more than 14.7B views, a solid increase of 1.7B over February's top ten!
Across the top 100 channels which improved their rankings in March, there was a clear indication of three genres dominating YouTube. These types of channels included:
South Asian & Middle Eastern entertainment: More than 25% of the 100 most-watched YouTube channels hail from these regions of the world.
Children's programming and family content: Always a popular genre on YouTube, at least 15 kids' channels saw improved standings in March.
Music and musical artists: One of the most-searched types of content on YouTube ever, March's leaderboard boasted at least eight channels in this genre with an increase in rankings.
Curious to see who placed in these categories? Read on to find out.
Check out all of this month's leaderboards here!
March 2019's Top YouTube Channels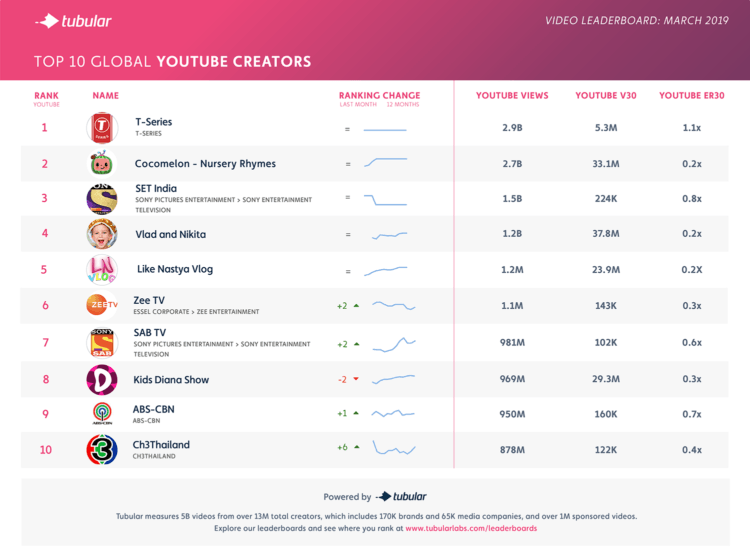 March's most popular YouTube channels are a testament to two of the trends noted above. Six of the top 10 channels were from India, Thailand, and the Philippines, while the remaining four were hailed from the children's programming angle.
Indian media brand T-Series still maintained its #1 reign while also narrowly holding the title of most-subscribed YouTube channel in the world (just behind long-time competitor PewDiePie). Fellow Indian entertainment companies Zee TV and SAB TV both increased rankings by two spots to move up in the top ten.
All other channels in the top ten either maintained their positions from February's leaderboard, dropped a couple of spots, or improved their rankings (as was the case for ABS-CBN's +1 jump and Ch3Thailand's +6 increase to land at #10).
Of course, these ten are only a glimpse at the trends occurring across the top 100 channels, which we'll dive into now.
Regional and Kid-Friendly Content Monopolizes YouTube
If you follow the YouTube leaderboards on a regular basis, you know how frequently Asian and Middle Eastern-based channels and family programming show up in the top 100. Just last month, we pointed out the strong presence and continued growth of Indian channels on YouTube.
While some trends can come and go, it's apparent neither of these two genres is going away anytime soon. March's chart saw some of the largest numbers yet across the 100 top YouTube channels for both kids' entertainment and regional-based media companies.
These are just a few of the many channels from these two genres which saw more views last month than in February:
You get the picture by now — there's no shortage of views and audiences on YouTube eager to consume content from family-based channels or those stemming from South Asian and Indian media companies. If you create content in either of these genres and you're not on YouTube, you're missing out on lots of brand growth and awareness opportunities.
Music Content Wins in the Top YouTube Channels
In February, several musicians and artistically-inclined channels made a name for themselves on the leaderboard. The majority of them claimed the highest 30-day engagement rates (ER30) of all the top publishers that month.
March's leaderboard also saw music as one of the most-watched genres across the top YouTube channels of the month. For example, India's Zee Music Company came in twelfth with just over 843M views on YouTube after bumping up two spots in the rankings.
The platform's own YouTube Music was just behind with more than 786M views and an increase of +13 spots, while Wave Music (another Indian music label) was #14 with almost 707M views. WorldStar Hip Hop, a long-time face to the monthly leaderboards, improved to #41 after placing #44 in February.
Individuals also dominated March's leaderboard alongside the music labels. Daddy Yankee increased his ranking from February by 29 positions to place #36. Lady Gaga claimed the #77 spot on last month's chart thanks to a +24 rank change; the star's "Shallow" song with Bradley Cooper from their film A Star Is Born clearly led the pack with 108M views alone in March:
K-pop sensations 1theK and ibighit (home to group BTS) also placed in March, which is unsurprising considering how much of a global phenomenon K-pop has turned out to be in recent months. 1thek improved its views enough to jump 17 spots and land at #51. Meanwhile, ibighit increased 90 spots to claim #88, and also shared the title of highest ER30 of 10x+ across the top 100 creators in March with Brazilian vlogger Felipe Neto.
Music is one of the best categories to get involved in on YouTube. Even if your brand isn't a music producer, you can tap into the music-loving audience on YouTube by partnering with labels, interviewing artists, making a cake shaped like an instrument, etc. Really, you have lots of possibilities because music touches so many aspects of human life (which explains its massive appeal on YouTube).
Tubular Video Ratings
You'll notice some exclusive data in this month's chart as we include Tubular Video Ratings, a unique group of online video metrics that set the standard for measurement of views and engagements across videos and publishers. They include a simplified first 30-day engagement rating (ER30) and first 30-day views (V30).
Get the Full-List of the 25 Top YouTube Channels & Other Video Platforms
Tune in Every Month for the Most Up-to-Date Stats! Each month Tubular Insights will publish the most up-to-date leaderboard charts, so stay tuned! In the meantime, sign up for a free Tubular account and get access to the complete list of the top 25 video creators across YouTube, Facebook, and cross-platform.